Minstrel
Hi all,
I'd like to tell you about my Fantasy Serial
Empire and Animal
.
The tl;dr version:
I'm writing an ongoing fantasy serial that you can read at
JukePop Serials - Empire and Animal
. It's free so please stop by to check it out.
The long version:
Last summer I sold a short story to JukePop serials. Though it was a complete short story it also set up a fantasy world I wanted to write more in. With the pick-up by JukePop I suddenly found myself committed to doing just that.
So I got a cover: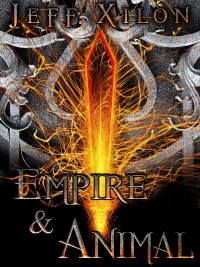 And I wrote a blurb:

For 200 years, The Empire has been forged by its slaves, and its slaves have been forged by magic. What will happen when slave and citizen alike begin to question what it means to be soulless?
And I got to work.
Empire and Animal
is serialized, ongoing and episodic.
Serialized means I release installments or chapters one at a time. Due to some personal life issues that happened right after it started my original release schedule was erratic and rare. Now things are running smoothly. I'm trying to put up a new installment every week, with twice a month being an acceptable minimum.
Ongoing means the story isn't finished yet! Seven chapters have been released so far and there will probably be upwards of 40 at a minimum. There is currently not a set ending because it's also...
Episodic. I am way too inexperienced an author to attempt writing my first novel while the readers watch! So E&A is a collection of shorter stories (everything from flash to novella is possible) that share the same setting (physically and temporally) and sometimes the same characters. If you've ever read the old
Thieves' World
books or collections of Fritz Leiber's
Fafhrd and the Grey Mouser
stories you'll have an idea of what I mean.
If you'd like to check it out it's free to read, just follow the link above. I think you need to register with the site to read more than the first chapter. This is because you can "+vote" for any serial chapter you enjoy. These need to be tracked carefully because the top authors on JukePop will earn some money every month/quarter/year. Registering also lets you bookshelf the serials you like so you can be notified when new chapters go live.
If you've read this far let me just say - thanks! Your interest is appreciated. If you do go read E&A, and like it, please remember you can vote for every chapter and it wouldn't take that many new readers to thrust me into the top 30.
Also, due to the nature of this story I'm happy to take requests! If there is a character, idea or place in an episode that you'd like to see take center-stage in an upcoming story just let me know.
This week I'm posting the ending to the 3rd E&A story, "Hybrid". Before it came "Salatis and The Dog" and "The Turn of A Coin".
Finally, any feedback, constructive criticism or review is greatly appreciated. Especially from anyone in the Mythic Scribes community where Fantasy Storytelling is what's on everyone's brain.
Thanks for a bit of your time,
Jeff.