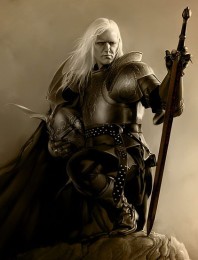 This article is by Stefon Mears.
Years ago, on The Simpsons, Lucy Lawless uttered the now famous line, "A wizard did it."
In context the line was a broad dismissal of the myriad small errors fans are famous for finding in their favorite shows.
Found an inconsistency? Blame it on a wizard. Ironic, really, because by the end of its run Xena: Warrior Princess had more gods as recurring characters than human beings, but I'm hard pressed to think of a single wizard.
But then, "a god did it" might not have gone over so well with viewers.
I was thinking about that famous phrase recently as I read The Conqueror's Shadow by Ari Marmell. Fantasy fans expect a lot from their wizards. We don't just want cool special effects, we want logic and consistency. We want to know what magic can't do, so we have a clear understanding of the struggles that characters go through. We don't need these things spelled out (though I salute Katherine Kurtz for publishing Deryni Magic, a handbook to the magic system of her popular Deryni books), but we do need the writers to understand the limits of their magic and to bring those limits across on the page.
For example, Corvis Rebaine, the main character of The Conqueror's Shadow, has some small skill as a spellcaster, but not much. His ally Seilloah the witch expands his magical options, and the powerful sorceress Rheah Vhoune is quickly established in the novel as one of his most dangerous enemies. Through references to these three characters, Marmell brings enough across about his world's magic system to clarify their respective stakes and capabilities. The balance of supernatural power in the story is clear, except for one wild card: demons.
Demons are present in the novel in two ways. The first is indirect: the Kholben Shiar, demon-forged weapons that take the shape most appropriate to their wielder. The wielder has no say in this appearance. Hunting spear, battleax, assassin's dagger … the weapon chooses the shape and this shape never changes for that wielder.
This is an interesting concept, and not entirely without importance to the story. It does raise questions though: why do demons forge weapons? Why do the weapons change shape? Is there also demon-forged armor? These questions aren't answered in the first novel, and honestly they don't have to be. Those details are not necessary to the story, and not answering them leaves them open for discussion in the sequel, The Warlord's Legacy (which I have not yet read). And if they aren't answered there, the reader might be satisfied to dismiss the issue by saying, "A demon did it."
Demon-forged weapons always remind me of Stormbringer and Mournblade, the two "hell-forged blades" of Michael Moorcock's Elric novels. But Stormbringer and Mournblade were not forged by demons; they were demons. They were mighty and cursed weapons, and they drank souls.
The Kholben Shiar do not drink souls. That is a task Marmell relegates to the other form demons take in his novels: bound into jewelry. The primary jewel-bound demon in The Conqueror's Shadow is Khanda, the ally of Corvis Rebaine in much the same way that Stormbringer was allied with Elric. The demons provide the powers and the humans (well, one was technically a Melnibonéan) provide souls to feed them. Stormbringer's support was primarily martial, but Khanda's is … more open-ended.
Khanda provides Corvis Rebaine general magic support, enough that the warlord passes as a more powerful wizard to the masses. But Khanda does not operate by the same rules as wizards do. Wizards study and cast specific spells, but Khanda's power works along desire-fulfillment lines. Khanda needs to consume human souls to power itself, but otherwise its limitations are unclear. I'm reminded of what J. Michael Straczynski said about the speed of the White Star ships in Babylon 5, "They travel at the speed of plot." And that seems to be Khanda's limiting factor: Khanda is exactly as powerful as the plot requires.
That echoes some of Stormbringer's behavior in the Elric novels. On two occasions Elric managed to call Stormbringer to him over a distance, even when it was held by an enemy. But, when the plot required other characters to bring Stormbringer back to Elric, on that occasion he could not call it to him. A minor discrepancy that had no terrible lasting impact on the story, much like the couple of small discrepancies in the powers of Marmell's jewel-demons.
These small contradictions don't ruin their books. Heck, the Elric novels are fantasy classics. So perhaps when readers find those small irregularities, what they should say is, "A demon did it."
Can you think of other small story discrepancies in works of fantasy? Share your favorite examples below.
About the Author:
Stefon Mears has ninety-nine problems but a demon ain't one. Stefon earned his M.F.A. in Creative Writing from N.I.L.A., and his B.A. in Religious Studies (double emphasis in Ritual and Mythology) from U.C. Berkeley. To date Stefon has published more than a dozen short pieces and one novel, Magician's Choice. Look for him online at stefonmears.com or @stefonmears on Twitter.