Inkling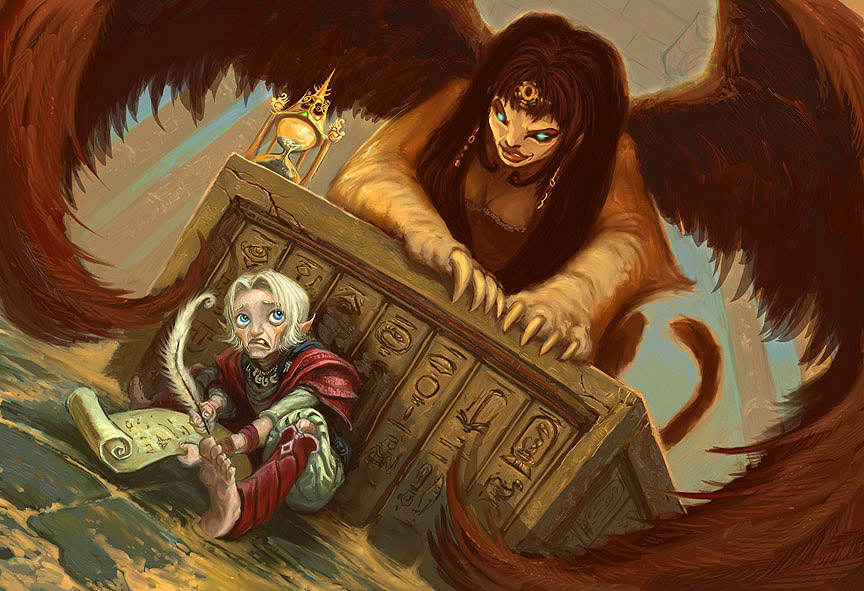 For my flintlock fantasy story setting, I've been toying around with the idea of there being two categories of Sphinxes - Mortal and Immortal. While the primary difference between the two is obvious enough in the name, there are some other distinctions that I'm considering and would appreciate getting feedback on from people. So, here's the basic rundown:
Sphinxes were originally Elves who were transformed during the Divine War, when the fighting between some of the gods altered them into the First Sphinxes. (Some of the Elves that were caught in the Distortion of Reality were transformed into Catfolk and Urmahlullu - that is, the feline equivalent of Centaurs.) My current thinking is that some of the First Sphinxes would go on to become the Immortal Sphinxes, though they would do so by choice.
Basically, as more Monsters and Abominations (and later Undead) were appearing during the Divine War, some of the gods would modify willing individuals in ways that would enable them to more effectively combat these threats. This is actually how Titans (giant humanoids,) Dragons (Wyverns, Tarasques, and Lindwyrms,) Phoenixes, and Unicorns came to be, among some others. Thus, Immortal Sphinxes are not just different from Mortal Sphinxes in terms of being immortal. They are also difference in terms of scale and the powers they possess.
Mortal Sphinxes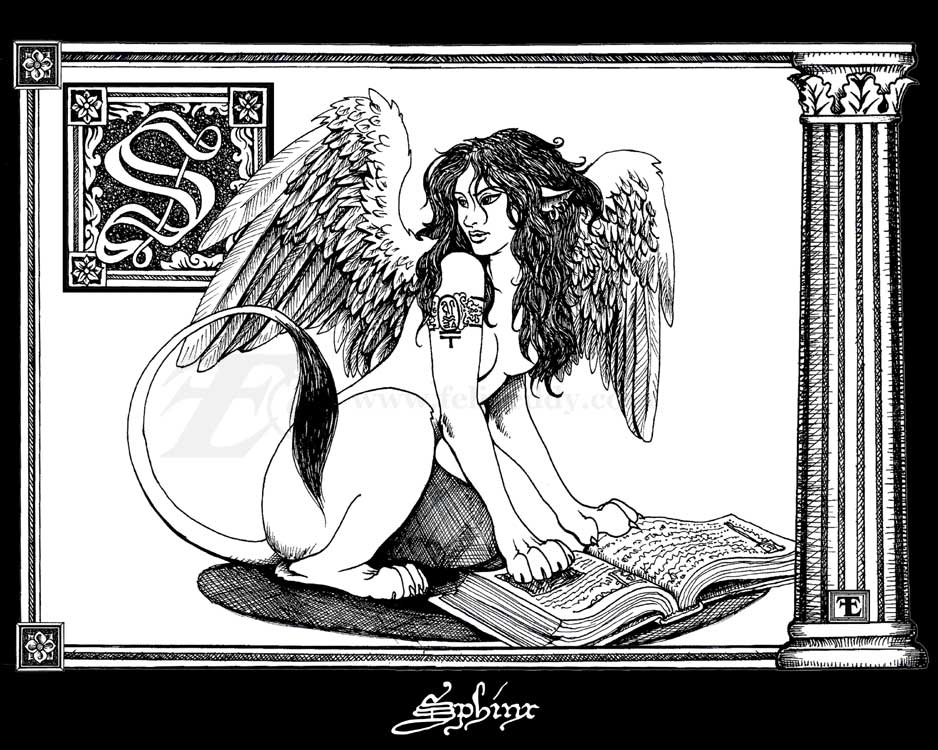 Mortal Sphinxes are, at most, the size of large felines, such as lions and tigers. Some variants are smaller, though none are as small as domesticated felines. They have long lifespans, as they were originally Elves, but will eventually die of old age if they are not killed by something else. They are wise, intelligent, and gifted in both Arcane and Psionic Magic, in addition to having all the physical strength, agility, and prowess of large cats. However, while they do have an innate ability to use
Prognostication
(glimpsing potential futures through Arcane Magic, but only those that factor in known variables,) only those who are Oracles have the true gift of Foresight. (Many Mortal Sphinxes tend to get annoyed that people come to them asking to know the future, assuming all Sphinxes are Oracles.)
Immortal Sphinxes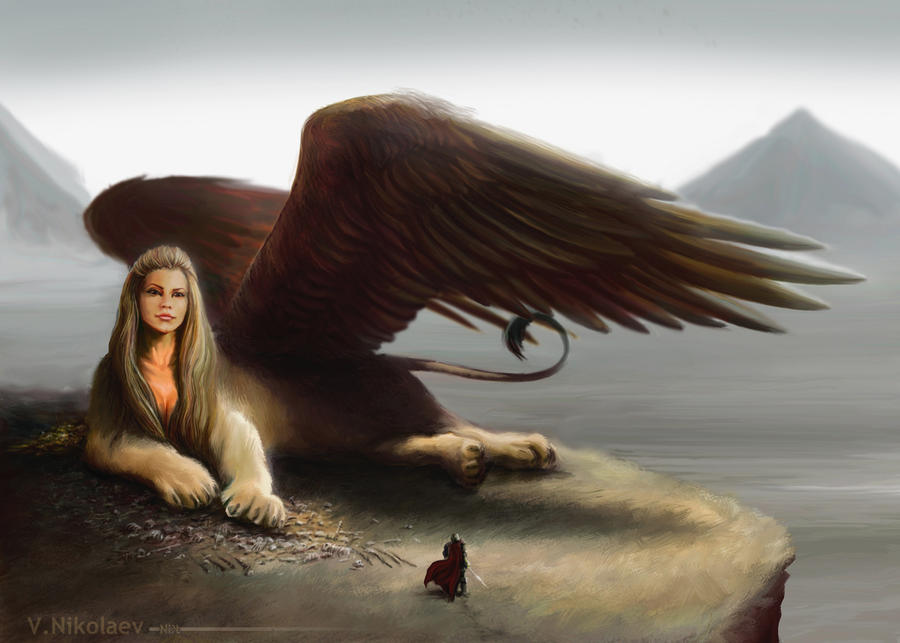 Immortal Sphinxes are, by contrast,
enormous
. They are usually on the same scale as the Great Sphinx of Giza. This is because when they became immortal, they did so in order to combat Monsters and Abominations in the size ranges of creatures large enough to make humpback whales look small by comparison. This is also why they are incredibly powerful when it comes to both Arcane and Psionic Magic. They possess regenerative powers, are immune to nearly all forms of disease and poison, and, thanks to the magical properties of their bodies, do not need to eat or drink very often as their bodies use Arcane Energy to convert nearly all biological waste back into compounds that help sustain them. However, while Immortal Sphinxes cannot die from old age, they can still be killed. In other words, they are immortal, but not to the extent of Full Immortality (which is when there is literally no way you can die, though that can be a problem, since free from death is not the same as free
from pain.
)
Finally, all Immortal Sphinxes are Oracles. One thing about Oracles is that they can not only see forward in time
but backward
. The further they try to look in either direction, the more difficult it becomes to see things clearly, but Oracles of any variety can be consulted on matters of the past as much as the future. That being said, all Oracles (who have a connection to the Archon of Time) will warn those who seek their counsel on the future that knowledge of what is to come can be a curse, not to mention create a self-fulfilling prophecy. They will always give the petitioner multiple opportunities to reconsider before they reveal anything and usually offer them alternatives, such as wise counsel instead of a prophecy. If the petitioner persists, then they will tell them what the future holds, though it is often the case that the knowledge they provide ends up being a burden, not a blessing.
In the case of Immortal Sphinxes, they use their powers as Oracles primarily to predict when and where Monsters and Abominations will cause trouble. They can reveal other information about the future, but, because they became the way they are to combat these kinds of threats, they mostly prefer to use their gift of Foresight to warn people of coming disasters so they won't be caught flat-footed. Unfortunately, their warnings are not always heeded, but if they are not, then it is not the fault of the Immortal Sphinx. They provided the information (and may even have offered to assist with the coming disaster,) but they will not intervene for those who reject what they provide. Once they issue their warning, they will turn their attention to combating other threats, as they are bound to do by their oaths. They are not obligated to pick up the slack for people who ignore their warnings unless the threat meets certain criteria.
Anyway, that is all I have come up with for Mortal and Immortal Sphinxes. Let me know what you think of my ideas! I appreciate any feedback you have to offer!