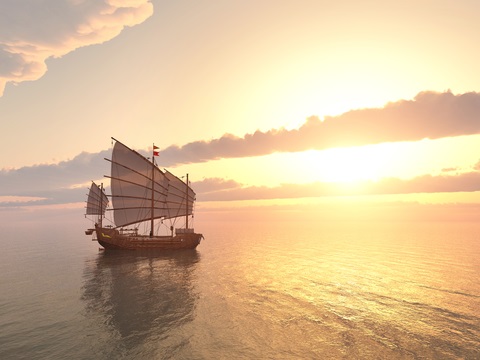 We welcome you again to the world of speculative fiction, where there are no limits for what an individual can accomplish—except in the mind of the writer. Often, while we can create entire worlds out of our imaginations, stories of adventure and daring do have been limited to male characters, based on the belief that women in Earths' history did not live adventurous or public lives.
In this series, we would like to counter that notion with examples of women who did just that, lived lives of excitement and public importance. We hope that the lives of these women inspire you to reach beyond the common narrative and to give voices to extraordinary women in your own stories.
Meet Ching Shih (1775 – 1846)
Ching Shih was arguably the greatest pirate to have ever lived. She sailed the South China Seas during the middle Qing period and at the height of her power commanded over 1,800 junks and up to 80,000 pirates, depending on sources.
She was born in 1775 as Shi Yang and while little is known of her early life we do know she worked in a Cantonese brothel when she was young. In 1801 she married a famous pirate from a large pirate family, Cheng I, who rumor has it, sought her out for her keen business acumen. She helped Cheng I to create a pirate armada out of rival Cantonese fleets, many of which led by Cheng's own relatives, eventually forming the infamous Red Flag Fleet.
In 1807 Cheng I died, leaving Shi Yang to take the name Ching Shih (Cheng's widow) and to consolidate power. She allied with her adopted step-son and Cheng I's lover, Cheung Po Tsai, setting him up as the titular head of the fleet while she maintained actual control. She also took him as her own lover. Cheung Po would manage the day-to-day operations of the fleet while taking commands from Ching Shih.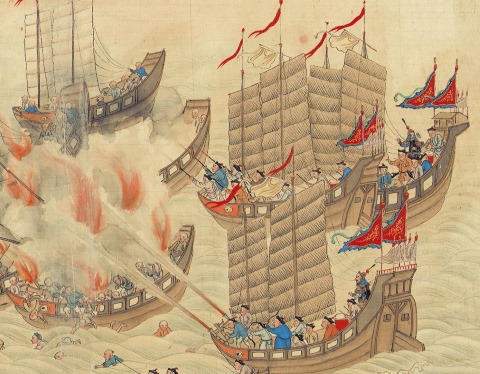 Ching Shih also codified a new set of laws for the Red Flag Fleet to follow, and no matter how small a ship, these laws were ordered to be on display for all to see. Notably, she set special rules for female captives, protecting them from rape and coercion by threat of death, and enforcing fidelity on the part of their male partners in the event that they married a pirate.
In 1808, the Chinese government made a concerted effort to destroy the Red Flag Fleet by barricading them behind an overwhelming blockade. Three weeks later, Ching Shih sailed away mostly unscathed, having taken over the government ships, leaving the Chinese navy with nothing more than fishing boats to fight with.
However, by 1810, infighting among the pirates had begun to take its toll and the Red Flag Fleet was in decline. Ching Shih turned her shrewd mind towards bargaining with the Chinese government, eventually winning freedom and a payout for her efforts, as well as for most of her pirates. In exchange for laying down arms, they would almost all walk away.
Ching Shih finally married Cheung Po (after having her adoption of him waived) and settled into life back to her roots as a madam of a brothel and gambling hall. She died at the ripe old age of 69, a well-respected business woman, having controlled the South China Seas for a spectacular handful of years.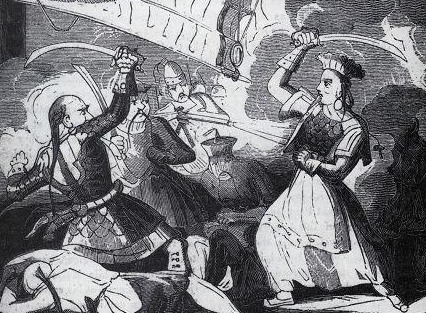 As a historical figure, Ching Shih was fascinating. As a character, she could be amazing. At every turn, she exhibited agency in driving her own story, and disregarded the limitations society placed on her simply because of her sex. A character like Ching Shih would be one to remember.
For Discussion
Imagine your favorite action story. What effects would swapping a male character for a female one have on the story? What would need to change? What could stay the same?
A. E. Lowan is the pseudonym of three authors who collectively create the dark urban fantasy series, The Books of Binding. Their first novel, Faerie Rising, is available at Amazon. For free original short fiction and all things Seahaven, check out the A. E. Lowan website.