This article is part 1 of a series on Fantasy Fortifications by Toni Šušnjar.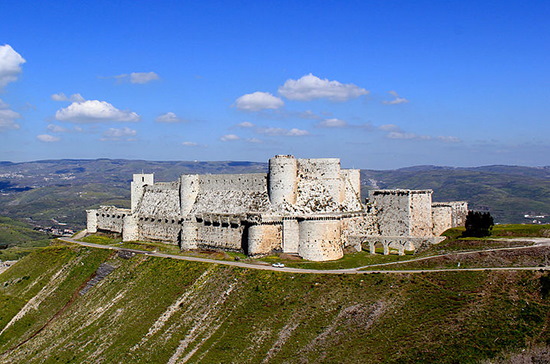 Fortifications are one of major parts of fantasy fiction, especially high fantasy. But they are also oh-so-often wrong, even though many basic details are typically right due to prevalence of models to build on. A common mistake is ignoring how weapons and fortifications interact: many fortifications in we-swim-in-gunpowder Warhammer look (and act) like fortifications from pre-gunpowder era. As seen here and here, extremely advanced Empire absolutely forgot to account for presence of siege cannons in designing its fortifications, despite possessing the same. In fact, those fortifications are from pre-trebuchet era. On the other extreme, Storm's End has a wall which reads like something from early gunpowder era (though it does have the excuse of having to resist storms), as well as being sized for giants.
Strategy
The main purpose of fortifications is to increase the cost of the attack, by providing the defender with a hard-to-get position. They therefore allow the defending army to maintain armed presence where such would be normally untenable, forcing the attacker to either deploy disproportionate forces on blockading said fortifications, or deploy disproportionate forces on protecting supply lines from being cut off. If attacking army is relying on foraging, fortifications can serve as bases of operations from where defenders can interdict foraging parties, forcing the attacker to increase strength of the same and thus reduce their efficiency.
Second purpose is also related to increasing cost of the attack. By providing defensible positions, fortifications enable military to maintain control over the area. Roman limes was, for a long time, little more than a border customs checkpoint. Fortifications enable small force to be disproportionately effective, and also reduce the risk of a surprise attack. As such, small force can operate relatively independently – many castles had garrisons that numbered in single digits. Most fortifications in pre-gunpowder era were not taken by assault. Treachery, infiltration and hunger are typical means of taking the castles.
Frequency and nature of fortifications depend on political and strategic outlook. In conditions of significant political fragmentation, there will be huge numbers of very small castles – most castles housed crew which numbered in low double-digits at most. Basically every noble had a castle, even if that castle was little more than a slightly taller house with bit thicker walls. The exception to this were the places where large, organized armies clashed: those of Roman ("Byzantine") Empire, various Caliphates and Sultanates, and Holy Orders. In such cases, large, well-fortified stone castles are frequent – examples are Krak des Chevaliers, Angelokastro and Korkyros Castle – although many watchtowers would have been castles in Western Europe (difference is one of role: fort and watchtower are military outposts, while castle is a living place for a noble and his family; Byzantine "castles" are thus properly forts). Castles in such areas also had very large garrisons: Krak des Chevaliers had a garrison of 2 000. For comparison, Conwy Castle in Wales, built in 13th century, had usual garrison of 30 soldiers in 1284, but by English Civil War, garrison was minimum of 300. In 1160s, Oswestry Castle had a garrison of five, as did Clun and Ruthin. Shrewsbury castle had 2, and Brigdnorth had garrison of one. In 1165, Oswestry and Knockyn castles had garrison of 200 as part of Henry II's campaign, and in 1166. garrison at Oswestry was increased to 40. Between 1168. and 1174, garrison was typically 20. Sterling Castle in 1304. had a garrison of 30, which seems to have been typical for the time.
Gunpowder significantly increases the cost of basic fortifications even if the cost of top-level fortifications does not change much (until one gets to 19th century and breech-loading artillery). It also significantly decreases effectiveness of even top-level fortifications, especially as weapons advance. This can be seen by comparing timeframe of sieges before and after introduction of gunpowder weapons. In 626, Constantinople survived a two-month siege. It also may have survived a siege in 667. – 669, though that siege may not have been uninterrupted, and may not have happened at all. In 717. – 718, Constantinople survived a one-year siege, followed by Rus' siege in 860. Thomas the Slav also besieged the city in 821. and 822. Leo Tornikos besieged it from September 25. to 28, 1047. Crusaders besieged Constantinople from 11 July to 1 August 1203, but the emperor was overthrown before they could breach the city. Crusaders captured city in few days in April 1204, by attacking the weaker sea walls. Siege in 1235. was likewise unsuccessful, as was in 1260. Last siege was supposed to not be a siege at all, as Michael was relying on treason from within; but when the agent was thwarted, he may or may not have attempted a siege. Ottoman siege in 1411. was unsuccessful. In 1422, despite the appearance of early cannons (falchons), siege lasting from June to September was unsuccessful. But a 53-day siege (6 April to 29 May 1453.) was successful thanks to advanced artillery deployed by the Ottomans.
Belgrade was besieged in April to October 1440, and in July 4 – 22, 1456, both times unsuccessfully. By 1521, however, city was taken after seven-day siege. Yet in 1688, after upgrade to fortifications, it would take over a month for the Holy League to take the city. In 1717, after the city had been lost to Ottomans thanks to a lucky shot causing magazine explosion, Belgrade would be recaptured after one-month siege. Siege of Rhodes in 1480. lasted 2 months and 3 weeks, but it should be noted that the Ottomans actually broke into the city and were pushed out.
Similar performance would continue in 16th and 17th centuries. During Siege of Malta, in 1565, none of the fortifications lasted more than a month. Fort St. Elmo was captured in less than 30 days, after being reduced by artillery. Turks also besieged forts St. Michael and Birgu between 7th and 21st August, but took neither as they were demoralized, and at any rate relief arrived before they could. Siege of Vienna also lasted less than two months, from 17th July to 8th September; by its end, all but the innermost line of Vienna's layered defences had been breached, and city was facing imminent fall when relief army had arrived.
Rome is also indicative example. Before gunpowder era, sieges of Rome lasted five months (472, Ricimer, success), year and ten days (537. – 538, Vitiges, failure), around a year (546, success; 549. – 550, Totila, success). In 1849, city was captured after a siege lasting less than a month. In 546, city was lost to betrayal from within, as (Isaurian) members of garrison opened city doors to Totilla. This capture by betrayal was in fact one of more frequent, and more successful, ways in which a city or castle could be captured. However, it was not necessarily quicker, as in many cases such treason was caused by desperation of defenders as supplies dwindled. In Siege of 546, commander of city garrison, Bessas, made a major mistake in refusing to allow civilians to leave the city. Had he done so, he would have extended the supplies for his own garrison, and also reduced the chance of betrayal.
To sum up:
pre-gunpowder

472, Rome, 5 months, success
537, Rome, 1 year 10 days, failure
546, Rome, ~1 year, success
549, Rome, ~1 year, success
626, Constatinople, 2 months, failure
717, Constantinople, 1 year, failure
1047, Constantinople, 4 days, failure
1203, Constantinople, 20 days, failure
1204, Constantinople, 2 days, success (sea walls)
1235, Constantinople, unknown, failure

gunpowder

1422, Constantinople, <month, failure
1440, Belgrade, 6 months, failure
1453, Constantinople, 2 months, success
1456, Belgrade, 18 days, failure
1521, Belgrade, 7 days, success
1688, Belgrade, 2 months, 6 days, success
1717, Belgrade, 1 month 1 day, success
1739, Belgrade, 51 days, success
1789, Belgrade, 23 days, success
1849, Rome, < month, success
As it can be seen, even for major cities, proliferation of advanced cannon means that fortifications become much less effective. They also become much more expensive and manpower-intensive (that is to say, necessary numerical advantage of an attacking army is reduced). As a result, minimum size of fortification is increased, and advantage shifts away from nobles towards the state, thus promoting centralized rule and development of centralized, professional army. Essentially, once gunpowder weapons go through their baby phase, feudal society becomes impossible to maintain as central government can easily crush any opposition. This development enabled the creation of absolute monarchies in the Western Europe. Roman Empire itself however never experienced feudalism of Western European type, even during Byzantine period, with the exception of Latin occupation period after 1204.
However, direct attack is not the only way for a fortification to fall. If local population can be removed, or turned hostile, fortification will not be able to maintain itself – or else supplies will have to come from afar, placing significant burden on owner of said fort (especially if it cannot be resupplied by sea or by river). This can be seen particularly well in two cases. During Arab conquest of North Africa, many Roman fortifications were simply abandoned, as they became indefensible after local Berber tribes converted to Islam. Later, in Ottoman campaigns in Croatia, many forts were not taken by siege, but simply had to be abandoned as the countryside surrounding them was devastated. Key fortifications were maintained, but only with great effort: Jajce had to be regularly resupplied by full-blown armies. Most well-known of these resupply runs was by duke Krsto Frankapan, who, leading 6 000 troops, broke the Ottoman siege and resupplied the city. Such an approach however does take significant time.
For the Fantasy Writer
Presence and nature of fortifications have major implications on the nature of not just warfare in the setting, but also nature of the setting as such. As noted already in the introduction, setting which uses gunpowder on a regular basis will have to have fortifications adapted to that fact – unless said fortifications are supposed to be purely decorative.
Further, as power of siege weapons increases, so does the scope, and the price, of fortifications themselves. Advanced gunpowder weapons, on the level of 17th to 18th (and perhaps even 16th) century require massive fortifications, dozens of meters of stone and dirt. Even in 15th and 16th centuries, and perhaps earlier, fortifications started being thicker yet lower. All of this means that, unless magic is available to counter this trend, a setting with widespread usage of gunpowder artillery cannot be feudal in nature. If both feudalism and gunpowder are wanted, there must be access to magically reinforced fortifications to counter gunpowder weapons.
What Do You Say?

What fortifications are present in your world? How are they used and what is their impact?
References
For strategic impact of fortifications in real world see:
Povijest Ljudskog Roda – Srednjovjekovni Dvorci
Haldon, John – The Empire That Would Not Die – The Paradox of Eastern Roman Survival, 640 – 740, Harvard University Press, Cambridge, Massachussetts, London, England, 2016
Birkenmeier, John W. – The Development of the Komnenian Army 1081 – 1180, Brill, Leiden – Boston – Koln, 2002
 About the Author:
Toni Šušnjar is an amateur historian and fantasy enthusiast with particular interest in Ancient and Medieval history as well as Medieval and High Fantasy. He also writes Military Fantasy blog.  You can follow him on the Military Fantasy Facebook page.