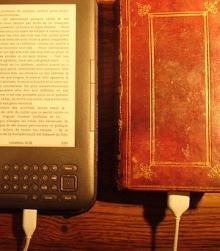 The rules of publishing are changing.
Not too long ago it was impossible to find an audience for your book without going through a traditional publishing house.  And in most cases that meant first acquiring representation from an agent, and experiencing an endless stream of rejection letters.
But now it is possible to take your book directly to the masses.  The self-publishing revolution has enabled countless new authors to find an audience for their work without jumping through hoops to find a publisher.  But is self-publishing right for you?
Traditional Publishing
As the title of this article suggests, there are now two very different approaches to publishing.  The first approach, which is going through a publisher, is the most traditional of the two.  It requires a great deal of patience and persistence.  But if you are willing to take the right steps (and face considerable rejection), it can be the most rewarding path.
Traditional publishing can be broken into the following steps:
Prepare your manuscript.
Compose a synopsis.
Prepare a query letter.
Research publishers and agents.
Send out query letters.
Wait it out.
For step-by-step instructions on how to pitch your book to traditional publishers, see our Guide to Traditional Publishing.  It will provide you with the information needed to get started.
Traditional publishing remains the goal for most professional writers.  For those who are signed by a major publisher, there is a chance to reach a considerably larger audience, and to reap greater financial rewards.  But because of the nature of the publishing industry, very few authors will ever have their manuscripts selected by a major publishing house.
Self-Publishing
Self-publishing has the advantage of offering more immediate rewards, as well as greater control over the finished product.  Unfortunately, there is still a stigma associated with self-publishing, mostly due to damage caused by so-called "vanity presses."
Nonetheless, many authors are finding success, both critical and monetary, through self-publishing.  This is especially true for those who choose electronic publishing, and sell their work as ebooks.  Amazon's Kindle Store, in particular, has made this an attractive and doable option.  It has never been easier to publish a book on your own.
Self-publishing on the Kindle Store entails the following steps:
Format your manuscript.
Design or commission an attractive cover (this is crucial).
Convert your book into Kindle format.
Upload the manuscript to Kindle Direct Publishing (KDP).
Choose the best price point.
Submit your ebook for approval.
Detailed instructions for each step are found in our Guide to Kindle Publishing.  It will help you to prepare your manuscript, and to select the best price point.
Whichever path you choose, remember that quality storytelling always wins out.  If you keep writing and learning, you will eventually find the right audience for your novel.  As with other worthwhile endeavors, finding success as a writer comes down to practice, persistence, and patience.
For further insights into all aspects of publishing, stop by and visit our Publishing Forum.  It contains a wealth of information for anyone who is interested in either traditional or self publishing.
[sam id="1″ codes="true"]