This article is by Grant Alter, Editor-in-Chief of Dabel Brothers Publishing.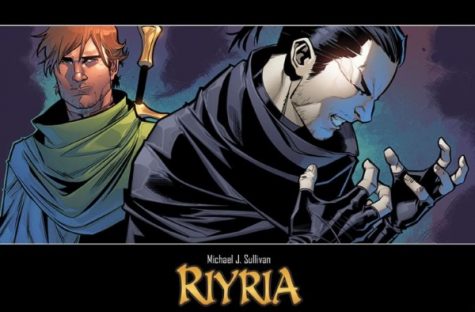 When people think of comic books, most of the time, they think of spandex superheroes and BIFF BAM POW.  Four color tales of caped modern-day gods swooping in to save the day, restoring order and justice and aimed at children.  And those do exist, thankfully.  They're great fun.
But comics are a medium just like any other.  Like film, prose, or photography.  There's virtually no limit to what sort of story you can tell.  And there's almost no task more rooted in playing with form than the comic book adaptation.
In my career as a writer, I've done a few original format comics, but most of the work I've had published has been adaptations of popular novels to the comic book form.  I've made comic books for fans of Richelle Mead, Dean Koontz, and very soon, Kevin Hearne.  For all the similarities between writing original comics and adapting, there are also some pretty significant differences.  I thought I would take a moment today to give you an inside scoop into how we at Dabel Brothers make our NY Times bestselling graphic novels.
Sit Back And Read
When you're writing your own story, you start with daydreaming and fantasizing.  But when you're adapting, obviously, you start by reading the book.  I start every project by reading the book as a fan would.  No note-taking, no real thought about the comics format.  I want to have the experience you did as it helps me understand how you became a fan of the book in the first place.  That excitement is our stock in trade and I want to be able to capture that feeling as much as possible.  So I make myself comfortable, maybe I grab a beer, and I sit back and read the novel, feeling and imagining and picturing all along the way.  If I can get lost in this story, I want to on that first reading.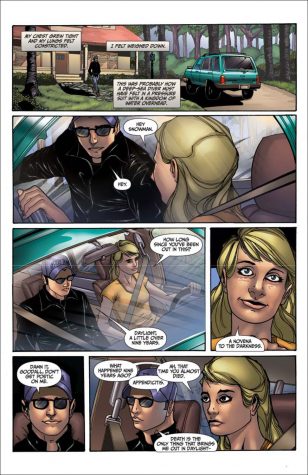 Finding Rhythm And Beats
That's the fun part.  Next comes the least fun part, in my opinion.  The second reading is about finding rhythms and beats and figuring out how many issues I need to do the story justice.  The advent of the e-reader has made the entire process much easier for me as I used to have to do everything one-handed, holding the novel open in the other.  But now, I put the e-reader on the table and I start making notes.  I found a few years ago that it's easiest for me to write on a tablet, so from this point on, I work in front of a tablet and an e-reader.  The first thing I do is break the book down, outlining it by chapters.  I have a concern that novelists never even consider.  Writing in a serialized format such as comics, I have to end every single issue and graphic novel with a moment that will bring you back into the store for the next installment.  I'm currently adapting Hounded, the first novel in the Iron Druid Chronicles series by Kevin Hearne.
Side note:  if you have not yet read these books, I could not recommend them more.  We approached Kevin to work with him based on how much I personally loved the first 3 IDC novels and writing the comics has been a dream job.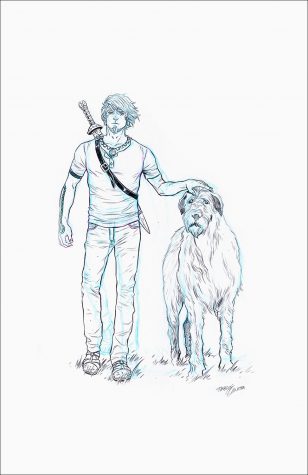 So, I determined early on that Hounded should be broken up into 10 issues.  That means that I need to find 10 moments compelling enough to draw you, the reader, back into the store.  And that 5th one needs to be the best of the lot.  Once I've finished breaking the novel down, I start compiling a document with every character and location description that I can find in the book.  And if some character isn't adequately described in the text, I write the author to ask how he/she pictured them.  One thing that makes Dabel Brothers unique in our field is how involved we want the authors to be.  Our goal is to make the author squeal in excitement, knowing that if we capture the pictures from their imagination, the fans will have the best possible experience.  At this point, I confer with the artist to get character designs created and approved by the author.  It's a conversation and while sometimes, we nail it on the first attempt, sometimes it's a back and forth.
A Collaborative Medium
While the artist works on this, I work on the script.  I write in full script with panel details, notes, possible angles, suggestions for page layouts, in addition to the dialogue and captions.  The way I figure, the panel descriptions are a personal note from me to the artist.  That's where I may invoke a movie I saw, a feeling I want to capture, a song I want them to listen to while they think about how the panel should look.  That part of the script is a place for me to say whatever it takes to get the artist to see the image I have in my head.  My education background is in film and acting, so I often discuss "camera" angles and motivations and what the character is thinking or feeling to help the artist capture the proper facial expression.  This is a collaborative medium and so the page you see is the result of the author's mental picture filtered through me, then through the art team, then lastly through the letterer.  And I will include notes to each member of the team to help communicate what I see.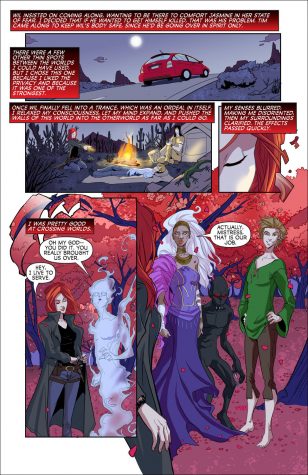 Once my script is finished, my editor reads it and suggests any tweaks he may have caught.  Then it goes to the author or the license owner.  They have an opportunity to change anything that's not perfect and I've had authors give me additional notes to add to the script about the historical reality of certain armors or locations.  This is incredibly helpful.  Once it has been approved, the penciller draws rough pages for us.  These give us an idea of layouts and it's a chance for us to correct any miscommunications before too much work has been committed to the wrong path.  Once those have been approved, the pages are finished.  Inks, colors, and letters are added.  As the writer, I then give it another look and anything that looks wrong gets fixed.  The same process occurs with the editor and again, the author.
When adapting a novel, we NEVER forget that these characters are the author's babies and as such, they may have been living with these characters for decades, talking to them and seeing them in their mind's eye.  A healthy respect for that fact is an absolute requirement to create a successful adapted comic book.  If the author is unhappy, it's highly likely the fan will be as well.  And we are always aware that happy fans are the goal.  We want for you to be so excited about our adaptations that you just have to share them, buy copies for friends, post about them on your social media.
A New Dimension To Your Fandom
The books already exist and they've already captured your imagination.  We want to expand on that and add a new dimension to your fandom, but never lose respect for what brought us all together in the first place.
The story.
We make ourselves available on social media, at conventions, and at events to talk to the fans.  We typically gather a group of super-fans to act as consultants to help us make sure we aren't missing anything.  We run Kickstarters to bring the fans closer on the creative process as we have in our ongoing Kickstarter campaign for the adaptation of Michael J. Sullivan's Riyria books.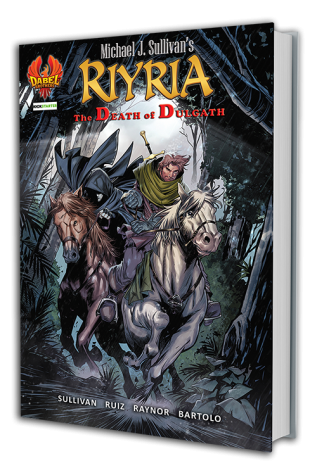 Adapting a novel to comics is the ultimate in fan service and as a result, we pick the fans' brains as often as possible.  After all, we all want the same thing.  Truly jaw-dropping, faithful, AMAZING comic adaptations.
Questions To Consider:
Do you think adapting someone else's stories would "take the fun away" from the creative process?
What do you think would be easier to adapt: a novel into a graphic novel, or a novel into a screenplay?  Which would you rather do?
What fiction novels would you like to see adapted into graphic form?
About the Author:
Grant Alter is Editor-In-Chief of Dabel Brothers Publishing.  He has extensive credits writing and editing in the field of comics and graphic novels.  Currently, he has helped the launch a successful kickstarter campaign for the adaptation of MIchael J. Sullivan's The Death of Dulgath.  The project can be viewed here.