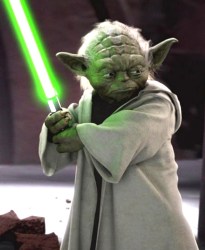 This article is by A.L.S. Vossler.
Fan fiction is the lowest life form of the writing universe.
If you had asked me what I thought about fan fiction about a year ago, that is what I would have said.
I had not always looked down so fiercely on fan fiction.  I was never a huge proponent of it, but I did not always thumb my nose at it, either.
In college, however, I took a creative writing class.  We talked about "developmental" stages of writing, and the most infantile of those stages was the "writer's personal fantasy."  The idea behind this stage was that the writer was living vicariously through the characters and only producing, more or less, self-indulgent tripe.  It was presented as a phase that all writers had to overcome if they ever wanted to become serious writers.  The fact that I remember this but none of the other stages says something about how strongly this affected me.
Naturally, one of the forms of this puerile writer's fantasy we discussed was—you guessed it—fan fiction.  And so, in my eagerness to become a real writer, a serious writer, a mature writer, I became a member of the anti-fan-fic camp.  I freely bestowed my scathing criticisms on anyone who admitted to writing or even merely reading it.  I openly scoffed at a co-worker who met his fiancée through a Grey's Anatomy fan fiction group.
My Journey of Love and Acceptance
Then, one day about a year ago, I caught my husband in the act—I walked in on him writing fan fiction.
He reacted as though I had caught him in the midst of something far more prurient.  I knew that he read Star Wars and Avengers fan-fics, and had inclemently teased him for it throughout our three years of marriage.  It had reached the point where whenever he was reading fan-fics and I walked past, he would minimize his browser.
It was a bit of a reality check for me.  So, I swallowed my pride, bit my tongue, and decided to support my husband in what made him happy—sort of the way I approach his habit of constantly watching ESPN or not folding socks the way that I do.
I started my journey of love and acceptance by reading his stories.  The plots were not too bad, but my husband majored in music, not English, so his writing was a little awkward in places.  I gave him some writing advice that I had gleaned from my studies throughout the years, and soon he was asking me to read and critique his writing on a regular basis.  It was a uniquely healthy marital bonding experience.
Even more than that, however, it opened a new door to me as a writer.  I realized how important the first stage of writing is.  I had been viewing the first stage as something to be avoided once you were a "real" writer, but the truth is that it fuels the creative spirit.  I was reminded that even though I never wrote much fan fiction when I was young, I still made up stories, telling them to myself and acting them out while walking in circles around my bedroom.  I frequently inserted myself into these stories; I often joke that Legolas was my first boyfriend. (For the record, I liked Legolas before the movies came out.)  I would make up characters as a stand-in for myself.
In creating the back story for one such Middle-Earth avatar of myself, I ended up with my own world, my own story, my own unique creation completely divorced from the world that inspired it.  That story has slowly evolved over the years into something much bigger than I ever dreamed it would be.  Though I have recently put that story aside to focus on my current work in progress, the lesson I learned from my husband's fan-fic habit actually helped me get past a creative slump.
A Whetstone for Creativity
I was sailing through some rather severe writing doldrums with my novel when I experienced this fan fiction epiphany.  So, swallowing even more of my pride, I allowed myself to indulge in a little fan fiction writing and returned to my former habit of telling stories to myself.   I was blown away by how much fun it was.  My creativity levels soared.  I wrote pages and pages of fan fiction in a few days.  That was when the bonds of writer's block fell away and I returned to my own novel, my own "real" writing.  As a result, I finished it and am now working on the finishing touches.
Fan fiction is an incredible tool that should be in every writer's arsenal.  It is a whetstone for creativity in a very unique way.  When you write fan fiction, the stakes are low.  You have nothing to fear.  There is no pressure to be perfect or to impress anyone.  It allows you to explore human emotions and motivations with characters that are already there.  You can apply all of the things you have learned about writing without all of the emotional weight of critiquing your own story and characters.
With fan fiction, you can hone your writing skills fearlessly and have a fabulous time doing it.
So the next time you are choked in your creativity, want to sharpen your skills, or just want to have a great time, try writing a little fan-fic. Pick your favorite show, movie, or book.  Make up a story for the characters.  Let it be as long or as short as you like. Let it be silly.  Let it be self-indulgent. Let it be whatever you need it to be.
You will be glad that you did.
What are your thoughts on fan fiction?  Have you tried writing it?  What writing tools help you in sparking creativity?
About the Author:
A.L.S. Vossler is a writer and homemaker.  You can read her thoughts on literature and speculative fiction on her blog, Lamps and Mirrors.  Currently, she is awaiting publisher response on her fantasy novel, Charybda.  Her published works include poetry, short stories, creative non-fiction, and newspaper articles.