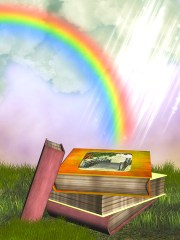 This article is by Marc Davies.
If you have watched television, read a newspaper, seen a play or been to a movie in the last couple of years, there's no doubt that you would have been exposed to lesbian, gay, bisexual or transgender people and their issues.
The only way you could avoid it is by living under a rock, and even then you'd probably discover said Rock has a penchant for designer clothes and an obsession with maintaining its rocky skin in fabulous condition.
Whatever your personal views, LGBT people have been readily accepted by much of mainstream media. There are popular movies and sit-coms with gay characters. Literary fiction has embraced gay characters and gay issues. If you go to see the ballet or a musical, you can bet half the cast is probably gay. And pop music embraced gay performers and music long before Elton John and Queen became best sellers.
Few and Far Between
When it comes to science fiction and fantasy, however, LGBT characters are few and far between. Their prevalence in the genre is much lower, in my view, than it is in other genres.
I'm not just talking about books, either. The same applies for movies, comics, computer games, and role playing games. In movies and television series, in particular, the absence is quite readily apparent. I can think of dozens of movies and television series off the top of my head which have LGBT characters, and yet few of them could be classed as science fiction or fantasy. Think of some of the recent blockbusters. Avatar? No. Avengers? No. Lord of the Rings? No. Harry Potter? Well, there was a rumour about Dumbledore, but…no.
So, why is this important?
Let me start by saying this is not a crusade. I don't have an agenda in writing this article, more a curiosity about why a genre I love and write has developed this way. I read and write fantasy and science fiction for numerous reasons. Sometimes it is just for fun; I love a good adventure story. But ultimately I think the highest calling of any form of art is to challenge people and test the boundaries of our society. To do that, art must to some extent reflect reality; otherwise it has no point of reference.
So why don't science fiction and fantasy reflect reality in this case? The most widely quoted statistic is that approximately 1 in 10 people in western societies are LGBT or curious. If the genre was to reflect this reality, we would see approximately one in ten characters being written as lesbian, gay, bisexual or transgender.
I can't claim to have undertaken any kind of study to determine exactly how many characters in the genre are LGBT, but I have no doubt they fall far short of the 1 in 10 ratio. Probably closer to 1 in 100. And if you consider how many main characters are gay, rather than just some two-dimensional gay side-kick thrown in for fun, the statistics are probably even worse.
The only fantasy novels that I've read which have unambiguously and openly gay protagonists are The Steel Remains by Richard Morgan, and China Miéville's Iron Council (which I both really enjoyed). No surprise that they are relatively new books, either. Sure there are undoubtedly others, especially in sci-fi, but they are few and far between.
Why So Few?
In my view, the reasons for this are varied and complicated. Here are some of the contributing factors I can think of:
Often it's not necessary for the writer to mention a character's sexuality, so it can be hard to work out an accurate percentage of LGBT vs. straight characters. There's some truth in this explanation, but it only holds true for side characters, not for important characters. I have another gripe with it too. If it's not necessary to mention a side character's sexuality, then why are so many villains portrayed as gay?
Fantasy books are often set in medieval settings or other worlds which are not socially progressive. Being gay in those worlds would be taboo, so it makes sense that few characters would be out of the closet. My gripe with this explanation is that it doesn't apply to science fiction. Most modern science fiction books (other than dystopias) are set in worlds with liberal social values. And yet the absence of LGBT characters is still readily apparent.
Readers want to escape from reality. By including LGBT characters, the writer is drawing them back to real world issues they don't want to deal with. Okay, I'll buy that one. Kind of. Going back to my original premise, the highest calling of an artist is to challenge readers' views. You see science fiction and fantasy authors challenging other social norms (such as with racism and human rights) far more often than they address LGBT issues.
Reader demographics. Traditionally, it was young males who read science fiction and fantasy. This group also happens to be the most likely to be uncomfortable with LGBT characters in fiction. While this explains many of the older science fiction and fantasy books, it doesn't stand up to scrutiny anymore. Females make up the biggest reader group by a long shot these days. Then there's the fact that people in the LGBT community are great supporters of science fiction and fantasy. How could they not be after seeing Capitan Janeway's hair?
Successful stories often owe their success to the fact that they appeal to the common denominator. This I agree with. Writers want to sell books and make money. Why write about a topic that might only appeal to 1 in 10 of your readers?
Now, the big one: fear. Tackling a subject that induces heated debate, criticism and even hate mail is not an easy step for a writer to take. Some writers might be afraid of upsetting their existing readership, or–heaven forbid–giving people the wrong idea about their own sexuality. Gay by association? People have been convicted on less evidence.
Publishers have huge influence over which books get published. Often they won't take a chance on a book they think is too risky, and writers tend to self-censor depending on what they think their publishers will want.
Of all the above, I have been at least partly guilty of the last. My debut novel HIVE deals with some LGBT issues (although they are not the focus of the plot). When I was searching for a publisher, I removed any reference to those elements from my initial queries because I feared they would put off mainstream publishers.
Was I right to do that? More than one agent advised that I was, but I'm not so sure. Ultimately the LGBT elements weren't hugely important to the plot, so I appeased my conscience on the basis that cutting them out helped to reduce clutter.
Maybe that makes me a sellout. But one thing is for sure: I wish some of my favourite authors would take up the challenge and tackle this issue in their writing.
It's long overdue.
What other factors might be causing the genre to avoid this issue?  Also, who are your favourite LGBT characters?
About the Author:
Marc Davies is an author of science fiction and fantasy.  His debut novel HIVE is available now on Amazon.
The Hive is out there…visit marcdavies.net.