This article is by Michael Cairns.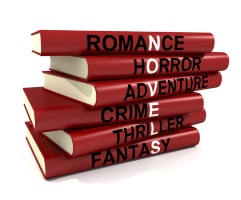 For decades, the publishing industry has worked to ensure that every book that they publish can be marketed within a single genre. This is, up to a point, understandable. Publishing is a business, and the clearer the genre of a book, the easier it is to find the target audience.
However, the rise of self-publishing has changed the way in which people not only sell books, but also write them. Indie's don't need to have a big 'opening weekend', so as to avoid high returns on print copies. Self-publishers can play the long game, relying on good stories and brave readers to build an audience. They can also take more chances and write outside the long-established boxes.
I take great pride in pretty much throwing genre out the window. There are a few reasons for this. But first, a little backstory…
I grew up reading science fiction, fantasy, horror, and comics in equal measure. The key element that made any of them work for me was the characters. I still have affection for fictional characters I read about in Eagle and Tiger comics when I was eight years old. Indeed, I remember the characters when the plots have long gone the way of my hair. Without further ado, here are my top three reasons why I love to mix genres.
Characters
As an author, my goal is to create characters so compelling that I am free to do anything I like with the universe that surrounds them. There are only a limited number of different plots out there, but there are an infinite number of characters, all with their own idiosyncrasies, interests, values, and flaws.
When I think of Star Wars, I think about Han Solo or Luke Skywalker. The AT-ATs are immeasurably cool, but it's the people I care about. The machinations and intrigue that run through A Game of Thrones is fascinating, but I'm still waiting, and waiting, for the next book because I'm desperate to know what happens to Arya and Tyrion. If Jon Snow had gone beyond the wall in book one, and discovered a spaceship buried in the ice, and the coming winter turned out to be an alien invasion, that would have been totally cool with me. I had bought into the characters so much that, provided it was done early on and in the right way, Martin could have taken the story just about anywhere and it would have been fine.
Characters, regardless of whether they fly spaceships or ride horses, carry a story. If the characters are strong enough, then the author can get away with doing the unexpected within the genre, or even leaving genre behind completely.
Themes
A really good book will emotionally move the reader. If it's written well enough, then emotional attachment will happen, irrespective of genre. Whether it's the break-up of a family, the loss of a loved one, the inevitable corruption that power brings, or the tragedy of war, themes are universal. They feature in almost every great story. Sometimes the authors put them there consciously. Other times, readers take from the story what they need at the time; art can be a healing process.
These themes often define whole parts of our lives. At different times we might seek out stories that speak to us about what we are experiencing at that moment. For me, that means that at various points in my life I've wandered all over the literary map. I have found the same escape in a Sarah Waters novel, a Steven Erikson novel, and a Terry Moore comic. The genre was irrelevant, because the presence, or lack of, dragons didn't change the way the story moved me.
Sometimes, when the story has faded from memory, we'll still return to the feelings it stirred within us. We rediscover that special place it took us to.
As an author, I dream of moving my reader. If the struggle of someone unexpectedly endowed with super powers works better in an epic fantasy setting, then that's what I'll write. If I can talk about modern day issues of paranoia by having zombies fight magicians, that's what I'll write.
Therefore when writing, tying yourself to a specific genre and it's conventions is needless because, in itself, it does little to further what you are actually trying to accomplish, which is to move the reader.
Freedom
I write fantastical novels, filled with magic of all different sorts. I've spent my life escaping into other worlds and finding wonderful things there. As an author, I get to create those worlds as and when I please. I should add at this point that all of my stories have rules within the madness. I refuse to allow magic or any other convenient deux ex machinas to crop up at the last minute and save the day. But…
Why would I, as an author who leaves the reality in which we live at the door, choose to straitjacket myself in another? I understand the pleasure of creating new worlds and do so frequently, but why should a world with dragons be okay, but not one with dragons and people who can throw lightening from their hands, or fly? Why shouldn't the dragon have to contend with zombies?
As a creative, I believe that limitation breeds creation. I never allow myself to write as though logic doesn't exist and, as I hope I made clear earlier, my story is always driven by the characters and their journeys. So certain limitations are essential.
But genre?
A willing restriction on our imaginations driven by a combination of market forces, an outdated publishing business, and our own fear of confusing readers. No, I can live without genre.
What do you think? Is genre an outdated concept that should be forgotten? Or does it still serve a purpose?
About the Author:
Michael Cairns is author of the superhero urban fantasy series, The Planets. Book one, The Spirit Room, and book two, The Story of Eris are both available now. Sign up for the mailing list at CairnsWrites.com and receive a free copy of Childhood Dreams, book one in his science fiction adventure series, A Game of War. You can also connect with Mike on Twitter, GoodReads, Facebook, Pinterest,and Wattpad.