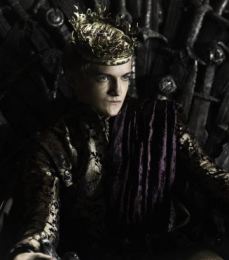 This article is by Martin White.
Every epic needs an opposing force, and in most high and heroic fantasy, that opposing force is evil. Sometimes, it's literal Evil with a capital E, embodied in an army of twisted champions. Other times, it's the sort of evil that kicks puppies and kidnaps damsels. Either way, it contains within it the author's conception of the things that humanity would be better off without.
I don't typically write about evil people. Many of my characters, both protagonists and antagonists, have traits that could be called evil, but I'll never have more than one character per story who's completely, undoubtedly, irredeemably evil. More often, the concept shows up only in first-person perspectives, and it's called into question whenever the accuracy of those perspectives becomes questionable. In this essay, I aim to show why.
Why I Don't Portray Real Groups as Evil
I'd like to begin with a statement that will hopefully not be controversial: unlike some writers and rhetoricians, I don't portray queer people as all being rapists. Although I'm queer, and I don't consider myself evil, it doesn't really bug me when other people classify queerness as evil–evil is subjective, and sometimes it's really cool. However, I do mind when people assume that because I'm queer, because queer people are evil, and because rapists are evil, I must be a rapist. Setting aside the issue of personal offense, the logical leap that I dislike goes like so: If this person has a trait that I oppose, he or she must have all traits that I oppose.
Now, casting our scope wider, we find this leap all over the science fiction, fantasy, and (to a lesser extent) thriller genres. Pick any story not by Robin Hobb in which Christians fight pagans, and either the pagans are evil and knowingly worship Satan, or the Christians are unknowingly worshipping Satan, and the few Christians who aren't evil will all convert to paganism upon realizing this. Pick any story in which Christians fight atheists, and either the atheists are amoral and selfish, with no redeeming qualities, or the Christians are self-righteous and hypocritical, with no redeeming qualities. Authors who are afraid of gays will make their bad guys gay, authors who are afraid of conservatives will make their bad guys conservative, and there are a handful of authors who may be afraid of blacks (though if they are, they thankfully have the good sense to disguise them as non-humans.) Many of them have clearly read books by authors with opposing prejudices, but they've responded by hardening in their own prejudices, rather than by writing without prejudice.
Do I really need to say that I consider this bad? It's gotten to the point where I won't even read a fantasy that has a clear analogue to Christianity, because I already know someone's going to be humiliated as their worldview comes crashing down on them, probably shortly before they die horribly.
Why I Don't Portray Fictional Groups as Evil
Of course, if you don't write based in prejudice, this all may seem like so much talk to you. There are no orcs or vampires to protest your fictional treatment of them, so why can't you portray them as pure evil? I can't speak for you in this. I can only speak for myself when I say that I don't want to give the thought "some groups of people are all evil" any credence even in a fictional context.
In our "nonfiction" media, and in our daily lives, we are surrounded by evil. Drenched in it, even. Depending on your news source, you may already be certain that liberals are evil, or else that conservatives are evil (though the term you'd probably use is "crazy.")  Depending on your religion, you may already believe that gays, abortion doctors, or people who have sex before marriage are evil (though the term you'd use is "sinful.") Maybe you carry a pro-Israel sign and talk about the evils of Palestine, or maybe you carry a pro-Palestine sign and talk about the evils of Israel.
Some authors respond to this by writing about what they consider the "real" evils in the world–the acts of cruelty and hypocrisy that two opposing factions often commit against each other. I'm not quite that ambitious, so I'm more likely to leave evil out of my stories entirely. We've got far too much of it already for me to add to the supply.
Some Qualifiers
This doesn't mean I portray everyone as good. Some characters are selfless and brave, since some real people are selfless and brave. Some are genuinely irredeemable, since some real people seem irredeemable (though generally not in large groups.) But most of the time, I show what characters think of themselves and each other, and I let the readers decide who's thinking wrongly. If a character is sufficiently repulsive, his self-justifications will ring hollow, and readers will tag him as a "bad guy" just as readily and easily as if I'd set out to write him as one. But if I think of a character as awful who really isn't that bad, readers may be drawn to my neutral portrayal of him–and conversely, if I write neutrally about a character whom readers might have thought of as bad, it's possible they'll grow to like her.
Nor does it mean that my stories don't have antagonists. Sometimes, they're even antagonists from one of the above-mentioned stereotyped groups. But while they're probably in the wrong (or at least less in the right than the protagonists), there's more to them than "Hi. I'm evil." They may have noble goals, or use honorable methods, or maybe even turn out in the end to be right after all. They're complex, just like real people.
How do you approach evil in your stories? Do you similarly remove it? Do you try to tame it? Or do you use it like any other tool?
About the Author:
Martin White is a college student studying to become a budget analyst. In his spare time he writes fantasy, romance, and fantasy romance. His short story "Five Conversations on a Pier After Dark" will appear in an upcoming issue of InD'Tale Magazine.