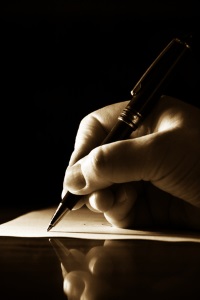 I have a confession to make. It's probably not a big deal to anyone, except to me – specifically to me as a writer. So, here goes: I'm not a native English speaker.
I was born, and grew up, in Sweden. I learned Swedish first and didn't start learning English in school until I was ten years old. Still, I choose to write in English, even though it's not my native language and even though my grasp of it is weaker than my grasp of Swedish.
You might wonder why.
Short version (disregarding the fact I've lived abroad for the past ten years): When I grew up, most fantasy books, which was what I wanted to read, were not available in Swedish – only English. It became natural for me to associate fantasy with the English language. It's just one of those things. It's supposed to be like that.
So I write fantasy in English, even though it's not my native language – and I have a hunch I'm not the only one. I've come across plenty of people here on Mythic Scribes who write in English even thought it's not the language they grew up with.
In this article I'll share some of my thoughts and experiences of writing in a foreign language. I hope you'll enjoy it.
The Mistakes I Make
Let's start out with the difficult bits and get to the more fun aspects later on.
Feeling the words
A language is more than words and grammar. It's a significant part of who we are, our culture, and our world (not to mention the worlds we create). It can be argued that our language affects our culture, and our culture affects our language. Similarly, our language affects us as people too.
These days, the words and the grammar come easy to me, but the culture part of language is still difficult. When someone greets me by asking "How do you do?" my initial reaction is still to tell them how I'm doing, rather than just repeating the same phrase back to them (that's what I should do, right?).
A more subtle difference is in the feeling of the word. My native language has a melody and a sound that's different to English. When I read a word in Swedish it will not sound the same as if I read it in English, even if the words are spelled the exact same way. If the words don't sound the same, they also don't feel the same.
This is difficult for me.
It's hard for me to look at a word and tell how it feels to an English person. Is it warm or cold? Is it hard or soft? Is it positively charged or negatively charged? Does it imply speed or does it hint at slowness?
These days, I can usually get around this by sticking to words I'm familiar with and putting them to good use. I'm very careful with using words I'm not perfectly comfortable with.
Where it really becomes an issue is when I'm making up names. I've found that if I'm making up names from scratch, someone native to the English language will have a different impression of them than I intended. Names that seem strong or heroic to me can be really silly, and the other way around.
Flow and order
Another mistake I tend to make is that I put the words in the "wrong" order. The sentence will still be grammatically correct, but it'll read awkwardly, or seem old fashioned.
This is also something that can be a bit tricky to deal with. Putting the words in the right order is something that comes by intuition and you just know it's right. On numerous occasions my poor beta reader has told me something along the lines of: "This isn't wrong, and I understand how you mean, but you just don't say it like that."
A good example of this is the German language, where the verb often at the end of the sentence is placed (see what I did there).
This type of mistake becomes more common the more tired I get. I usually manage to get it right when I pay attention to it.
Grammar and spelling
Yes, this is something that needs to be learned, and I still make mistakes, but in the context of this article, it's not really all that interesting. I mess up, but so do most people.
British English vs American English
Similar to grammar and spelling this isn't all that interesting in the context of this article. I do get the two mixed up, but it's something that's easy enough to fix in editing. Once it gets time to start polishing the text, I'll just have to make up my mind about which to choose and then make sure I stick with it.
How to avoid mistakes
There are two great ways to deal with the mistakes I mention above.
The first is to be aware that you can make them. Even native English speakers make mistakes and it's nothing to get hung up on. The great thing with mistakes is that you can learn from them and get them fixed.
The second way of dealing with mistakes is to have a beta reader. Let someone else read your things and point out where you've made mistakes. This applies even to native English speakers.
Advantages
Writing in a foreign language is not all about being on the lookout for mistakes you make. You have some great advantages as well – especially as a fantasy writer (or so I'd like to think).
Proverbs and Metaphors
Proverbs and metaphors exist in all languages and cultures, and people use them. Now and then I see posts and threads here on Mythic Scribes where people discuss the sayings they have created for the various cultures of the worlds they've designed. It's good fun, and I enjoy doing it, but with knowledge of an additional language, I have that much of an easier time with it. I can just nab a proverb or metaphor from Swedish and "translate" it.
One of the interesting things with proverbs is that while two different languages can have proverbs for the same things, the actual words involved can be completely different. As an example there is a Swedish saying that translates word for word to "away good, but home best" – which is equivalent to the English expression "there's no place like home".
The exact Swedish translation may read a bit awkwardly, but the basic idea can still be used as a base to build on. You might end up with something like "good to be gone, but better to be home." You can play around with it for hours.
For fun and giggles, here's a list of ten fairly odd Swedish sayings explained.
Accents and dialects
I mentioned above that getting the order of the words right can be an issue for me. However, being familiar with a language where the words are ordered differently has its advantages too.
A question that's pretty common here on the Mythic Scribes forums is how to deal with accents and dialects. Someone has a character who speaks with an accent, and they wonder if they should write the words differently to show that they're pronounced differently – kinda like dis donncha no?
The most common advice there is to be very careful with changing how words are spelled. It gets annoying to read, and there are other options to try instead. One of these options is to slightly change the order in which characters use words. A famous example of this is Yoda from the Star Wars movies. By changing up the order of the words in his sentences he achieves a very distinct manner of speech, while still being easy to understand.
If you're familiar with a different language, where the words sometimes come in a different order, you will have a much easier time replicating this. You can copy the speech pattern of your native language and apply it to the accents of your characters. Since you have an intuitive understanding of the order in which the words come, you'll have an easier time maintaining consistency.
Just be careful not to overdo it, or you'll end up confusing the reader and then it'll be just as annoying as if you'd written it phonetically.
Names
Again, I mentioned earlier that names is something that I have issue with, and that it's difficult to get them right.
However, I also have the advantage of knowing a whole lot of names that aren't used, or even heard of, in English. What's more, these names all have the same roots in common (more or less). I can put this to good use when I'm naming characters from the same background – like a group of villagers, or members of a family.
I can use real names, of real people, from a real language. That extra layer of consistency gives my village or family a slight bit of extra depth. On top of that, for a lot of people not familiar with my language, the names will still have that tinge of the strange and exotic to them.
Challenges
So far I've mentioned how writing in a different language comes with both difficulties and advantages. In addition to that, there are some other interesting challenges I come across now and then – the fun kind.
Vocabulary
I often feel that my vocabulary is not extensive enough, and I believe that this is something I share with a lot of people who write in a language not their own. The way I see it you can get around this in two ways. You can use a thesaurus to look up new words, or you can limit your word usage to the words you know.
My personal preference is the latter option. I try really hard to use only words that I'm perfectly comfortable with. That way I feel much more confident that I'm not using a word in the wrong way or in the wrong context. I have to worry a lot less about whether a word has the right feel for what I want to achieve.
It also helps define my "voice" as a writer. By accepting that my vocabulary has limitations I can focus on putting the words I know to better use. I use small simple building blocks to create what I need, instead of one very specialized block that does the same thing – but which I don't quite know how to use.
Translation
Often, translation is fairly straight-forward, but the times when it isn't, it can be really tricky – and very interesting.
To start with, there are words that just don't have a translation at all – as can be seen here.
If I want to use such a word, I'll have to come up with some kind of expression that catches as much of the original feeling of the word as possible. Personally, I find this to be a really enjoyable challenge. I have to not only translate the meaning of the word, but I also have to convey the same feeling. It often requires me to really push my writing skills to the limit.
A personal favorite of mine is the translation of the Swedish words "knytt" and "oknytt". A knytt is a nondescript little being that lives in the forest. They're nice and friendly but a little bit shy and a little bit nervous. They'd invite you for tea if only you weren't so big and scary and if only they'd remembered to do the dishes – or where they live.
Oknytt are pretty much the same, except they're mean – or at least mischievous.
There really isn't a good translation for either of these words on their own. I could try and elaborate on the definition of knytt and it might end up matching some kind of fantasy creature or other, but that kind of defies the point. The Swedish word carries with it a hint of the undefinable and indistinct, which is really important and which I found to be really hard to translate into English.
The trick turned out to be not to translate it as a word, but as a phrase. Neither knytt, nor oknytt, translate on their own, but if I put them together into a phrase "knytt och oknytt" (och = and), I can translate it as "kin and unkin" and this carries a whole lot more of the feeling of the original words, than each of the words on their own.
Technically, unkin isn't even a word in English, but by putting it next to kin, it implies a connection/opposition and it also clarifies that kin doesn't refer to someone's relatives. I ended up using the expression in a short story in the following paragraph:
The cold winter night drains all warmth from the world, and a pale moon shines on hillsides covered in snow. Kin and unkin stalk and prey on each other in dark woods, and in burrows and villages, sensible [people] sleep and dream of summer.
Sure, maybe it doesn't match exactly my definition above, but it's close enough, and it conveys the feeling that there are strange any mysterious things out there in the forest that are maybe best left alone.
I love these little translation riddles. It's a challenge to try and come up with a word or a phrase that carries not only the same meaning, but also the same feeling. That said, gauging the feeling of a world is difficult, like I mentioned earlier, and it's very hard to get it exactly right.
Your Experiences
Writing in a foreign language is difficult, but it's also good fun. Have you tried it, and if so, what is your experience with it?
What challenges and difficulties have you encountered writing in English rather than in your native language? What advantages do you feel you have?