This article is by Garren Jacobsen.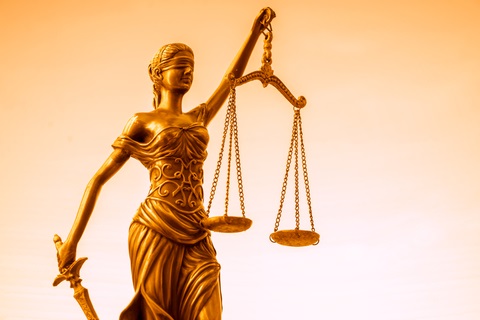 What do you call 1000 attorneys at the bottom of the ocean? A good start. Now, with the obligatory lawyer joke out of the way, let's consider fantasy writers' worlds and the law. There is a lot that goes into the law. Sometimes, the law is concerned with high minded concepts and digs deep into philosophical discussions to understand itself. Other times, the law is bogged down by the mundane and the procedural. But, no matter what, the law is an integral part of everyone's lives and is inescapable. Everyone has or will enter into a contract of one kind or another. Everyone will be injured by someone else's actions and could use legal redress. And every single writer that has written a story will be afforded the protections of copyright law.
However, while the law is so ubiquitous in our own everyday lives, the law is not quite so impactful in the lives of main characters. The legal systems of many worlds are either such a sham of a system that the people would have torn the system down long ago (looking at you Harry Potter) or the legal systems are entirely non-existent.
But Garren, you might say, the law is so complex and so vast, it is impossible to actually build a decent legal system. Ah, but that is where you are wrong. While, yes, in the details, the law is complex, in its foundations the law is rather simple. Now, like Virgil and Dante, let's go through the hellscape that is legal philosophy and see what lessons we can glean therefrom to make our own worlds become that much more alive. (Note that the following discussion is the 10,000-foot overview to give a general lay of the land and many details are left out for the sake of space.)
What is the source of the law?
The first question that we have to ask ourselves is what is the source of the law. In Western legal thinking, there are, primarily, two camps: 1) the natural law camp; 2) the positivist camp.
The natural law thinker is one who believes that the law can be ascertained from the very essence of the universe itself. That nature, usually through divine providence, has laid out a system of laws and it is up to the legislature and the judges to divine what that law is. One of the classic works on natural law thinking is found in the Summa Theologica by Saint Thomas Aquinas.
According to this method of thinking, something is a law only if it conforms with the natural order of things. If it does not then the law is void ab initio (or at the beginning) and should have no effect on anyone and is merely an enactment of the legislature. See Calder v. Bull, 3 U.S. 386 (1798). The law, therefore, is a closed system and need only be discovered.
The positivist thinker is much more cynical in her approach. She is of the belief that the law is what the sovereign body says that it is. If the sovereign says that it is legal to hold a trial without a jury and screw with the time and prevent a youth from having the benefit of counsel, then that's the law and that's that. (See e.g. Harry Potter's trial in Harry Potter and the Order of the Phoenix.)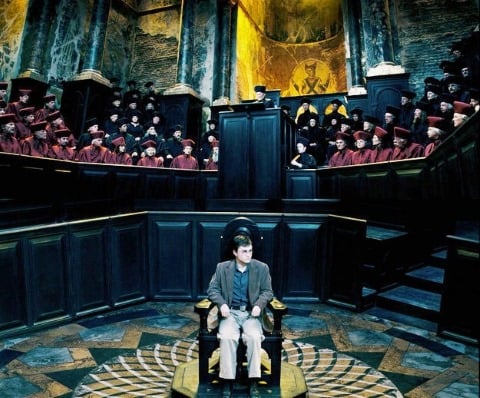 Why do I need to know this?
You need to know this because it is super cool and super interesting and everyone should think these thoughts. Or, more reasonably, you need to know this information because how your world functions will dictate how the society sees the law and will dictate what people will consider "legal."
Consider, for a moment, United States legal history. For centuries, English and United States law believed wholeheartedly in natural law. They believed that it was self-evident that "all men are created equal, that they are endowed by their Creator with certain unalienable Rights." (Declaration of Independence, U.S. 1776.) This was reaffirmed in the Bill of Rights, "The enumeration in the Constitution, of certain rights, shall not be construed to deny or disparage others retained by the People." Constitution of the United States Amendment IX. This is due, in no small part, to the fact that many people believed in God or Providence. This belief that there are rights floating out there in the ether waiting to be discovered still influences American law, despite the fact that so many people believe that America is a positivist country. See e.g. Griswold v. Connecticut, 381 U.S. 479 (1965) (holding that the right to privacy is protected under the Constitution as a penumbra right, even if it is not explicitly protected).
However, while America was founded on natural law and natural rights, it became a positivist country. Griswold, while having the influences of natural law is also an example of positivism. The Supreme Court read into a document a right that did not exist within the founding document. It, essentially, said that because it is the sovereign it makes the rules and this is the new rule we lay forth.
But, more interestingly, both of these systems are prone to significant abuses. Natural law is subject to people saying that because this is the way things are this is the way natural law intends it to be. This kind of thinking allowed for people in the American South to justify owning slaves. However, positivism has none of the protections of natural law and can run roughshod over people and their "rights" since it is the state that gives people their rights, not some natural force. A prime example of this would be Nazi Germany where they had no respect for human rights and fully utilized the fact that the government was sovereign to deny or grant rights based on the capricious criteria of race or ethnicity.
How can this help me?
Simple, what kind of world do you have? Are there gods? Are they active? Do people have a belief in some kind of god? And are these gods a source of law. If these questions are answered in the affirmative, then your legal system will most likely be a natural law system. If your gods are inactive, they don't exist, or people are more secular then your system is more likely to be a positivist system where the government of the day decides who has what rights.
How can this impact my story or my world?
A positivist regime will speak of the law differently than a natural law regime. Consider the classic fantasy trope of the medieval monarchy. The natural law medieval monarch will say that I am the sovereign as it is the will of God and I have the divine right of kings, best explained by Hobbes in The Leviathan. The positivist monarch will say I am the sovereign because I am the sovereign now piss off. It would make little sense for a king who derives his power from a deity to claim that he is the king for no other reason than because he is king. Conversely, it would make no sense for an atheistic king in an atheistic society to claim a divine right of kings.
Further, a rebellion under either system will speak and act differently. A rebellion steeped in natural law will speak of inalienable rights that must be protected that are being abused. A rebellion steeped in positivist thinking will state that their lives are awful and the government must provide certain protections so that their lives become less awful. In addition, if a positivist rebellion is rebelling against a natural law regime, one of their first goals will be to tear down the power structure that led to the abusive natural law regime. Conversely, if a natural law rebellion were to fight against a positivist abusive regime, the rebellion would seek to prop up their natural law in some way by creating institutions and documents that would ingrain natural law thinking into the populace.
By knowing the differences between the two schools of thought and applying these schools of thought to your own world you can create a richer world.
Discussion Questions:
1) How can this apply to your stories? Does this spark any world building ideas?
2) Do you have any questions about the differences between natural law and positivism?
About the Author:
Garren Jacobsen (not his real name) is a licensed attorney in the State of Utah and spends his free time writing fantasy novels. Garren is presently experimenting with mashing the legal thriller genre with both the epic and urban fantasy genres. He graduated with a bachelor's degree in political science (minor in campaign management) from the University of Utah and received his law degree from Brigham Young University. When he is not writing in the wee hours of the night or going over some arcane principle of law for work, he is a father, a husband, and a terrible golfer.