This article is by Anne Marie Gazzolo.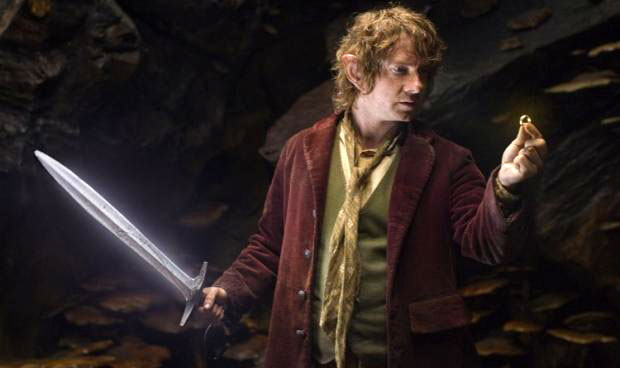 Many authors borrow from fairy-tales, myths, and legends and adapt or transform them to suit their own stories. I recently read The History of The Hobbit for a class and was struck by how many elements from Celtic and other mythologies J. R. R. Tolkien wove into his tale.
John Rateliff notes, "…the way in which Tolkien selected elements that fit what he needed for his story is instructive of his complex relationship with all his outside sources: he was neither a naive reader or a passive borrower but transformed and remade what he chose to take…" (History 532-33).
So should be any scribe who draws from the Cauldron of Story, as Tolkien calls the Pot on which the Soup has boiled ages-long. He addresses this in his delightful essay, "On Fairy-Stories," which is must reading for anyone who aspires to the "elvish craft" of fantasy writing.
Adapting Mythic Elements Whole
At times in The Hobbit, Tolkien adapts mythic elements whole or nearly so, such as the sudden appearance of the white deer in Mirkwood, a classic sign one is on the borders of the fairy realm. He also uses another border signal of a river or stream. The origin of the dwarven names and also of Gandalf come from the Elder Edda, part of a collection of Old Norse poems. That Beorn's Hall quite closely resembles the mead-hall from Beowulf is just one element he borrowed from that famous poem. Other ideas from there he makes the opposite in his tale.
Adapt to Suit Your Purpose
Sometimes he adapts mythic elements to suit his purposes, such as the resemblance of the warrior Elves to the Tuatha de Danann from Celtic myths. The Desolation of the Dragon is another idea transformed. While other tales have dragons living in desolate places, Tolkien's dragons desolate a place by living there. An earlier draft of the Mirkwood chapter contained what Rateliff calls the Theseus theme. Like the mythical hero who used a ball of thread to find his way out of the Minotaur's Labyrinth, Bilbo uses a large wad of spider-thread to find his way back to the path he and his companions had left in search of food.
Start Out Traditional, and Then Distance Your Approach
With other ideas, Tolkien starts out on a more traditional approach and then distances himself from it, such as how Gandalf was originally conceived as an ordinary wizard but then became an incarnate angel. Riddle-games are known in medieval literature, and some have similarly high stakes as Bilbo and Gollum's, but none are set up exactly as those in The Hobbit. Magic rings are also abundant from Plato to Wagner, but none are exactly like the fell One Ring. Caves are many times used in tales to signify the entrance into faerie, and once inside, quite difficult to escape from, but the way Bilbo and the dwarves do may be unique.
Borrow Names
Tolkien also borrows from reality in using the name Mirkwood, which is an actual ancient Germanic name, while the medieval manuscripts The Red Book of Hergest and the White Book of Rhydderch, which are part of The Mabinogion, lend their names as inspiration for the title of the Red Book of Westmarch that contains Bilbo and Frodo's adventures.
Stir the Pot
There is a wealth of source material in just this one tale!
•    White deer
•    Rivers and streams
•    A shape-changer
•    Elves
•    A magic ring
•    Not to mention a dragon.
Now it's your turn. Stir the Pot that bubbles on the fire and see what your ladle will draw out. Mythic and historical characters have boiled there for many a long year and emerge anew under the hand of myriad Cooks.
What elements from mythic literature can you or have you used in your own stories?
About the Author:
Anne Marie Gazzolo is the author of Moments of Grace and Spiritual Warfare in The Lord of the Rings, which includes a chapter on The Hobbit. Sign up for her mailing list at www.annemariegazzolo.com and get a free copy of her ebook about applying to your life the lessons taught by Hobbits, Wizards, Elves, Men, and Dwarves. Works in progress include another book on Middle-earth, focusing on the journeys of Bilbo and Frodo. You can also connect with her on Facebook and Pinterest.