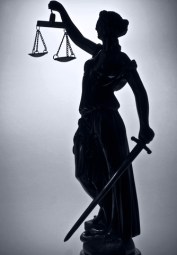 How you handle crime and punishment in your fantasy world is an important aspect of creating a vibrant and real culture.  The legal system you create should reflect how society views law generally, as well as the values of society.
This article provides a starting point for considerations of criminal law in your fantasy world.
The Source of Law
At the outset, you should decide where laws originate in your society. This is not necessarily limited to deciding which individuals or bodies make the law. Take it a step deeper. It is useful to examine two broad categories for the ultimate source of law – Divine Right and Natural Law.
In a society where lawmakers rule by Divine Right (or, in an Eastern-themed world, The Mandate of Heaven), the ultimate source of authority is that vested in the ruler by the supernatural. This authority may dwell in an individual, such as a king or a religious figure, or in an institution or body of lawmakers. Wherever the authority rests, those who wield it are not subject to any higher power on earth, but instead rule as an extension of the will of god. The law is what they say it is. They cannot be wrong.
Natural Law supposes that there exists a universal set of rights or laws that apply to members of society. A person may have these rights or be subject to the protections of natural law merely by virtue of being alive, or they may be granted by the divine, to be set aside by no man. In the latter case, the key distinction between Natural Law and Divine Right is that under Natural Law these rights and privileges cannot be altered by the pronouncements of those in authority. A king may be wrong, and may rule unjustly. The people can point to a higher authority.
In truth, many societies will develop some combination of the above. Knowing the philosophical starting point for your society can, however, add verisimilitude to your culture and world as you develop them.
Punishment
Having established that your society has laws, there must be some means of encouraging people to obey them. The punishments you choose to inflict on members of your society should also be a reflection of the society's underlying philosophy toward criminal law. What is the goal of punishment? Justice for the victims? Retribution? Something else?
If justice for the victim is a primary concern, the laws of society may seek to make the victim "whole." Generally, the easiest way for the law to attempt this is through fines levied against the criminal, or by seizing property or other valuables from the criminal and turning them over to the victim. In cases where the victim is badly hurt, or even killed, the idea of making the victim whole is ultimately a fiction, but the law will nevertheless tend to make monetary awards as the next best thing.
A society that values retribution will exact punishment on the criminal in proportion to the criminal's own moral culpability. Thoughts of restoring the victim will be secondary. The idea is that the criminal has committed a moral wrong, and society has a corresponding moral obligation to exact punishment. Note that the retribution levied by society does not have to be rooted in malice or an obscene desire to see the criminal suffer (though it can be if you wish it). For example, the religious dictates of society may require that the culpable soul be punished, such that the retribution of society, up to and including death, is intended to save the soul of the criminal.
A utilitarian society will look to a punishment that achieves the greatest good for society as a whole. In any given instance, this may include making the victim whole or exacting punishment against the accused. Utilitarian justifications may be used to support brutal punishments, with the aim of deterring members of society generally from committing crimes, or at least the specific deterrence of the individual criminal. A thief whose hands have been removed will find it difficult to steal again, for example. The ultimate specific deterrence is death.
Again, most societies will employ some combination of the above, as competing philosophies and justifications for punishment war with one another. A society may, for example, value restitution to a victim while at the same time finding a moral imperative in the punishment of the accused. The framework above can help you think about punishment in your world.
Social Status and the Determination of Guilt
Another aspect of punishment relates to the social status of both the criminal and the victim. Keep in mind that nobles or those from the upper echelons of society will tend to receive a lesser punishment for crimes committed against a peasant. On the other hand, a peasant may receive a much more harsh punishment for a crime against a noble than he would had he committed that same crime against another peasant. Be cognizant of any marginalized groups in your society, and think about how their position in society might affect the punishment they receive, or the punishment of those who commit crimes against them.
Of course, punishment comes after a finding of guilt. How does your society determine the innocence or guilt of the accused? Perhaps there is a trial by judge or jury, or by a religious council. For a bit more excitement, you might employ trial by fire, water, or combat. These "trials" generally imply a religious judgment, where divine favor leads to the correct end result. Trial by fire or water may be suitable for the lower class, while trial by combat may be reserved for the upper echelons.
Exemplary Crimes
When developing your society, it is useful to have a general idea of the types of behaviors that are criminalized, and of the relative severity of various crimes. A list is provided below, divided into three broad categories: misdemeanors, felonies, and capital crimes. For any given fantasy society, these crimes may be more or less severe depending on the values of society and on other considerations mentioned above. Some of the crimes on the list below, particularly those related to morality (such as gambling or prostitution) may not even be criminal in your society.
Misdemeanors:
Trespass
Gambling
Prostitution
Petty theft
Assault
Disturbing the peace
Public drunkenness or lewdness
Selling shoddy or adulterated goods
Felonies:
Riot
Inciting riot
Piracy
Rape
Destruction of property
Theft
Robbery
Capital Crimes:
Murder
Treason
Bribery
Counterfeiting
Impersonating the king
The development of a detailed justice system is a massive undertaking. The information above is meant to provide a starting point only, and it is up to you to expand it from there. Think about what your society values, what they might criminalize, and how they might go about enforcing their laws. If you establish these things and then build your specific system of crimes and punishment on that framework, you'll end up with a consistent and authentic justice system.
How is Justice Handled in Your World?
How is crime and punishment handled in your own fantasy world?
Are your gods visible and interactive? If so, how does their presence affect the laws and values of society?
And does the level of magic or technology influence things?