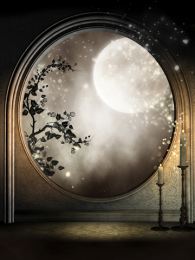 Maintaining your audience's suspension of disbelief is a challenge that every fantasy writer must face.  Obtaining, and holding, that suspension relies on your ability to convey a believable story, setting, and cast.
If the suspension of disbelief is dissolved, so is the reader's will to continue on with the story.
So, how do we make fantasy believable?
Realism in Fantasy?

Wait, this thing is part aardvark, part gopher, has three heads and a hide as strong as diamond? Oh, it can teleport, too? Awesome. But it's okay, because Sir Badass has the only weapon in existence that can hurt it.
It may seem like an oxymoron, but there is a need for reality in fantasy.
World building is one of the most exciting and challenging parts of the fantasy writing process.  The imagination can create some awesome things, but sometimes it goes a little crazy… and you end up with a three headed, diamond-skinned…  never mind. Have no fear, for a splash of reality could be all that you need.
Being realistic does not mean removing the fantasy aspects of a story.  Rather, it means being sensible with them.  When incorporating a new fantasy element, whether it is a type of magic, a person, or even a creature, ask yourself the following:
On a scale of one to ten, how bizarre is this new element?
In its present form, would it break someone's suspension of disbelief?
Would this element seem too ridiculous?
Does it break any of the rules that are set forth in my fantasy?
Making your fantasy elements easier to comprehend and more realistic ensures that you will not break your readers' suspension of disbelief right off the bat.  It also makes your fantasy more accessible to newcomers to the genre.
Getting the Facts Straight
Accurate knowledge of what you're writing about is necessary for achieving a sound, believable fantasy narrative.
If your story is set in a mirror of the middle ages, then researching life in that era is essential.  Nothing makes a reader more likely to put a book down than discovering sheer outright falsehoods.  If you aren't sure about any detail, research it further.  You can never be too careful with such a crucial thing.
Oh, and as if this wasn't obvious, don't get the facts of your fantasy world wrong, either. That would be most… embarrassing.
The Power of Consistency
Consistency is what maintains the suspension of disbelief throughout the narrative, and keeps your readers comfortable in your fantasy world.  It makes it possible for their minds to accept new developments, so long as they do not drastically break from what has already transpired.
How would you feel if you woke up one day and everyone had suddenly turned green?  No doubt there would be widespread confusion, but there would be an even greater calling for an answer, a reason.
Now, transfer this idea into your fantasy fiction. While your fantasy story's inhabitants turning green may not be a great dilemma, the same principle still holds true; a fantasy world should have laws and rules, not the judicial kind, but the kind that pertain to existence – things like gravity and other laws of nature.  Everything that transpires in your fantasy story should follow those rules.  If something deviates from them, people will call for an explanation.
Your audience needs to believe that what's happening in your fantasy story is consistent with the world that you have presented.  Obeying your fantasy universe's laws and rules ensures that the story is believable.
When you do introduce new fantasy elements, a few questions should be asked:
Would this new element be better introduced earlier in my narrative?
Does this break any of the laws of my fantasy world?
If this new element is a departure from the established rules, should I let my audience know ahead of time that this might be possible?
If I was a reader, would I want an explanation for this new element?
The important thing is that you do not shatter the consistency by breaking the universal rules of your fantasy world.
Bending the Rules
While you cannot break your own rules, you can manipulate them.
You may not, for example, establish a rule that "the gods cannot intervene in mortal affairs," and then have them rescue your hero.
But if you simply reword this as "it is believed that the gods cannot intervene in mortal affairs," then you have left yourself an opening.   Adding  "it is believed that" allows for a possibility of the occurrence to happen.  At the same time, however, you have the illusion of a rule.
So, if you do intend on breaking any of the "rules" that you set out, make sure to leave yourself a credible way to do so.
Staying True to Your Vision
While your fantasy elements should possess realism and consistency, they should also stay true to the fantasy.  Don't erase an entire species or series of events from your fantasy if they seem a little farfetched, especially if it plays a part in the story. Realism is to be taken in moderation.  While they are seemingly opposites, realism and fantasy need each other to produce a healthy, sensible work of fantasy fiction.
When writing a fantasy story, what do you do to make sure that it is believable?  Do you take any special steps to keep it realistic and consistent?