This article is by Chloe Waters.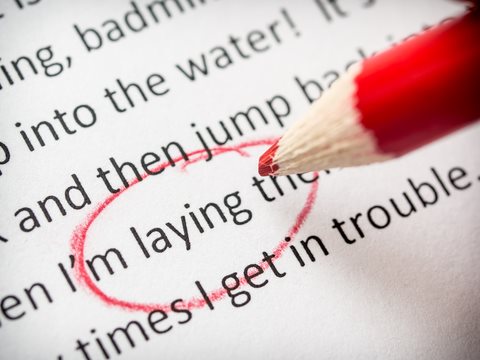 My high school writing teacher once said, "A writer views his work the way a mother views her child." A child is the creation of his/her mother as a written piece is the creation of the writer. Writers, especially when their work is freshly written, are unable to see shortcomings in their writing, just as a mother is unlikely to see her child's flaws. An essay, poem, story, or novel, is an extension of the writer, and a creation to which the writer is attached. Thus, editing one's own work is very challenging.
The most effective way to edit your own writing is to distance yourself from it for as long as possible. After writing something, don't look at it for at least one week. If you have time to spare, it would be better to wait a few months. This separation will distance you from your work. By then you will forgot a lot of what you wrote, and will be more likey to read it as a reader, not as the author. In this way you will be able to see its flaws better.
Once you have distanced yourself from your work you are ready to start editing. The following two techniques will help. First, print it out. Viewing it on a printed page will help you see the work as an overall piece. If there are passages that you want to remove, or rearrange, make notes to yourself on the margins to help you decide what to do. Then go back to your computer and type up the changes. While doing this, chances are you will make even more changes. Repeat this process as many times as needed.
Another reason why printing your work helps the editing process is because it can prevent you from editing too much. While editing on the computer, you may hastily slash appropriate and beautiful sentences, thus losing them forever unless you have an impeccable memory. By implementing this method you will see the crossed out sentence along with its replacement, then decide that the original is better. Also, you will have the old draft printed if you ever want to refer back to it later on.
The second technique is to read your work out loud, slowly and clearly, even if it is to your mother or child. While reading the piece out loud one is likely to find passages that don't work, sentences that seem misplaced, and errors in punctuation and grammar. Seeing the audience's reaction will help you edit. Ask yourself the following questions. Were there places that they seemed confused? Do these passages need elucidating?
Give yourself space from your writing before plunging into the editing part of creation. After that, print it, and read it out loud. Consider reading a book or two on writing for maximum results. William Strunk Jr. and E.B. White's The Elements of Style, and Diana Hacker's Rules for Writers, are highly recommended. Strunk and White's piece focuses more on the stylistic aspect of writing, while Hacker's book outlines the rules for proper English grammar. These tips should help you conquer the difficult task of editing your own work.
For Further Thought
How do you go about editing? Do you have a method that works for you?
Do you find the editing process to be painful, or pleasurable?
Do you have any tricks or tips for making editing a pleasant experience?