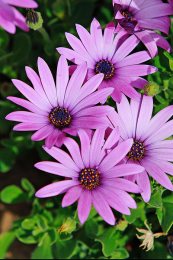 This article is by Brendan McNulty.
Wikipedia defines purple prose as "written prose that is so extravagant, ornate, or flowery as to break the flow and draw excessive attention to itself."
It's one of those writing styles we're always told to guard against. The best way to look at it is to see what is a necessary way of expressing something vs. overly flouncy and descriptive passages.
Some people think that this means that your writing has to be exclusively lean and clear, but I would disagree.
You don't need to forsake complex or intricate writing in order to ward off purple prose.  Instead, the objective is to write in such a manner that you communicate effectively, without your word choice drawing attention to itself.
If your reader is distracted from the story by your writing, then you've failed.
Helping or Hindering?
So how do you differentiate what is expressive text from purple prose?
Most people have an inbuilt sensor that notes when something is unnecessarily ornate. However, I use these criteria to evaluate if something is too flouncy:
Are the words you're using helping or hindering the communication of the story? If they're getting in the way, you're being overly expressive and heading into purple territory.
Is the way you're communicating useful? Are you adding character flourishes? Are you conveying the mood more effectively? Or are these additions superfluous to the story?
Long and clever words always make us feel smarter when we write them. But do they aid the reader in understanding the story?
Is what you're writing expressive? Or is it excessive?
These questions should help you to understand how far into the purple your writing is veering.
The Story Comes First
It's also useful to look at successful authors, and to observe how their use of words impacts the stories they create.
Two authors that could never be accused of being unnecessarily ornate are Cormac McCarthy and Ray Bradbury. If you look at what they've written, and filter it through the lens of the above four questions, you can better understand the difference.
Cormac McCarthy, for example, writes westerns. This is a genre that easily lends itself to flowery language, with lengthy descriptions of sunsets, dusty boots, and the travails of the trail. However, he communicates the narrative to the reader effectively and directly, even though his writing could never be said to be staid. He manages to write hallucinatory, challenging prose without compromising the story.
That's the most important thing to be aware of in safeguarding your work against purple prose:
Ensure that the story leads. If the story is paramount, then you won't be using fancy words to obscure what needs to be communicated.  The story always comes first.
Have you come across purple prose in classic or contemporary literature?  Who are some of the worst offenders?
Conversely, which authors excel at avoiding purpose prose?
About the Author:
Brendan McNulty is the founder of Now Novel, an online novel writing course.