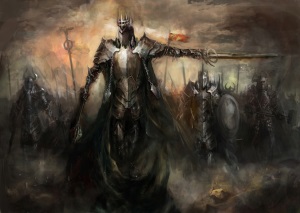 Ever wonder how armies of tens of thousands of men spring up from the ground overnight like weeds?
How these weedy men go clickity-clank across the landscape with few troubles?
Do you question the ability of a feudal society to maintain said massive weed crops which they throw willy-nilly to the wind against one another?
For me I think that actual weeds have the decency to drain the land of its resources. I do not see any gardening of any sort go on in many of today's fantasy stories that involve large scale warfare. No one is watering these things, feeding them the nutrients they need to batter down the other bigger weeds in their way.
Weeds in this are men, and these men are in armies. These armies which are often numbered in ridiculous amounts, wander across a landscape waving at the happy farmer as they go by (unless they are the bad army in which they kill the smiling farmer before continuing). There are miles and miles between them and home, and there is no one carting goods behind them.
During this march towards inevitable battle, they subsist on air. They don't stop at a fresh water supply because marching in armor and carrying all your gear, is easy. They have no need of the elixir that feeds weeds. They all have magical pots which every night stew together various ingredients to silence the boisterous stomach of a massive army.
Now, if you've read this far into my sarcasm, you will start to think of stories you've read. You will likely see a common theme. That theme seeming to be, logistics does not matter to make things believable, right?
Wrong, bad writers! Wrong I say.
So lets talk. Well, we can't really talk because this isn't an interactive session. How about we have me talk and lets have you follow along nodding your head to my lovely insight. Let us see for the first time the empty kettle in the room and the ten thousand men surrounding it, starving in their gloriously broken armor.
Logistics
I'll make the definition easy for everyone to understand. Logistics is what keeps your army together, battle after battle, on foreign soil or at home, and is what put them together in the first place.
Simply put, this seemingly insignificant aspect is left out of most novels. Some writers know it is there but choose to ignore it. Others have no clue such a thing exists.
However, many people would agree, logistics is boring. Readers don't want to read page after page describing the baggage train. Heck, I've yawned to myself just imagining the word logistics. Yet, what most don't realize is that a simple sentence can change the way an army is perceived. There is no need for page after page and glorious description, but there is a gargantuan need for inclusion.
For the purpose of this article and to keep it from spiraling out of control I will talk about only the most important aspects of logistics.
Cost
Lets be serious here. War is stupidly expensive. In a modern age we spend billions, upon billions of dollars maintaining our military, let alone sending it out to fight. Now, imagine you are a single kingdom in a feudal, medieval society as many fantasy novels are set in. Any king will quickly find himself a pauper after tackling the cost of fielding an army, even a small one for a short period of time.
Who has to be paid? Well there are the soldiers generally. There are those who supply the soldiers, like I dunno the people who make armaments for a living. Merchants make a killing in wartime, pun included for your enjoyment.
Buying supplies, which often cost more in times of war because, well you know greedy merchants can weigh heavily on any monarch, leader or the poor, forgotten quartermaster. Feed those horses? That will be your left arm please. Beans for your troops? All you can eat once you hand over your kidney. Oh they need stuff to fight with? What else you got that I can flay from your tender flesh?
Economics people is that thing you learned once upon a time in high school. Economies win wars just as much as those soldiers. Coin, cold and hard, or salt if you are a Roman legionnaire are the instruments that maintain those men-at-arms.
Nothing is free, unless your fantasy world is all sort of out of place, in which, why are you reading this?
In any case you can understand cost. Taxes are raised, supplies are rationed on those already sad serfs, and nobles grumble at your hand in their pockets. Then imagine a LONG war and a massive army of man and animal.
Yeah, you get my point.
Sustenance
This is easy for anyone to understand. This is the sizzling bacon in the frying pan. Who said bacon was bad for you? Its bacon! Anyways, the saying is true. Armies march on their stomach. In novels where the era is the medieval or nearabouts, people struggle in peace time to keep food on the table. Yeah the nobles eat lavishly, but they are jerks anyways. Armies have to be fed, and fed well. This trickles into effects like morale and military preparedness. If you already didn't get it, swinging a sword, marching thirty miles, carrying gear and armor is taxing. One meal a day will wear on your army like a spear shoved into their gut.
You can have the most elite dudes running around in heavy plate armor wielding bastard swords, but a couple days of not eating and their commander will start to look like a juicy hog.
Now, this should apply to the enemy as well. I have always wondered how all those orcs were fed, when many didn't really seem to like farming. If they eat each other I can understand, but in the long haul this is detrimental to any war effort… eating your soldiers I mean.
If any person answers, "They exploited the landscape and took from it what they need," I will beam you on the head with my bacon pan. You only have to sit and think about that for half a second and toss it out of the window to smack someone on the first floor. This is a band-aid fix. The land can only support so much for so long, and likely once you start killing vast herds of tasty elk, the rest of the animals will wise up to the fact and call PETA.
So in the end food and water is crucial to the believability of your awesome army. Even more so is the supply of it from the land that spawned the army in the first place. Supplied from home, the army can exploit the land to add to its stores, boosting morale by being well fed by more than beans.
If you lack this in your stories you acknowledge to people that you are writing about a magical army that does not need to eat or drink. Again it only takes a sentence or two here and there to refresh our minds that your army is indeed believable.
Maintenance
Serious me again. Stuff breaks. Stuff breaks ALL the time. Even dwarfs break their awesomely crafted gear. Spokes on the wagon carrying all that XXXXXX Beard-Bitter break because that stone was just a bit more stubborn than the wheel.
Ever see a dwarf watch kegs of their favorite XXXXXX Beard-Bitter go crashing to the ground? Its horrendous, let me tell you. It will give you white hairs.
This is where camp-followers comes into play. Blacksmiths will follow armies just as much as buzzards above. Horses have to be taken care of which = farriers. Leather-workers, cooks, families, and ahem women who ply a "certain" trade, etc. This is just as integral to most ancient and medieval armies as the army itself.
Maintenance keeps men and their gear in fighting shape. The effect of maintenance also bleeds into overarching cost. These people do not do what they do for free. They want the king's gold, that is why they are there.
Again, believability is in the small details you put into your work. You do not need to keep an accounting of every camp follower by name or the color of their collar. Just mention that they are there, that they exist.
Lastly, in maintenance I will add that maintaining supply lines is a work of art. It is a science. The best generals could be undone by losing their supply train, out running it, or not protecting it. Morale will plummet in a camp when they hear that the enemy rode around and crashed into their supplies, looting and killing, taking goods which belong in certain bellies and not others.
The machine of war is a hungry thing. There are bolts and screws, nails and clasps, and gears upon gears turning endlessly to see to it that every man in uniform will be the best as he can be when the day comes for bloodshed. The machine requires nimble hands set with grease and oil, and clever minds to keep it grinding forward.
Charlemagne built forts every so often during campaign, so did the Ottomans. Supply caches could be kept safe, and warriors could be positioned all along behind the main army to keep the valuable wagons safe.
The Ottomans conquered from Iraq to the gates of Vienna in Austria. Charlemagne built an empire in Western Europe. The Romans made the Mediterranean their own personal lake. Alexander conquered his known world. They did this not just with the arms of their soldiers, but by legendary examples of logistics.
To End
The next time you throw your world into war, take a step back and understand the true effect that this will have. No one is exempt in war. Warfare in fantasy can be glorious and powerful, but something must support it. People, believability is the word we must always strive for. Logistics make your conquests possible, do not leave them out.
I know this was an overview, that I did not delve deep into each subject, but that in the end is your responsibility. It is your responsibility to your reader to know what you are doing, or risk making them walk away from the lovely picture on your cover.
Here's an excerpt from one of my stories:
The Legacie of Everhold marched along a well kept road of flat gray stone that split the Empire in half, reaching from the walls of Everhold to the Capital of Ordain. Ten thousand strong with all of its number infantry save for two thousand light and heavy horse. They marched in multiple columns, to magnify maneuverability. Through the Central Interior the sound of feet and shod hoof could be heard, before heading south to the buffer nations. Even in lands cored to the Ordainian Empire they came with a mountain of supplies. These followed, close enough to matter yet far enough to be safe. Families were banned from following by imperial decree, but that ban did not include the necessities of the army. Smiths, leather-men, water finders, and brewers made a year's pay in a month following a Legacie, and with their help, the Legacie would triumph.
See, easy. They exist. The army is believable. Enough details attached that now a story can continue.
Now, go. Rethink your world view. Write and for the love of the Gods above, water your weeds.
Questions for the Reader
What novels have you read that the author actually takes care of the issues told about in the above article?
What stories have you read where you scratch your head at wondering how so many people managed to not starve before reaching the "final battle"?
How much would the small additions mentioned help you visualize an author's world, if any?