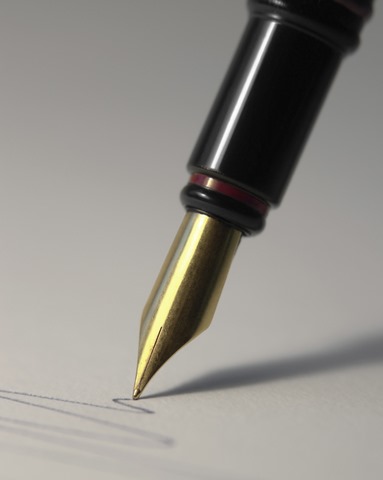 Now and then – both on the forums here on Mythic Scribes and elsewhere – I come across the question about how to write descriptions. This guide is meant as an introduction for beginners and will start with the very basics on how to set up, and write, a description of something.
In this part I will touch upon three things:
First Impressions
Where to Start
What to Include
This guide is based on personal opinions and experience. These are not rules for how to write descriptions, but rather an explanation of what works for me. There are exceptions to everything, and there may very well be situations where doing the exact opposite of what I'm suggesting is the right thing to do.
First Things First
Before talking about how to actually describe things, it's important to understand how we perceive things. How do we see the things we see? Once we understand this, we can use it to our advantage when describing things to others.
I believe you will have heard the phrase "first impressions last". Usually it's used about people, to encourage you to present yourself well when meeting someone new – like for an interview for a new job or so – but I believe it's just as important in writing.
Your first impression of something forms very quickly, and once it is formed it takes both time and effort to change it. This is why it is so important to get the first impression right. If your reader gets their first impression of something wrong and they're forced to update their impression later, it will annoy them and throw them out of the story – and you don't want that.
How long do you have to establish a first impression?
Research indicates that it takes about one tenth of a second to form a first impression of someone. I do not have any information about how this would translate into text, but I have a feeling (it's not a fact) that you have about one paragraph – a few sentences – to establish the first impression of whatever you describe.
This isn't much, so using your words wisely and efficiently becomes important. Exactly how many words, sentences, or lines you have will vary from case to case. Go with your gut feeling, but try not to ramble.
Where Do You Start?
Begin with what's most important. That makes sense, right? But how do you know what's most important? This may or may not be a tricky question – depending on what you're describing and what you want to achieve.
To help you get started, there are two questions you can ask yourself:
What is most important for giving the reader the correct impression of what's being described?
What is the Point of View character paying attention to?
Often, the answer to these questions will be the same thing, but not always.
If your character is trapped inside a burning room, the room burning will be most important for the reader when they build their image of the scene. It will also be what your character is paying attention to. As such, start your description by mentioning that the room is on fire. The character doesn't care about the pattern of the wallpaper or if there's a rug on the floor – and neither does your reader. After all, the room is on fire.
Now let's change the scene slightly. It's the same room, but it's not on fire. Your character sits by the side of a bed, watching over his daughter who is very ill. His attention is fully focused on the girl. He doesn't notice that the candle he put on the table by the window has fallen over and that the curtains have caught fire.
In this case, you don't have to mention the fire until your character actually notices it. Instead, you can describe how his daughter looks really pale and sickly. Perhaps it's getting a bit warm. Then, when your character looks up, you'll have the opportunity to give your reader a bit of a shock or scare when they realise the room is on fire.
However, for the majority of description you write the answers to the two questions above will be the same.
People
When describing people I tend to start with that which I first notice about a person when I see them in real life: gender, size/build, colour of skin/hair, age. I believe these are fairly common for most people, but they're probably not the rule. Also consider that the order in which these things are noticed are likely to vary from person to person – observer and observed.
My recommendation here is to go with what works for you and stick to that. If, for example, you pay attention to the colour of someone's eyes, make sure to include that. If you naturally do it in real life, it'll add authenticity to your writing if you do it there too.
Keep in mind that the questions mentioned above still apply and that the appearance of a person may not always be the first thing you notice about them. If they're doing something eye-catching, start with that. When someone comes running at you, screaming at the top of their lungs and waving a burning meat cleaver over their head, you don't stop to read what the funny quote on their t-shirt says.
Basically start with what's most important at the moment – to your point of view character, or to your reader – and then work your way towards less and less important details.
What to Include
The short and easy answer here is that you should include as much relevant information as you deem necessary. Unfortunately, that's not a very helpful answer.
Blank spaces
When it comes to descriptions, your reader is going to use their own imagination to fill out anything you don't mention. If you don't describe an aspect of something, that's a blank space, and your reader will make their own assumptions about it and form their own image. This does not mean that you shouldn't leave any blank spaces, but rather that you should pay attention to what blank spaces there are – and let them remain blank.
The blank spaces you leave become part of your description and they become part of the first impression your reader forms about that which you describe. If you don't describe the colour of the walls of a room, you have no idea what colour your reader thinks the walls are. If you then later describe them as yellow, any reader who didn't imagine the walls as yellow will have to revise their impression of the room – and that's something you'll want to avoid.
One way of determining whether something is a blank space or not is to imagine yourself as an invisible observer of the scene – sort of like the camera in a movie.
If you can see something in the scene but don't describe it, then that will become a blank space and the reader will form their own opinion about it. If you don't see something – even if you know it's there – and don't describe it, then that's not a blank space for the reader to fill in and you can get back to it later.
Example
Let's say you're describing a woman. You start out by saying she's short and blonde, and that she carries a very large green backpack, the kind you carry when out hiking. She wears a white t-shirt and blue jeans, and her hair is tied back in a pony tail. Let's say you leave it at that. You now have an idea of what the woman might look like. The description above is enough for your reader to create an image of the woman in their mind, and they become an observer of the woman. Anything that wasn't included in the description is something your reader will make up on their own, and you'll have no way of knowing what they imagine.
For example, we don't know what they think she's wearing on her feet. Is their version of the woman wearing sneakers, or boots, or sandals? Does she have any scars or tattoos? Are her jeans faded and frayed? Is she wearing a wrist watch – what about jewellery?
All those things you didn't mention, but which an observer would have seen, are blank spaces. This means you can't describe them later, or you'll risk annoying any reader who's impression of the character doesn't exactly match yours – and that's very likely going to be most of them.
However, what isn't a blank space is what's in the backpack. From where we're observing her we can't see what's in it. As a writer you'll know exactly what it contains, but your reader won't. Your reader may have a guess about what might be in it, but they haven't seen the contents, so they can't know for sure.
The backpack could contain hiking gear, or a parachute – or maybe it's full of explosives? It could be stacked full of food or treasure. It could be anything. Now, what the backpack really contains are the woman's big leathery wings. She has no other way of covering them up so she tucks them into the backpack to hide the fact that she's a demon.
Then again, she also has two big red horns sticking out of her forehead and she really should try and hide them too. See what I did there?
While reading about the backpack above you were happily accepting that she could be a demon hiding her wings. Then I went and told you about her big red horns, and you thought I was being silly – right?
That's because when you observed the woman in front of you, you didn't see any horns. You'd have noticed them right away if they were there. You assumed that since no horns were mentioned, she wouldn't have any, because horns on people are rare enough that you'll generally assume horns are absent.
The introduction of the horns is an example of what happens when you change a blank space. It's a slightly over the top example, but it should server to illustrate why leaving the blank spaces blank is a good idea.
Summary
There is a lot more to writing description than what I mention above, but I feel this is a good starting point if you're uncertain about how to get your descriptions going. A second part of this guide is in the works and will touch upon some slightly more advanced topics.
To sum up this guide:
First impressions last.
Start with what's most important.
Include only that which can be seen (or heard, or smelled, etc.).
Know your blank spaces and leave them blank.
If you have any questions, comments, or advice of your own, please share them in the comments below. There's never just one way of doing things like this, and any new perspective is helpful.
Is there anything you feel should have been included in this guide, or which you would like to read about in the next part?