This article is by Matthew R. Bishop.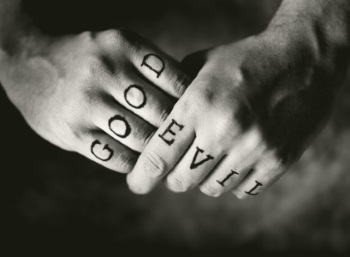 In a recent article featured on Mythic Scribes, Christian Madera explored the strengths and limitations of "black and white" fantasy, while defending the rise of "grey" fantasy as something that can overcome the drawbacks of black and white.
Let me clarify that I am an author of grey fantasy myself, so I do not take issue with this defense. For the purposes of fully understanding these disparate ways of writing fantasy, however, I want to expand on the strengths and limitations of both, and on the downfall of thinking one is exclusive of another. I hope this effort will lead to a greater appreciation for fantasy of all colors.
Pros or Cons of Absolutism?
First, I want to elaborate on the strengths of black and white fantasy. Black and white fantasy — where good and evil are absolutes and obvious opposites — is a profound and meaningful genre as long as we read it as such. Tolkien-style black and white fantasy, as Madera notes, includes notions of racialism, pure evils, and the mythical hero. A person's character can be predicted sometimes by their race or blood. This alone can set a person up for perpetual war with another race, which, in turn, is either morally higher or morally lower than that person's own race. Unfailing heroes and thoughtless villains serve as the highest authorities of separate warring races, with one being purely good and another being purely evil.
So far, this sounds like a list of weaknesses. But the fact of the matter is that a huge number of individuals, perhaps the vast majority, conceive of our own real world in much the same terms.
Tolkien-style black and white fantasy expresses in writing what men and women believe in our own world: That where one group is good, lawful, human, and righteous, their opposition must be evil, lawless, inhuman, and wicked. It is because of such beliefs that wars occur between two peoples. An author's alluding to this has nothing to do with his or her own prejudices; on the contrary, it gives form to just how unrealistic and absurd our prejudices really are, and how far removed from reality they must be to make any real sense. Racism, dehumanization, or any form of delegitimization primes one society to wage war against another, and demonstrating that fact through metaphor or allegory can help separate primed societies from their dualistic foundations.
Absolutism and the Real World
Black and white fantasy takes one strength away from this, and that is that it shows us just how far apart our conceived reality and our actual reality lie. Our conceived reality, whether in this world or Tolkien's, is where good and evil exist as absolutes. Our actual reality, in which so many people in our own world refuse to live, is where otherwise good or even heroic men can commit horrible atrocities against innocent people and wage fully senseless wars without any real accomplishments to show for them. Earthlings and Middle Earthlings all alike refuse to accept that they live in such a world, and instead imagine that they live in a world of absolutes. Black and white fantasy, then, is the revelation of our imagination's violent absurdity.
The genre is a dramatization of the conceived reality that people like to think they live in, where they can choose sides without doubt, where they can obey directions without questions, and where they can believe that they are good people who do not unduly harm innocents. In this world, people make the deliberate choice either to be evil or to be good, and they understand the choice in such simple and straightforward terms. As such, black and white fantasy has a very clear political purpose and serves an important role in society, so long as we are able to realize just how far apart this conception is from the situation in which we must live, and against which we must struggle.
Evil in Black and Grey
There is one additional plus to the genre— black and white fantasy teaches us to strive ever for nobility and greatness of character, toward courage and vigilance against evil. These lessons, come out to us from the ashes of two world wars and history's most horrible genocide, are extremely real and down to earth. We cannot imagine that evils do not exist in our world. They do. The heroic myth inspires us to stand up against such evils.
But it is important that, in doing so, we do not ourselves become evil. Black and white fantasy does not make room for this transition to be possible. Reality always does.
Revealing this potential is "grey" fantasy's most obvious and visible strength.
Ambiguous Fantasy and Ambiguous People
"Grey" fantasy, generally without absolutes (or with more realistic absolutes), can follow a morally correct individual down the road toward moral perversion. Grey fantasy can show us how petty war really is, in addition to just how brutal it can be. Grey fantasy includes a wider and more realistic cast of heroes, villains, neutrals, and those who go between. It touches on the plight of the common man rather than following the tradition of the mythical hero. The lessons of a good grey fantasy are more easily applied to the situations we face in real life in operational terms. The list of moral questions that grey fantasy presents is longer, and those questions are usually more difficult to answer. All of these are strengths of the genre, and with these strengths grey fantasy can overcome the pitfalls of black and white absolutism. The bottom line is that good and evil both exist inside of every person. This is a fact of vital importance for society. Grey fantasy — ambiguity — can teach us this. Black and white fantasy — absolutism — cannot.
The downfall of ambiguous fantasy is that it is often less popular than its absolutist counterpart. An important exception may be George R.R. Martin, but even similarly "gritty" fantasists tend to err on the side of absolutism and end up avoiding ambiguity (think Raymond E. Feist). Grey is more realistic at the cost of being less inspirational.
I am exploring this problem because, as a politically conscious individual who also writes fantasy in all colors, I am personally invested in finding its solution.
Developing Humanist Themes in Grey War Fantasy
I believe that the solution is to emphasize the human significance of events that occur in grey fantasies. If we do this, we can make grey fantasy more profound in its emotional depth and more salient in its modern-day cultural relevance. In war, for instance, we should:
Stress that peoples' lives are forever changed, almost universally for the worse, and very, very seldom for the better.
Examine the plight of those who experience permanent mental trauma as a result of combat.
Delve into the heart of the man who has been brought up to respect human life, but then is ordered to commit murder for his country.
See through the eyes of the man or woman whose world is turned into waste, and who, at the final end of that waste, realizes that no accomplishment, no triumph of any sort, will ever come (recent clinical studies suggest that these "dark revelation" experiences are even more lasting and impactful than the witnessing of mass atrocities and death in large numbers).
Show the popularity and rationale of arch villains that commit horrible crimes, and likewise show that characters we initially understand to be heroes can inflict irreparable harm to innocent families.
Explore the emotions of regret, insanity, berserk, and compassion that define men's actions in and after war.
Likewise, explore the emotions of carelessness and dehumanization that can follow people all through their lives. These emotions permit the individual to accept as "right" any number of terrible crimes they may have committed.
Reveal motives as they truly are, not as they are propagated to be. Decisionmakers start wars for a certain set of reasons, but the men who fight in wars rarely do so for these same reasons and often have reasons of their own.
This is war as it exists in the history of our own world. If we are to bring its importance to life for readers, we must acknowledge this — not by becoming more absolutist, but by becoming more ambiguous. Our world is ambiguous. We, as real people, are ambiguous. We are capable of the most heroic feats, but also of the most heinous crimes against humanity. To deny this dual capacity is to say we are something other than human. Grey fantasy can align our self-identity properly, so that we can be always aware of just how close to evil we truly are. Only with that recognition can we be sure that we are not doing evil ourselves. Only by sharing this recognition can we make grey fantasy more emotional, more salient, and more important for society than its absolutist counterpart.
For Further Thought
Do you believe that black and white fantasy serves an important role in society? Or is it too far removed from reality, and too potentially dangerous?
To what extent are we able to apply the lessons we learn from the real world to what we write in fantasy, and to what extent can we apply that writing to the real world?
About the Author:
Matthew R. Bishop is the author of The Kingdom of the Free series (A Land of Our Own, August 2013, and In the Shadows of Laeolin, July-August 2014). He used to manage a world news company and recently received his M.A. from The George Washington University Elliot School of International Affairs. Visit his website at MatthewRBishop.com or contact him directly at [email protected]