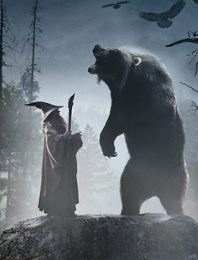 This article is by Terri Rochenski.
My love affair with the fantasy genre started at an early age when someone bought me and my older brother The Chronicles of Narnia seven book gift set. I read them 'til they fell apart.
Literally.
I can't tell you how many times I checked the backs of every closet in our large farm house, totally expecting to find Mr. Tumnus. Oh, the disappointment of finding fantasy is just that—fantasy. Make Believe.
I was introduced to The Hobbit in middle school. The first time I watched the original cartoon released in 1977, I was hooked. I gobbled up the LotR series within the following month. While I may not have understood the underlying moral lessons at that age, re-reads through the years cemented Middle Earth as my favorite daydream land.
The rumors that Peter Jackson was producing LotR on the big screen got my blood pumpin'. I was thrilled when it was confirmed. Talk about excitement! Loved Loved Loved those movies. Then they released the extended versions with all those cut scenes …
Seriously? Heaven.
My adult day dreams took on more vivid surroundings than any my simple mind could ever imagine. Now I not only have to visit Tolkien's homeland which he used as his basis for Middle Earth, but the movies' New Zealand setting as well.
Life dreams. Life goals. Le sigh.
So how does Tolkien's writing influence my own?
1. Rich Settings
Rich settings are the first thing that comes to mind. Back in the day purple prose was the way to go. Not so much now. I try to satisfy as many senses as possible when adding details of the worlds I create—while trying NOT to info dump. Creatively weaving in sensory images makes for a much more enjoyable read.
I always wanted to visit Rivendell. Jackson's portrayal was beautifully done. Magical & dreamlike—better than my little mind ever pictured through the years of re-reads.
2. Empathetic Characters
Next thing I think of are his characters. Bilbo Baggins, a simple little creature content to stay in his little part of the world, ends up seeing things he never dreamed of. VERY easy for a simple farm girl to feel empathy for, let me tell you!
If I can hook my readers the way I was … well, let's just say that's a big SCORE. Make the reader feel what the character experiences—have them smell, taste, & see all the MC does. Yup. That's the good stuff.
3. Memorable Journeys
Tolkien's journeys are third. Forcing a MC to learn—grow into something they never would have if not for what they faced. Adventure, trouble, fear, & friendship all wrapped up in one unbelievable quest.
If I can keep the tension high, keep those pages turning, & kindles clicking then I've nabbed followers for life like Tolkien did.
4. Good vs. Evil
While this last isn't so popular today, the clear distinction / definition between good & evil appealed to me. As a teenager learning the ways of the world and its gray areas, it was nice to know some people perceived things as I did. Black & white.
'Course all that's changed now. If we as writers can make the reader feel empathy for the 'bad' guy, then we're on the road to success.
All this talk about Tolkien's Middle Earth has given me the LotR itch. It's been awhile! Think it's time I pick The Hobbit up for another read before seeing Peter Jackson's newest movie that released December 14th. Which, by the way, I cannot wait for. Another bit of cinematic heaven calling my name.
Now if I could just pawn my kids off on a babysitter & get the hubs to take me out on a date. Perhaps my muse will be inspired once again.
How has Tolkien influenced your writing? Have the movie adaptations influenced you more?
About the Author:
Terri Rochenski started writing stories in the 8th grade.  Today she enjoys an escape to Middle Earth during the rare 'me' moments her two young daughters allow.  Her latest story is featured in the Make Believe anthology. 
You can learn more about Terri by visiting her blog at terrirochenski.blogspot.com, or by following her on Twitter.