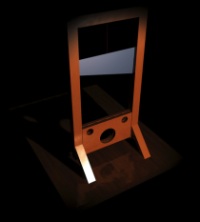 Killing off your characters, while heartbreaking for some, and a joyous field day for others, is something that should not be taken lightly. Kill off too many characters, and your audience becomes irritated. Kill of a beloved character prematurely, and you may face a backlash.
Yet there comes a time when a character has had his moment of glory, and is ready to be retired. If you handle this correctly, you can create a monumental force of emotion in the story. But before you drop the guillotine, understand when it is, and is not, appropriate to do so.
Here are some points to consider:
1. Does it move the plot forward?
Killing off a character can further the plot, provided that you create the right situation.
*SPOILER* In A Game of Thrones, think of when Eddard Stark was executed. Not only was it a monumental event, but it shifted the plot entirely from where it appeared to be heading. That event was a game changer, and moved the story forward in an unexpected direction.
Consider the following questions:
If you send your character to the chopping block, does it move the plot along?
Does the character's death contribute to the development of another character?
Are you simply looking for a way to remove this character from the story?
2. Are you killing this character for dramatic effect?
When cast members are expendable, it is possible to kill characters simply for dramatic effect. This can be used to either shock or frighten the audience. Think of a typical horror movie, where a group of teenagers venture into the woods and are killed off until only a few remain. However, sometimes a seemingly important character is killed off at an awkward time, preventing the audience from getting to know why the character was so important as to be mentioned within the story.
Before killing a character for dramatic effect, ask yourself the following:
Does this character really have that little of value to the plot that you can kill them off so easily?
Has this character served his purpose, or does he still have a role to play in the story?
Does the removal of this character really serve to improve the story?
Is this the right situation in which to kill off the character?
3. Consider the bond between you, the characters, and your audience:
Some writers become so attached to their characters that they'll never let anything bad happen to them. As a storyteller, this approach is limiting. You need to realize when the appropriate time to say goodbye is.
Ponder these points:
How much of a connection will your readers have with this character?
What do you want your readers to feel when this character dies?
How will the remaining characters respond to the death?
In a sense, when you kill a character, you're ending a part of your story. Be sure that you don't end it at the wrong point. Nor do you want to leave anything that the deceased character set in motion unable to be finished. Everything needs to weave together.
How do you handle the deaths of your own characters? Do you have any tips for reaping the most emotional impact from a character's demise?