This article is by Jedi Knight Muse (Ally).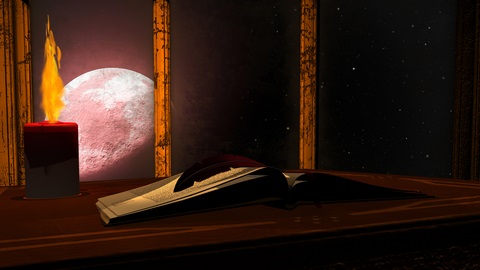 Ever since I was a little kid, I've loved using my imagination. It didn't matter if I was just playing pretend with my friends or playing by myself. I remember standing in my kitchen one night and telling my parents that I was Dorothy Gail (from Wizard of Oz) and they were Uncle Henry and Auntie Em. This is probably one of my earliest memories of using my imagination.
The moment I think my writing journey really began was when I just sat at my family computer one day and started typing. I was probably in the third grade at the time, and I was playing a game with my neighbor who was a few years younger than me. We pretended we were sisters named Alex and Samantha (I imagine that I chose the name Samantha because I had the American Girl doll of the same name) who were being chased after by the Sanderson Sisters, characters from my most favorite Halloween movie, Hocus Pocus. Eventually, I ended up writing a script with these characters. I didn't write the script because I intended to act it out or anything, I just sat down and started to write.
When I was in fifth grade, two girls in my class introduced me to Star Wars one day at recess. I went home and rented one of the movies and I fell in love. That love is what got me to start writing about Star Wars, though I don't remember making a conscious decision to do so.
At this point, I was still in love with the movie Hocus Pocus, and I created a character based off that movie – she even had the same name as one of the characters. I made her into a Star Wars character – sort of. This was the first time I really started writing fan fiction, even though I didn't know that was the term for it at the time. I wrote a number of different scripts and stories using this character, and even inserted her into different fictional places I'd seen in movies, such as Oz and Camelot (the Quest for Camelot version), sort of creating my own version of crossover fan fiction. I was convinced that I would go out to Hollywood and get to write, direct, and act in all of these movies that I was writing these scripts for.
When I was around eleven years old, I began my first novel (or rather, the closest thing to a novel I could have written at that age) in a computer program my parents had bought me called Storybook Weaver Deluxe. Again, I wrote about my version of Star Wars characters. It was four-hundred pages of utter crap, but at the time I didn't know it and wouldn't have even cared if I did. I just wanted to write!
How Roleplaying Has Helped My Writing
As I got older, I kept writing my stories and my scripts. Then, I eventually discovered the Star Wars section of Yahoo chat rooms. On a hot summer day, I was using my aunt and uncle's computer while visiting them in New York,, and I remember following someone into a custom chat room he'd created called Jedi Falls. This is where I was introduced to roleplaying. I learned how to create a character and use that character to interact with other roleplayers that co-write a story.
Back then, I was what was commonly called a n00b – that is, someone who had no idea what they were doing as a roleplayer. Someone who was breaking all sorts of roleplaying 101 rules. But I didn't care – I was talking to other people who loved Star Wars, I was using my character from those stories and scripts, and I was feeling a little less lonely. While my character was -whispers- a Mary-Sue for sure, and I crossed the line between being out of character and in character for a good while, I had fun with my roleplaying friends.
Eventually, Yahoo chat went to crap and I moved on to roleplaying one-on-one in Instant Messenger. This was back when I wasn't working much or at all and I had the drive to spend all day waiting for someone to come online so we could roleplay. One of the first roleplays I remember doing was a fantasy roleplay with a princess who was hiding her forbidden romance with the captain of the guard. I ended up writing my own solo story version of this role play. After that I remember starting a story on my own about a different princess and her twin brother with special magic abilities; later a friend and I expanded on it through role playing for about a year or two. These were the roleplays that I think really started to push me further towards writing fantasy.
While I was roleplaying in chat rooms and on Instant Messenger, I was also writing fan fiction. Fan fiction can be such a controversial subject among writers, and in fact there are some published, famous authors who don't allow it, but honestly I think there are many authors out there who might not be where they are today without having written fan fiction at some point in their lives. Of course, in my case, I was usually using my own "original" characters, such as my character Dani, but they were interacting with characters who were usually part of the Star Wars universe.
While I no longer focus on writing fanfiction and have also sort of "retired" from forum roleplaying, I don't think I would be where I am today with my writing if it weren't for the ~seventeen years I've spent in chat rooms and on message boards, creating my own characters for fantasy and Star Wars settings. I was essentially co-writing stories with other people from all over the world. My years spent as a roleplayer have helped me understand how to become more aware of plots, characterization, and world building and the rules to follow, rather than just writing whatever came to me without caring if it makes sense.
Roleplaying is another form of writing that allows us, as writers, to interact with other writers. This leads us to further character development, and collaboration on world building when using an original setting. The other roleplayers I've met have taught me a lot about my writing strengths and weaknesses and how to improve upon them. Some of them have become really good friends, and are also fellow writers whom I have writing brainstorming sessions with.
I wouldn't be the writer I am today without having taken part in those roleplays and interacting with my fellow roleplayers. I still look back on the printed transcripts from some of my favorite role plays – such as the one about the twins – and read my posts and laugh at how awful some of them were but smile at the fact that I've come so far as a writer and roleplayer. Who knows whether or not I'd be writing fantasy if I hadn't started writing my first real fantasy story as a sophomore in high school? Maybe I'd still be writing Star Wars fan fiction!
My Real Writing Passion
After spending ~seventeen years roleplaying, I've gradually moved further away from it and have been focusing more on what my real writing passion has been: novel writing.
I have a confession to make: excluding the Star Wars fan fiction novel I mentioned earlier, I have never finished a novel of my own. I come up with ideas all the time – in fact, I have idea journals where I write down ideas for plots, characters, bits of dialogue, names and whatever else I can think of. I started doing this several years ago, so sadly it's not something I've always done, but it's really helped me. When I need a name for a character, I flip through my idea journals and see what I can find that I think will fit.
A lot of the time, I will start on a project, focus on trying to figure out the plot and aspects of the world . . .  and then I either hit a wall because I've gotten myself stuck on something or I'll get a new idea for a new project and decide to work on that instead and never go back to the project I was originally working on. It's a frustrating process that I hope I'll grow out of eventually, and in a way I'm starting to already. I've probably gotten several ideas in the last year for something new, but instead of starting to write them, I've just written them into my idea journal for future use and have kept going. Because of that, I've been working on a project for over a year that I'm really enjoying writing. I've been able to focus more on the project for the most part, even with distractions such as work and school.
For Further Thought
What about you? Are you a roleplayer? How has roleplaying helped to shape your writing?
If you're not a roleplayer, is there some other activity that has helped you become the writer you are today?
About the Author:
Ally, also known as Jedi Knight Muse, is a member of the Mythic Scribes fantasy forum. She has been writing fantasy stories of some degree for as long as she can remember, and hopes to one day self-publish her writing. Ally is also the administrator and creator of another fantasy writers forum called Worldsmyths.