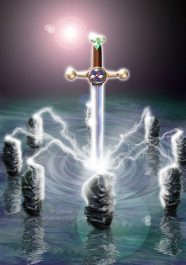 With a few rare exceptions, genre fiction is generally dismissed – even disdained – by "serious" authors and critical reviewers alike. Fantasy book sales are miniscule compared literary fiction; even the other genres outsell it. If you want to get rich, you're better off writing "Sisterhood of the Traveling Pants" than "Bonds of Sisterhood."
So what is it about Fantasy that motivates a writer to sacrifice broad cultural acceptance, fame, and money for the genre?
I asked editors and authors, "Why Do You Write Fantasy?" I was curious what it was about the Fantasy genre that made it the best venue for the stories they wanted to tell. Some weren't really sure, but others had some very definitive ideas on the subject.
Why Ask Why?
In a recent interview, Mur Lafferty stated,
"I've always been an avid reader… but I never wanted to BE a writer until I started reading Madleiene L'Engle and Robin McKinley… until I saw what you COULD write."
For her and countless others, the Fantasy genre represented a gateway to wonders and stories that stepped beyond the narrow conventions of the known world.
Understanding the genre you're writing in is an enormous asset to a writer. It helps gauge reader expectations, allowing writers to deliver a satisfying story. It also defines a set of literary tools, structures, and conventions that are the strength of the genre; writers can then leverage them to develop better story ideas and execute those stories with confidence and purpose.
Untainted Metaphor
Myke Cole uses Fantasy settings to deliver a strong message without confronting the reader's personal biases.
"Writing SF/F allows me to get close to real subjects that I want to address, while keeping a measured distance. My SHADOW OPS series is making some hard calls about war, xenophobia, colonialism and most importantly the role of bureaucracy and how it places process over people. But those are all REAL issues, and talking about them can polarize. When you deal with it through an SF/F lens, you get some distance from the topic. This lets folks interact with it on their own terms, without investments and agendas tangling up the point."
Two things to take away from Myke's observation:
Fantasy stories can – and often do – deal with crisis, pain, loss, and inequality… valid and challenging issues we are confronted with in the "real" world as a society and as individuals.
Using a Fantasy venue for the story allows writers and readers to engage with those issues without the intimately personal associations they would have in a realistic setting.
How can this help you as a writer? Look at the issues and questions you want to raise in your story, then strip away the recognizable frameworks that usually represent those questions. By creating Fantasy parallels, the message underscoring your story becomes more accessible and the reader experiences it without the distortion of their prejudices or cultural preconceptions.
Hope Beyond the Boundary
Tony C. Smith summed it up in a single word: hope. Alasdair Stuart agreed and expanded on the sentiment.
"Speculative fiction by its very definition implies that there is potential left unfulfilled, places still to go, things still to see. I love that idea, I love that for all our skills and knowledge we still hunger for the new, for something different. We've grown and we're still growing.

"Of course the element under that is hope. Hope that I'll walk on the moon someday, that cancer and HIV will be a distant memory in my lifetime, that we'll see the definition of 'human' change. I hope to watch the sun set from a different world before I die. I may very well not, but if I don't, speculative fiction's put me there anyway and I didn't even need to go through baggage check."
For me, Alasdair's thoughts remind us that the very essence of SpecFic and fantasy is…
Redefining boundaries and exploring new expressions of what we find beyond them
An opportunity to deconstruct stereotypes and re-examine what we believe to be our limitations
One is an outward exploration, the other a careful inward scrutiny. Both invite the writer to be bold in their expressions. Tropes and conventions are a fine starting point, but rarely the foundation for a whole story. It's not enough to take a cliché and change its name or make it a different color. Dig deeper, push further, give yourself and your readers a radical perspective with which to explore the human condition.
Virtual Reality Therapy
And finally, J. Daniel Sawyer offered a vision that elegantly ties it all together…
"Written fiction is the ultimate Virtual Reality technology. It allows us to explore both the limits of our perception and understanding, the inner workings of our own characters, the constraints placed on us by culture, and the consequences of choices in the possible futures that lay before us.

"That last is the place where SpecFic–particularly Science Fiction–comes into play. We live at the changeover in ages, in the midst of transformations of culture, technology, politics, morality, and consciousness the likes of which our species has never seen (I'm not being hyperbolic). The 20th century almost buried us. The 21st century is the time where humanity finishes its bootstrapping, or fails spectacularly and falls all the way back down.

"SpecFic like Steampunk and Fantasy helps us cope with crippling and destructive nostalgia, and SpecFic like Science Fiction helps us cope with anxieties and build ambitions to help us navigate this tectonic transition so we can create a future that will see us outlast the death of our own sun."
Dan's perspective is a call to arms for all Fantasy and SpecFic writers, elevating our genre from the narrow shallows of mere escapism to the full scope and depth of social commentary and reform. He addresses the question behind the question: what is the real value of what we do as SpecFic authors?
While there's always room (and need) for playfulness in our stories, it's important to remember the true power of the writer. Our readers let their guard down and immerse themselves into our stories, allowing us to speak directly to the heart of their perceptions. The seeds we plant there can take root and grow into marvelous inspirations or profound dread.
Final Thoughts: Fools and Trickster Gods
As writers, our work addresses to the most profound gift of our species: the imagination. From that shadowy maelstrom of "might be's" and "could be's" has come every magnificent break-through and every soul crushing horror we've invoked upon our world.
We are the King's Fool, the only one at society's court permitted to speak the truth, though it may be cloaked by a fantastic glamour and a touch of madness.
Fantasy's greatest power has always been to raise a distorted mirror to its readers, magnifying aspects of the world around us to archetypal proportions, dragging the best and the worst of us into the light and on to the stage.
In that capacity, we as writers in this genre are Trickster Gods. We are Hermes and Coyote, Anansi and Loki, seducing our readers off the clear path and revealing wonders and horrors that vanish into shadows when the last page is turned.
What About You?
Can YOU articulate what it is about Fantasy that makes you want to read/write it? I mean a real answer, an expression of the essence that drives you to that section of the book store to browse for the latest Urban Fantasy, Swords & Sorcery, High/Low/Epic Fantasy, Dark Fantasy, Mythic Fiction, or Paranormal Romance (see Staffer's Book Review: Fantasy: A Subgenre Taxonomy for a great blog post with descriptions and examples of the Fantasy sub-genres)?
Dave Robison and creative writing teacher Brion Humphrey host The Roundtable Podcast, where they invite writers to workshop their story ideas with authors, publishers, and editors.  Writers of all levels and experience are welcome to join… visit the website and sign up for your episode!