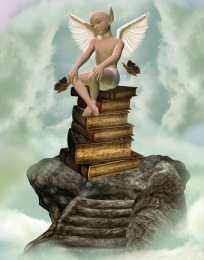 The last dozen fantasy books I've read would be classified as epic fantasy. Some kind of hero or heroine goes on a quest, or there are world-spanning conflicts between kings and queens.
I guess you're expecting me to say, "Ugh, I'm so sick of epic fantasy." Actually, no. I quite enjoy these kinds of stories for the most part, and have done so for around twenty years or more.
However, I found myself in a bit of a quandary recently when I thought, "I'd like to read something a bit different in tone, structure, and scope." So I started looking through my collection of books. Admittedly lots of fantasy.
That said, the last three books I've read would be considered a Western, alternate history, and cyberpunk. Not a lick of fantasy in sight. From someone who almost exclusively reads and writes fantasy, I became worried. "Oh no. Am I leaving fantasy behind?" Of course not. It's perfectly fine and even encouraged by most writers to read outside your own genre.
A question kept nagging me, though. For a genre as limitless as fantasy, why do I feel like I need to escape the genre to get something completely different? Could it be that fantasy is one of the safest genres out there? Is safe a bad word?
Why Fantasy Writers Might Try to Crack the Genre Open
1. Fantasy is a limitless genre
Think of something right now. Let your imagination really run wild. Think back to when you were a child and you made sketches of monsters or dreamed up imaginary friends.
There was nothing binding you, right? I'm curious as to why as adults this sort of chaotic, limitless imagination gets filtered out. I don't know much about psychology, but I'm sure society's constraints effect it. Perhaps an influx of newer and shinier technology?
In any case, fantasy is the only genre in fiction that is only limited by your imagination. No tricky physics or reality to deal with. Of course things still need to make sense in the context of your world, but if you say "Well, in my world, mushroom people rule humanity with a mushy fist" then I'll say, "Cool." If you make me believe this, then it can work. I haven't seen much mushroom people noir, Western, or literary fiction out there (although I might read it).
So why do epic and urban fantasy, established sub-genres, mostly top the sales rankings? Why is Cheetah Wizard and the Mushroom Mafia languishing in obscurity? I'll get to that later.
2. The potential exodus of readers to Young Adult fiction
I've heard that some of the best fantasy that exists is being done in YA. Why is it that YA is allowed to bend and twist the genre, but actual fantasy stays true to certain styles of storytelling? Is it because YA readers are more open to fiction that pushes boundaries? Maybe.
I don't read YA, but I've been thinking of exploring it more and more. I'll never leave fantasy behind, but I'm curious how many readers have because they're looking for something that breaks the mold and defies conventional storytelling.
Nothing says you can't read and write both traditional fantasy yarns and more daring fantasy fiction, right? I mean, I hope to do so.

3. The ability of new writers to immediately distinguish themselves
This is a topic that has two sides. If a new writer comes blazing out of the gate with some insane fantasy story that breaks all sorts of molds and turns the genre on its head, it can go one of two ways: it sets future trends or it is ignored for being too inaccessible to the public.
I would say that YA dystopian novels have become all the rage because of The Hunger Games. No one was really writing this kind of stuff (outside of Japan anyway) before, but now it's picked up steam as a viable sub-genre. Most of the time when I hear about exciting new authors in fantasy, they're writers of the latest epic fantasy series. Nothing wrong with that, but it's rare to hear about fantasy fiction that really pushes the definition outside of writers like Neil Gaiman, Susanna Clarke, China Miéville and others.
Is this to say all new writers should not write epic or urban fantasy? No again. Please keep writing it. But it may be a missed opportunity for brand new writers to get a leg up on the competition. Of course good stories will almost always rise to the top, but anything to market yourself better can give a distinct advantage.
I can't really address this issue without examining the other side of the argument.
Why Fantasy Writers Prefer to Play it Safe
1. It's easier to meet reader expectations
If I say that I wrote an epic fantasy, certain images may jump into your mind: dragons, elves, global conflicts, assassinations, heroes, and the like.
While no epic fantasy is created the same, readers pretty much know what they're getting when they pick up a new epic fantasy series. Readers like fantasy that's like fantasy that they like (huh?) For instance, if I say that I like George R.R. Martin, you may have several recommendations right off hand. If I say that I like Robert Jordan, you may have a different set of recommendations.
The statement, "I like really daring fantasy" may draw blank looks. "Well, what's your definition of daring?" I might answer, "I don't know, something that really pushes the boundaries." In this case, it's easier to give people something they know they want rather than something more idealistic.
I write and read epic fantasy. Have I said that yet? However, for me I'd like to explore different possibilities as well. I mean, I don't know if I like writing something until I write it.
2. The fear of being ignored
Writers have egos. Sometimes very fragile ones. If someone writes a fantasy story about a flying squirrel assassin living in Paris during the French Revolution and it doesn't catch on, then he might just give up writing altogether.
If someone reads epic fantasy and says, "Oh, I like that" she'll most likely want to write it as well. Like a ballerina seeing Swan Lake as a child or an aspiring computer programmer meeting Bill Gates, people want to emulate their idols. The idea of going rogue as a beginning writer may be scary. There are already so many other issues to worry about.
3. "If it ain't broke, don't fix it."
If it works, it works. Epic and urban fantasy tend to sell the best so that's what people read and write. Why flip a genre on its head if it's already working?
Some may say that the "grimdark" writers, such as Joe Abercrombie, took epic fantasy, "gritted" it up, and made it more appealing to those tired of the status quo. They took existing tropes and subverted them, thereby making the genre feel fresher. Perhaps this is the cycle of fantasy writing. Slight adjustments to existing ideas are better than overhauling the whole enchilada.
So in closing, is the genre being too tightly confined or is safe better?
I'll leave that up to you, fellow lovers of fantasy.
In defense of established sub-genres, my own personal library is full of epic fantasy. I kept saying this throughout the article for a reason. Certainly there is room for more and more epic fantasy in the world. This doesn't mean I want it to stop. I just want to see more writers try to truly push the limits of a limitless genre.
It could be a huge opportunity, especially for self-published authors, to create trends in fantasy, instead of traditionally published books being the go-to places to find what is currently hot. Self-published authors have the unique chance to try more daring kinds of fantasy without editors telling them it isn't marketable.
With more and more self-published writers attempting to find their place in a crowded market, the next trend is theirs to make if they're willing to take the risk. Is it worth it? Maybe not, but for me I'd like to see fantasy reach its full potential as a genre where anything (and I mean anything) can happen.
So what are your thoughts? Do you think fantasy writing is too safe? Which writers do you feel took huge risks that ultimately have paid off?
Leave your comments below!
For discussion of all things fantasy-related, check out Philip Overby's Fantasy Free-for-All.