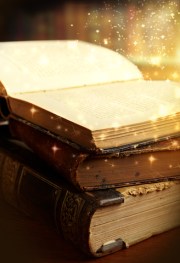 A new graduate from the Mechanical Engineering department at Miskatonic University wants to get his career going. So he has to decide what he's going to design first.
He decides to build an aircraft carrier.
Never mind that this is one of the most elaborate, complex pieces of machinery conceivable—the graduate has decided that he's capable of designing and building something immensely huge and complex, just like the guys who have been doing it for thirty years.
This sounds insane, but it's exactly what a huge number of novice writers do when starting out their careers. Instead of starting with something manageable—Ray Bradbury famously advised writing short stories for several years before even attempting a novel—new writers often decide that they're capable of producing a twelve-volume epic saga with hundreds of characters.
Long-form Fiction is Different
Why does this happen? Part of the problem is that many writers have already spent years writing—schoolwork, college essays, blog posts, articles, emails. We've all spent time telling stories to our friends—ghost stories as kids, you-won't-believe-what-I-heard stories in high school, and so on. It's easy to let oneself think that these skills can translate to writing long-form fiction.
But they don't. Structuring a novel-length narrative is its own skill that takes years of practice to master. Creating complex, realistic, interesting characters is a separate skill; so is writing clean prose that flows easily. As in any profession, one should master the basics before attempting the complex.
It doesn't help that most successful books appear to have sprung fully-formed from the author's forehead. We don't see the years of toil involved; just the completed project, and it seems like something that could have been thrown together in a couple of months. We begin to think that we could be that successful, if we just put our minds to it for a little while.
Honing Your Craft
Another confounding factor are novice successes: those new authors whose first book, an epic thousand-page literary monolith, becomes a critically-lauded success. We need to keep in mind that those authors achieved a combination of luck (hitting the zeitgeist just right, which so far nobody has ever been able to do reliably), and, well, luck (having an innate talent for writing). Trusting your success to luck is, to put it mildly, unwise.
The fact is that most successful writers spent many years practicing their craft before you ever heard of them. No sane person would expect grand success early in their writing career, or that their first attempts would be comparable to any of the great works of fiction that we all know and love. (Of course, if we were sane, we wouldn't be writers.) We should all make apprentices of ourselves at the start.
Do you agree that new writers shouldn't attempt epics? If not, can you name an example of a newbie author writing an epic that turned out well? (Christopher Paolini doesn't count.)
Benjamin Clayborne would find it splendid if you were to peruse his blog, or to check out his novel Queen of Mages on Amazon.