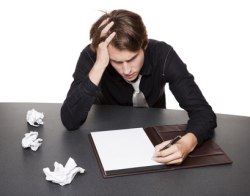 As writers, we ask ourselves this question at one time or another: How can I tell if my work is good?
This is the wrong question. The right question is, "How can I tell if my work is good enough to accomplish my goal?" And that, of course, depends on what your goal is.
If your goal is to sell a novel to a Big Six publisher, you're going to have a very different standard than if your goal is simply to entertain a small audience on the Internet, or even if your goal is simply to finish NaNoWriMo.
If you're writing a novel with the goal of finding an established publisher, then the novel only has to be able to impress at least one editor enough that she is willing to give you a contract.
So how can you tell if it's good enough for that to happen?
Submitting the novel to every publisher under the sun is one way, but that's insanely time-consuming (typically publishers do not tolerate simultaneous submissions, that is, manuscripts sent to more than one publisher at a time). And just because twenty publishers rejected a manuscript doesn't mean that the twenty-first won't buy it; but it could also mean that no publisher on Earth would buy it.
The screenwriter Charles Pogue (The Fly, D.O.A., Dragonheart) has said that a professional writer should be able to tell when his or her own work is up to a professional standard. That may be true for established writers (or at least, more likely for established writers), but newer writers simply don't have the experience to know if they're doing it right or not.
The best avenue for new writers—and it's not a great one, because there is no easy path for new writers—is to get feedback from other writers who are in the same boat. That way, it's an even exchange. You get your manuscript read and critiqued, and you do the same for someone else. This still isn't perfect, because even established writers can't always predict whether something is good enough to sell, and new writers have even less experience.
So what's the answer?
Write. Gain experience. Get feedback from whoever you can. Even if it's your sweet Aunt Martha, you still might get some useful feedback from her, when she says (for example) that the scene where the hero fights the Zorblaxian shadow monster was a little confusing.
It takes years to get good at any creative discipline; the most important thing is persistence. Some writers keep at it for years and still don't get anywhere; but the writers who give up are guaranteed to fail.
So what do you do to make sure your work is as good as possible?
Benjamin Clayborne would find it splendid if you were to peruse his blog, or to check out his story Chalice and Knives on Amazon.