This article is by Derek Chuff.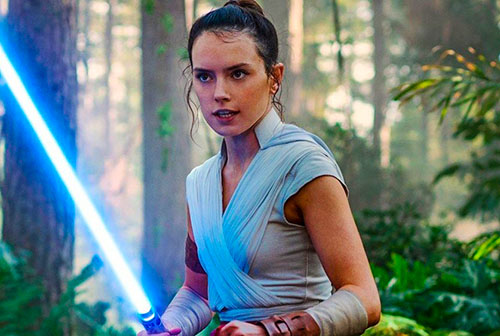 How shall I describe Star Wars: The Rise of Skywalker? It's a much better film than its immediate predecessor, and — despite what J.J. Abrams has claimed — it's a complete retcon of The Last Jedi. In tone, character, and story arch, Abrams does his best to deliver a satisfying conclusion to the trilogy, while being burdened with undoing so much of Rian Johnson's folly in The Last Jedi.
Beware… spoilers lie ahead!
A Missed Opportunity
Early on the film establishes Emperor Palpatine as the omniscient puppet master behind the events of the previous two films. As Kylo Ren ventures into Palpatine's lair, clones of Snoke float in a tank while Palpatine tells Kylo — complete with voiceovers — that he was every voice that Kylo ever heard inside his head. This scene is enough to give any true Star Wars fan the chills. It establishes the unfathomable power of the Emperor, and distracts, for a moment, from all the questions about his return (unfortunately, those questions go unanswered).
How J.J. Abrams can say with a straight face that he was not trying to undo The Last Jedi, while eviscerating its main points in this scene, is unfathomable.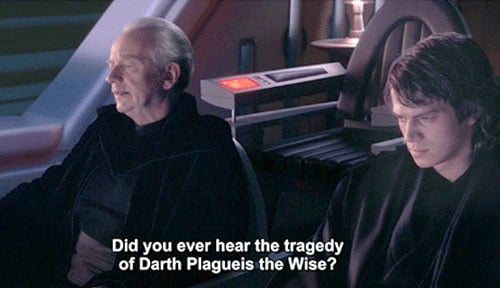 Yet I still feel that not making Snoke turn out to be Darth Plagueis was a missed opportunity. While Snoke as Palpatine's puppet is better than him being a random dead nobody, you'd be lying if you claimed that — deep down — you didn't wish for another chapter in the tragedy of Darth Plagueis the Wise.
Old and New Friends
Next, we see Rey training as a Jedi, and it's a nice introduction to her growing power set, which lets some of her feats later in the movie feel a little more earned. The use of the late Carrie Fisher as Leia is amazingly done. How Abrams pieced together unused footage from the previous films into a cohesive narrative for Leia is truly a triumph.
Later, we are re-introduced to the classiest rogue in the galaxy, Lando Calrissian. A companion book gives Lando a tragic backstory, explaining that he had a child who was kidnapped.  This detail adds further weight to the notion that there was no happily ever after for the original heroes, but — strangely — this backstory is missing from the film.
Much of the story is a quest to track down the Emperor's location, to prevent his Sith fleet from laying waste to the galaxy. Along the way there's a scene in which C-3PO's memory must be sacrificed. For me, as heretical as it seems, I was not all that moved by this incident, as I never cared for that character all that much. I know he was used for comic relief, but I consider him nearly as annoying as Rose Tico and Jar Jar Binks.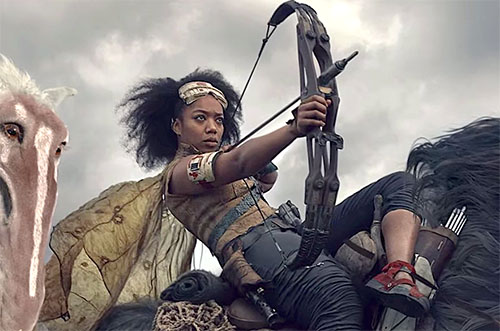 One of the new characters in this entry is Jannah (who may possibly be Lando's missing daughter). Jannah is what Rose Tico should have been. She has a competent, compelling story, but also has enough of an everywoman vibe that anyone could see themselves in her shoes. Jannah and Finn make a perfect pair as orphans kidnapped by the First Order who broke away and are continuing their fight for freedom.
A Plot Hole?
There is a game-changing duel between Rey and Kylo on the Ocean Moon of Endor. This fight, although too short in my opinion, shows the progression of Rey's talents, as her lightsaber skills have improved considerably.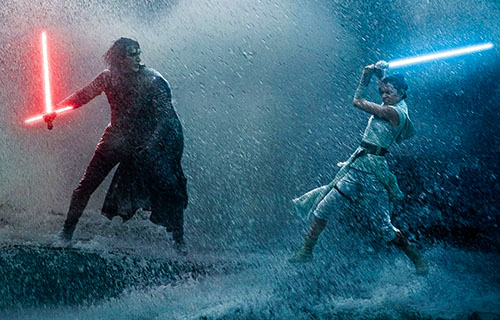 An unexpected – and dramatic – occurrence stuns Kylo, who drops his lightsaber and gets impaled by Rey. Using a previously unknown power, Rey quickly heals him, while maintaining that she always wanted to take his hand — Ben's hand. In a well-thought-out move on Abrams's part, the scar on Ben's cheek from The Force Awakens is healed, as well as the impalement.
Of course, if Anakin had known of this healing power, maybe he wouldn't have been turned by Sidious so easily. It's hard not to see this as a plot hole, especially since Ben gets the same power at the end of the movie.
Better as Ben
Once Kylo Ren is banished and Ben Solo takes his place, we get to experience one of this film's highlights: Adam Driver's performance as Ben.  Driver always played a conflicted and vengeful Kylo Ren well, but it is when he becomes Ben Solo that his acting chops really shine through. From the way he walks to his wry Han-like shrug and grin, Adam Driver portrays Ben convincingly as a completely different character.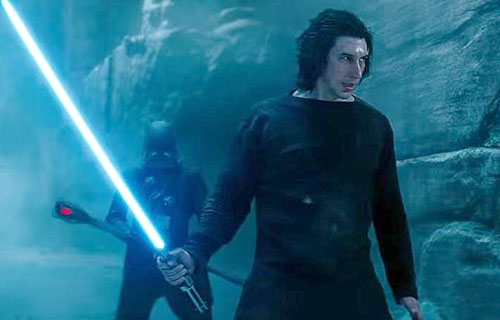 When one considers that Ben's parents split up, lied to him about who his grandfather was, and sent him off to be trained by an uncle who nearly killed him – and all the while he was hearing voices – one can cut him some slack for going through an emo phase. Even if that means going all Darth Vader-ish.
The Holdo Maneuver Dismissed
Shortly thereafter, a ship from the Emperor's Sith fleet appears above the mountainous planet Kijimi and destroys it, showcasing the fleet's planet killing capabilities. A broadcast demanding the immediate surrender — or destruction — of all planets to the new "Final Order" is relayed to the Resistance. It is suggested that the Resistance should use the Holdo maneuver, which any Star Wars fan, including defenders of The Last Jedi, knows is a game-breaking move dreamt up by Rian Johnson (in which one ship rams a bigger ship at light speed, thereby creating a chain reaction that wipes out an entire fleet).
Thankfully, this idea is addressed and dismissed as a one-time oddity that cannot be repeated. It really does make you wonder if Rian Johnson ever thought about how such a move would break Star Wars. Why not let an X-Wing kamikaze run the Death Star, or at least its super laser?
Another Direct Rebuke
Meanwhile, Rey jets off to the hidden planet Ahch-To, the birthplace of the Jedi Order. She intends to spend the rest of her life in hiding, as Luke did, since she fears what she might become if she embraces the dark side.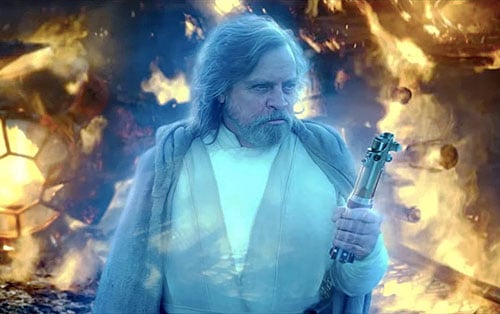 In another direct rebuke by Abrams to Johnson, Rey throws her lightsaber away only to have Luke's force ghost catch it, declaring that a Jedi's weapon should be treated with more respect. Luke convinces Rey that he was wrong, and the destiny of a Jedi is to confront fear, not hide from it. This inspires her to head off to Exegol, where Emperor Palpatine is hiding, leaving a trail for the Resistance to find the Sith fleet.
Faceoff Against Darth Sidious
Rey arrives on Exegol and makes her way down to the Emperor's chambers. He welcomes her and tempts her to take the throne. Rey is beginning to crack when the redeemed Ben Solo arrives. He descends into the Emperor's lair to find Rey, but is intercepted by the Knights of Ren, whom he demolishes one by one. I'm disappointed that the Knights of Ren, who presumably murdered all of Luke's Jedi students, didn't have a bigger part to play in this film, likely because so much runtime had to be spent undoing The Last Jedi.
Once reunited, Ben and Rey faceoff against Darth Sidious, who shows that a few years of training is no match for the power of the Dark Side. He drains their life forces to restore his own, and then acts on a 30-odd-year grudge against the Skywalker line by throwing Ben down a cliff to his (seeming) doom. The Emperor then goes Super Saiyan and unleashes the mother of all Force Storms. I'd like to assume he got that extra juice from Rey and Ben's life force, but it goes to show why Darth Vader never tried to fight the emperor before laying it all on the line to save Luke.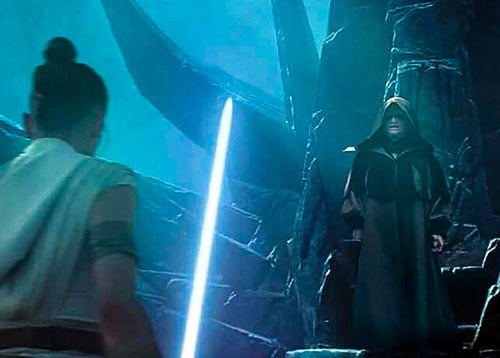 Rey channels ALL Jedi (the notable ones at least) and confronts Palpatine. In dialogue that should come complete with a signed legal waiver from the Russo brothers of Marvel fame, Palpatine declares himself to be all the Sith and then, with dramatic pause, Iron Man, err…Rey, says, "…and I am all the Jedi" and pushes the lightning back onto Palpatine, killing him (I wish they would have clarified if Darth Sidious literally — at this point — had the power of all the Sith, or was he just the most powerful Sith?).
Rey proceeds to collapse and die, as no amount of training could prepare her for a no-holds-barred fight with Palpatine, despite channeling all the Jedi. However, Ben arises from the pit and crawls over to find her. He then uses the recently introduced healing power to bring Rey back to life. The redeemed Ben gets his long sought-after kiss, and then fades into the Force, as it seems there are no longer any rules about who can become a Force ghost.
Not a "Mary Sue"
Earlier in the film, it is revealed that Rey is not "a nobody," but is Emperor Palpatine's granddaughter. This seemingly undermines one of the main tenets of Rian Johnson's film, that anyone can be a Jedi.
I, for one, am glad she's revealed to be a Palpatine.  The greatest problem with Rey as a character is her seemingly outrageous power level. This at least gets partially explained by her being the granddaughter of the possible literal embodiment of the Dark Side.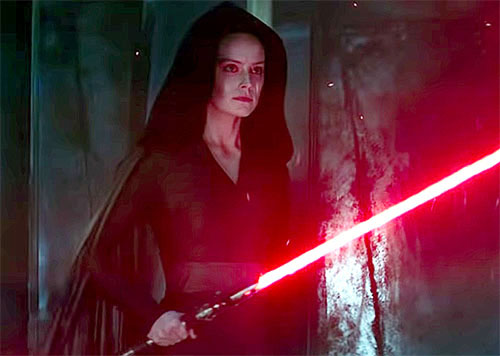 It should also be noted that when she fought Kylo Ren in The Force Awakens, Kylo was weakened from a bowcaster shot that was strong enough to send storm troopers fifty feet in the air upon impact, killing them instantly. Also, he had just cut himself off from the light side by killing his father and was very unbalanced. So I think the criticism of her being a "Mary Sue" is a little off base.
It is also clear that Ben is superior to Rey in Force ability and lightsaber combat in this film. The way he visibly held back and essentially threw the fight at the end of their duel is hardly a smashing victory for Rey.
Held Back by Damage Control
Overall, this film was held back by the damage control that J.J. Abrams had to do because of The Last Jedi. There were too many missed opportunities. For example, we never get to see Grand Master Luke Skywalker in combat because of Rian Johnson's complete misunderstanding of what makes Star Wars great. I would have loved to see more of Ben and Rey together, but this film was marketed as the end of the Skywalker saga, so you knew Ben had to die.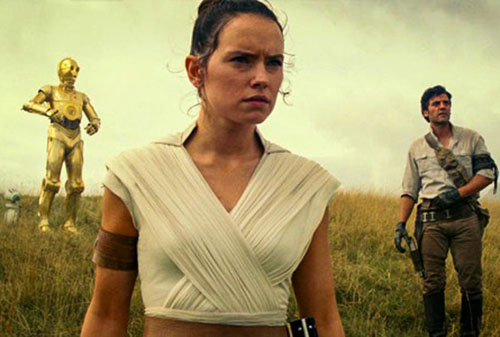 The Rise of Skywalker tries to honor what we love about Star Wars while wrapping up a host of storylines. Given the circumstances, Abrams did the best that could be done, and for that he should be applauded. Just don't read the leaked script from Colin Trevorrow's version of Episode 9, because I think that film would have been a lot better.
Your Turn
What are your thoughts on The Rise of Skywalker? Would it have been better without the baggage created by The Last Jedi? Or did the previous film take the franchise in the right direction?
Share your thoughts with us in the comments section below!
About the Author:
Derek Chuff is an attorney and film aficionado who knows way too much about Star Wars.