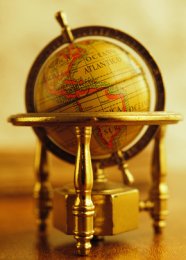 World-building is a topic that comes up often in fantasy writing circles. If you're writing epic fantasy, most often it's going to be in a world of your own creation. Even if you're writing in our own world, if you have fantasy elements in your story (e.g., magic, mythical creatures, necromantic hamsters), then you have to do at least a tad bit of word-building.
However, how much world-building is too much? How much is too little?
Some people may be extensive world-builders, laying out ten thousand years worth of history, historical texts, dead languages, extinct races, etc. Others may be minimal world-builders, relying only on a handful of elements to power their story forward. So which method of world-building is better, both for your readers and for your writing? Allow me to make a list, if you will.
Extensive World-Building: Pros
1. Lots of source material: As a writer, using source material and research is very important to making your story believable. If you were writing a historical fantasy, you'd research the history, right? Well, if you are creating a whole new world (a whole new world!), you are creating your own material to research. You are the historian providing the history, the anthropologist that unearths life's mysteries. If you're writing a story with plenty of background information, your writing may sing that much more.
2. A fully rendered world: What people love about Tolkien is that Middle-Earth feels like a real world. Part of that came from his ability to tirelessly create cultures, myths, and histories. Readers can tell when a writer is just pulling something out of thin air. "Yeah, the Hearteater elves, um, ate strawberries for five hundred years, that's why their lips are so red. Yeah, that's it." Readers may find themselves more immersed in a world that has these things readily available. One thing about fantasy readers: sometimes they want to know everything. So having the ability to give it to them on a silver platter is a good thing.
3. Templates: If you have a group of monsters called Oblixum crystal warthogs in your story that attack your main characters several times throughout, it's probably a good idea to know their attack patterns, where they live, what they eat, etc. Not every creature or person of a particular race has to act the same, but having a template in place will save the writer from throwing something together every time a new creature crops up. Does the reader need to have all this explained to him or her? Probably not, but you can show all these things throughout your story to make your creatures more real.
4. Magic: Warning: if you don't know your magic system before you start writing, danger lies ahead. Magic can be an extremely complicated problem in writing fantasy that a lot readers pick up on quickly if it doesn't make sense. Carefully consider a magic system before you begin writing. If in the middle of your story a mage appears and throws a tornado made of hornets at someone, we probably need to know how he did it. Hornet-tornado hurling mages are not commonplace in the real world (as far as I know), so leveling with your reader on how the magic works can be pretty important. Especially if it's complicated. (Avoid the dreaded info-dump if possible though!) Otherwise, it can become one of those elements that jerks readers out of a story.
Extensive World-Building: Cons
1. Overdoing it: World-building can become such a meticulous, soul-consuming process that writers never get to, you know, writing. Like anything else, overdoing world-building can not only crush you before you get started, but also drown the meat of your story (characters, plot, etc.) in a flood of endless expository fu-fu. For example, if you spend the first fifty pages of your book explaining all the intricacies of the Orundi dwarves' bat guano currency system, readers may get bored. Your story is about story, not just history. You can reveal these things throughout the story through dialogue, light exposition, and action. "Rabernath paid the dwarf with two bat guano marks for the clockwork beetle butler, way under market price." Overdoing it sometimes leads to info-dumping in mass quantities. If it's hard to see your story's meat because it's buried in mounds of historical text of the Tagari possum-people, then yeah, it may be good to cool off a little bit.
2. Takes away discovery: For many writers, the fun and adventure of writing is discovering things along the way. For each new creature that's found, the writer is sharing his or her wonder and mystery with the reader. If everything is painstakingly laid out, it may make your writing too rigid or clinical. "Bagwald saw a five-legged battle-lemur, male, sporting the solstice mating stance. The battle-lemur was normally not found in the wilds of Yarun due to their cautious nature, aversion to temperate climates, and allergens to the local bananas." It really depends on how you write, but allowing some things to be discovered now and again might help your world-building more than planning it all out ahead of time.
Minimal World-Building: Pros
1. Character and Plot thrive: The meat of your story is going to be characters (who is in the story) and the plot (what is happening in the story.) Minimal world-building allows you to focus on these elements more and make them shine. World-building can be compared to peanut butter: it tastes good, but if you smear too much of it on, it tears the bread, gets on your clothes, your hands, and you try to wash it off, but it's just too sticky–argh, argh, BLARGH! Meaning, take it easy and let the characters' adventures tell the story.
2. Discovery: Basically, the opposite of what was noted before (Takes away discovery). If you are free to discover your story, your readers may feel more connection to your characters because they're learning about the world the same way you did: by just seeing it and embracing it through your POV characters.
3. Cuts back on superfluous work: I think most people who like fantasy are aware of Dungeons and Dragons. When I was younger, I used to play a lot. A night-time ritual would be to read the Dungeon Master's Guide before I went to bed. Case in point, I didn't need to know every single thing that was in that DM Guide. It was a reference for telling my story. The same goes for world-building. It's all background, window dressing, extra cheese. If world-building consumes more of your time and your reader's time than other elements, it may turn them off to your writing style. So yes, maybe some want to plot out every little detail of their world, and that's fine. But at some point you have to write your story, so getting bogged down in years worth of world-building may not always be the best use of time. Disclaimer: Time-frame and results may vary.
Minimal World-Building: Cons
1. Leaves the reader wanting more: If your world-building consists of, "Yeah, there are dragons. Or something," then your readers may be left scratching their heads. What are the dragons doing? Are they bad? Have they come back from a 1,000 year old sleep to sear the bones of the unbelievers! If you're too lax with your world-building, especially in fantasy, readers may see right through it. Making up some stuff as you go along is fine, but all of it? Might be a steep hill to climb.

2. Inconsistency: Someone is reading a book about a warlock that can control demon horses. In one chapter, the demon horses can fly, but in another they can't because, um, well, just because. If your world isn't consistent, it can be another element that jerks readers out of the story. Good world-building keeps things consistent, so being too flippant about it can cause glaring gaps in logic in your world.

3. Um, it's fantasy: It's fantasy. Come on! Do some world-building!
Find your favorite authors and seek out interviews. How do they world-build? If you like their style, then use it. If they are successful in some way, then their world-building techniques must be working.
Final Thoughts
In conclusion, I think the best method is to keep a solid balance, both for your readers' sake and for your own. If you love lots of world-building, go for it, but be aware that your readers are never going to read your background notes, they're going to read your story. So making your story shine through whatever world-building methods you employ is the most important aspect. If you hate world-building, then fantasy may not be the right genre for you. I think fantasy requires at least some world-building, even if things are centered in our own world.
What are your world-building methods? Do you meticulously craft everything before writing or just kind of make a minimum swipe at it and get into writing your story? Write your methods in the comments below!
You can find Phil's blog about Japan, writing, pro wrestling, and weird stuff at philipoverby1.blogspot.com.