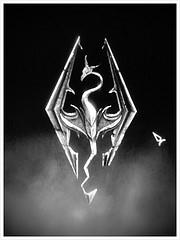 One of the most important – and difficult – tasks is to make writing a priority.  There are so many other things in life that can distract you from your work, including family and career responsibilities.
On November 11, a new distraction arrived on my doorstep: Elder Scrolls V: Skyrim.  I've been waiting for this game with almost painful anticipation, and thus far it delivers.  It's intelligent, immersive, gorgeous and highly addictive.  And yes, I fully expect it to suck up a massive amount of my free time.  But is that really a problem?
A Source of Inspiration
While writing is a pleasure, it's also work.  I can only write for so long before fatigue sets in.  For me, relaxation time is necessary for my writing to stay fresh and vibrant.  I have no deadlines to meet, so there is no need to push myself hard.
I find fantasy video games to be a great source of inspiration for my own writing.  If I'm wrestling with a case of writer's block, living out another author's story in an interactive world opens my mind to possibilities.  Sometimes I encounter clever ideas which prompt me to consider new angles.  On other occasions, the stress release of slaying a few orcs helps me to regain my creative drive.
While I've played my share of fantasy games, three in particular have impacted my writing the most:
Baldur's Gate – Although primitive by today's standards, the original Baldur's Gate still boasts an engrossing, branching storyline.  I found the experience of exploring a massive fantasy city (the titular Baldur's Gate) to be unexpectedly rewarding.  Consequently, I introduced a massive city of my own into my novel.
Elder Scrolls IV: Oblivion – I found the primary storyline of Oblivion to be dull.  The main quest became repetitive, and I never could bring myself to complete it.  I simply hated closing those damn oblivion gates.  Still, the guild quests were terrific, and I found myself loving every minute spent exploring the forests.  It's in part due to Oblivion that a labyrinthine enchanted forest plays a central role in my most recent work.
Dragon Age: Origins – While it lacks the open world expansiveness of Oblivion, Dragon Age makes up for it with a memorable story and likeable characters.  The Grey Warden's quest to unite Ferelden against the coming blight is epic in scope, and yet surprisingly personal.  I played through this game twice while working on my latest writing project, and I can see how it influenced the development of my characters.
Your Pespective
So for me, a well-crafted fantasy game can be a tool for rejuvenating my creativity.  What about for you?
Do you find fantasy video games to be primarily a distraction, or are they a source of inspiration?  If so, which games have inspired you the most?