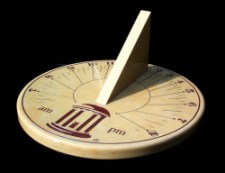 My car radio is dead.
It doesn't bother me much yet, because I have a couple things going for me: 1) A love of exercising my mediocre singing voice, and 2) a ton of stories I don't have enough time to write.
While there are no doubt authorial aspirants whose schedules would make my own look positively spacious, I can say without exaggeration that I am currently a very busy person. It has been roughly one year since I decided to make a go of this "independent author" thing, and I'm going to stick with it. That means making my writing a priority, and finding ways to make progress regardless of difficulty. Here's how I go about it.
Focus!
This is the first commandment of all progress, regardless of topic. Many of us have the tendency to let our minds wander every few moments from what we are doing (So far, just in writing this article, I have lost focus maybe three times – Yikes!). It is natural and widespread, and somehow civilization survives.
The more crunched our time gets, though, the less we can afford to let our attention wander. Poor focus is the enemy of efficiency, and this article is all about how to use our time to more efficiently pursue our writing.
Plan the Plot, Devise the Dialogue
Most of us have substantial amounts of time spent in transit. I spend a good five to six hours a week sitting in the car – and as I mentioned in the very beginning, that is valuable writing time. Not to actually put words on the page, of course (Mythic Scribes strongly advises against attempting to write while driving) but to think about what needs to happen in the story.
How much time do you spend sitting at your computer just thinking about the story? If we were actually adding words every time we sat down to write, our productivity would skyrocket. Use that time in the car, or sitting on the subway. Every time you write, keep in mind the hard parts that lie ahead, and unravel the knots in the story when you aren't actually at the computer. How do these two characters meet? How does Villain A persuade Character B to join Team Evil? What delays the Old King's Decision Long enough for "Something Dramatic To Happen?" Don't waste those precious moments at the keyboard trying to figure these things out. Do it beforehand.
Don't Lose It
Dialogue has always been a major component that I rarely master while actually writing. All my best character speeches have been the product of a long car ride, or waiting in line, or – even more commonly – the moments just before I fall asleep. It's annoying, because I need to immediately jump out of bed and write down what I was thinking, or it will disappear.
I actually have a very good memory, but the time just before sleep is not usually very sharp the next morning, and so to the notebook I must go. Some other times – such as in the car – I rely on my memory to retain the key points to what I was thinking up. When my hands are free I'll jot notes into my phone. I'm even thinking about getting a recorder (which would be handy in the car).
Barring the ability to actually record what you are thinking, use repetition. Once you've had that epiphany about the plot, say it out loud. Repeatedly. Same goes for dialogue. Say it aloud! You might find that doing an impromptu vocal performance of your dialogue makes it better (does for me), but the key here is to commit it to memory.
(In other news, my mind just wandered again. Bad Tristan!)
Loosen Up The Filters
Regardless of the quality of your planning or memory, chances are you will not actually be composing the story-as-it-is-read in your head without access to the computer. You're just cutting down on the time thinking about macro-elements of the story. Plot. Actions. Key dialogue. This doesn't help with the age-old headache of finding the right words to express it all.
The secret here is not to be so hard on yourself. For a long time I was an incurable perfectionist. I wrote very slowly, obsessing over each sentence, the order of each paragraph. On one hand, I spent very little time editing after I'd completed something, because it was already as good as I could get it. On the other hand, making any progress at all took a long, long time.
Forgive me, but we're gonna do some math now.
Plato spends twenty minutes on a page of writing. It is incredible when he finishes it, but until he has spent those twenty minutes he has very little down and completed, because he wants everything perfect before he moves on. Aristotle spends only ten minutes on a page of writing, but he then spends another ten minutes per page in editing in order to bring it up to the quality of Plato's work.
One day these two sit down to do an hour of writing, and each produces three excellent pages. It seems like the two approaches are pretty much equal!
… but what happens when they can only write for a half hour, twice a day? Aristotle has his three pages after the first half hour, and edits them in the second. Plato, though, can't finish two whole pages in thirty minutes. He needs that full twenty minutes to make anything worth keeping.
When we break up their writing time, Aristotle's way wins. It can adapt more easily to interruptions. Naturally this is an exaggeration, but I cannot count the number of times I sat down to "write" but wrote nothing; not because I didn't know where the story was going, but because I couldn't find the right sentence to start with.
Get the rough form down first – you can improve it later. You don't have the time to be too hard on yourself.
Being Sneaky
Here are a few more little ideas for those of you who want to "steal" enough time to write:
Lunch breaks are golden. Eat quickly and spend ten minutes scribbling.
Keep a notepad in the bathroom. 'Nuff said.
Learn to condense ideas into a few evocative words for ultra-fast note-taking.
Don't be afraid to talk to yourself at the grocery store.
Have any tips and tricks of your own for getting writing done on the fly? Share in the comments!
You can find Tristan's eBooks (including his epic fantasy novel, TWIXT HEAVEN AND HELL) at Amazon and Smashwords.