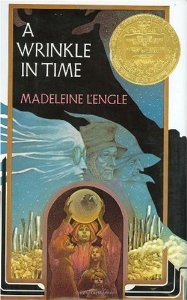 This is a question I've thrown around in my mind like a ping-pong ball ever since I was old enough to understand what fantasy actually is (the literary genre, that is – I doubt anyone under the age of twelve needs any lectures on the power of the imagination and the hours of fun that can be garnered from a muddy ditch, an old branch, and a raggedy piece of cloth: PIRATES AHOY!).
There was never any doubt in my mind that I wanted to be a writer…or, more specifically, that I wanted to write. But as to why I chose the fantastic as my canvas, who can say? The Lord of the Rings no doubt played a part, as did Fahrenheit 451, A Wrinkle In Time, and numerous other novels which wriggled their way into my brain and nestled in the darkness, content in the knowledge that sooner or later the gouges they made on my psyche would become apparent.
And they surely did. Oh, such gouges! Deep enough to mark me as a 'geek' throughout my formative years. Not that I minded, particularly. It was some comfort in my youth to know that while those who applied the label were barely able to write their own names without moving their lips, I was feeding my imagination by wading through the Tain Bo Cuailnge, The Silmarillion, and numerous other works whose imaginative scope give lie to the notion that humans are little more than shaven apes.
In a rather grim world filled with horrors of varying dimensions, the option to escape earthly fetters (even if only on a temporary basis) was accepted eagerly. Transcendence, I believe, feeds an innate yearning of the human heart, whatever label a rather myopic industry chooses to put on the scribes who deliver it: Tigana by Guy Gavriel Kay, Weaveworld by Clive Barker, Knots and Crosses by Ian Rankin, Foundation by Isaac Asimov – all separated by spurious distinctions, yet all serving the same purpose, and admirably too.
None of the above would bother the lists of most literary prizes, but as G.K. Chesterton once wrote:
Literature is a luxury; fiction is a necessity.
And there's the rub, and quite possibly a kick in the unmentionables for those who think fantasy is the be-all and end-all of their reading life. It isn't. Fiction matters, genres don't. Whether set on a distant planet, a continent long lost to history, or a grimy apartment frequented by junkies, the purpose of literary creation is, in my less than humble opinion, to express whatever longings the heart may harbour.
Fiction immerses. It entertains. But perhaps most importantly, it has the potential to open our minds not to what is, but to what might be. This alone is something anyone with opposable thumbs should aspire to. Ultimately, genres have no meaning. Writing from the heart does.