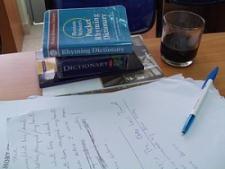 This article is by Neil Olmedo.
Everyone has a story to tell.  Most people have the dream of writing a novel, but few actually make this dream a reality.  Here are five essential tips for anyone who wishes to write a novel.
1. Write
The first rule is really very simple: just start writing.  You can dream of becoming an author, but you'll never succeed at it until you actually sit down and start writing.
Set aside some time to write every day.  Depending on how serious you are about following your dream, this time could be as little as ten minutes or as much as an hour.  Whatever you decide, stick to it, and write for the whole time.
If you're struggling with using your time, try free writing.  During your free writing session, set a timer for five minutes.  Then, until the timer goes off, write furiously.  You aren't allowed to go back and edit, and you're not allowed to stop.  You can write things that will apply to your novel, and you can also write random things that come into your mind.  Sometimes you'll just be writing nonsense, but that's fine.  At least you're writing something.
Free writing can be a good way of kick-starting the creative process.  By forcing yourself to write continuously and quickly, this exercise can help you to lower your inhibitions and stop over-editing yourself.
2. Read
The quality of your writing will depend to a large extent on your reading.  Reading other writers' work will give you ideas, and it will give you experience with using your imagination.  The best writers are good readers too.
You will definitely want to read a lot in the genre that you hope to write in.  If you want to write a fantasy novel, read fantasy.  If you want to write a mystery, read mystery.  However, you shouldn't limit yourself to reading just one specific style.  Reading a variety of authors and styles will give you depth.  Spend time with different genres, and see what you like and dislike about what you read.  If you're really serious about improving yourself, read the classics too.  Shakespeare, Milton and Dante all have lessons for modern-day writers.
3. Daydream
Daydreaming about your story can help you to write it.  If you think about your writing when you're not actually sitting at your desk, your story will develop more complexity and depth.  Daydreaming can also help you to stay interested in what you're writing.  If you want your created world to be a place that others will want to visit, make sure it's a place where you'd like to be.
When you have free time, ask yourself questions about your novel.  Explore and develop the world it takes place in.  Think about the interactions and relationships between your characters.  Relive some of the best moments in your story, and really enjoy them.  Then ask yourself how you can make these moments even better.
4. Interact
When learning how to write, it's imperative that you interact and share with other writers.
Some writers do this by joining writing groups.  Others participate in online writing forums, such as the one here at Mythic Scribes.  For myself, I found it helpful to take a creative writing class.
Creative writing classes aren't for everybody, and they tend to be a bit of a mixed bag for aspiring novelists.  The majority of creative writing classes aren't geared toward writing novels.  Instead, they tend to focus on short stories, poetry and personal essays.  However, many of the skills learned in a class can be applied to novel writing.
Your creative writing teacher may also have different priorities than you, and this could lead to conflict.  If you're interested in writing fantasy novels, but your teacher only writes gritty, modernist flash fiction, prepare for a clash.
One thing that creative writing classes are good for, though, is making you write.  It's amazing how much easier it can be to conquer writer's block when you have assignments, deadlines and grades.
5. Rewrite
Rewriting is an extremely important step in producing a quality novel.  Although rewriting and editing too much at the beginning can cause you to lose momentum, you should know that it will be very necessary as time goes on.
No matter how talented you are, you will need to write multiple drafts of your book before it's ready for publication.  Learn to think of your writing as a work in progress, and try not to let your ego get wrapped up in it.  If you know ahead of time that you'll need to rewrite, you won't be disappointed when editing time comes.
Your Tips
Which writing tips have proved most helpful to you?  If you've encountered any useful writing tips, please share them with us here.