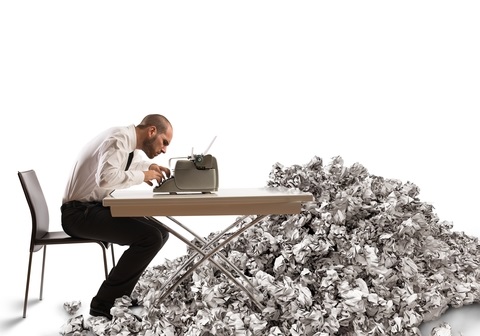 Have you ever had a really awesome idea for a story? Have you ever given up on this idea because it seemed too similar to something else, or because someone said it was just like that other story they read – or movie they saw, or whatever?
If you haven't, you're probably an exception.
Chances are you forgot it happened, because it was a really long time ago, before you'd even started writing. It happens to us all.
The Seeds of Stories
We all want to be original, and we want to bring something of our own to the table. The difference between us is what we want to bring – what's important to us. Some of us want to explore deep emotional themes. Some of us want to provide a momentary escape from the drudgeries of everyday life. Some of us want to tell a new and original story that no one ever read the likes of before.
This last bit, creating a new and original story, is arguably the most difficult one.
There are those who say that everyone has a story in them, and there are those who say there are only three different stories (man vs man, man vs self, and man vs nature). In their own ways, they're both right. It's a matter of perspective.
What I'm getting at is that with the amount of stories that are written, it's nigh impossible to come up with a new idea. Even with a very small circle of friends, it's difficult to create a story concept that doesn't remind one of them of something.
So what's the big deal?
Or, to be more specific: why do I keep coming across young enthusiastic writers who throw out their ideas just because someone else points out it's already been done? (Old experienced writers probably do it as well, they're just not as obvious about it.)
The answer is that it's not necessarily about being original, but rather about creating something of your own.
When you plant the seed for a new story, the idea is the only thing you have. It's what everything comes from, and it's what will eventually grow up and become the flower/bush/tree/forest that is your story. At the start though, it's just the seed, and it's all you've got.
It's a seed like no one else's, and it will grow up to be the most beautiful enchanting magical forest ever. There's so much hope and promise in your seed. It's the most precious thing.
…and then someone comes along and tells you they saw the same seed down a the florist's last Thursday, and it's an onion.
All of a sudden the glory is all gone. The promise is betrayed, and the hope deflates like a leftover balloon from last week's birthday party. What was once a dream of a magical forest become just another stupid onion.
Sounds horrible, right?
It doesn't have to be like that.
Growing the Dream
Let's continue with the seed analogy. Just like seeds won't turn into flowers unless you plant them, so too will ideas never become stories unless you write them.
As a skilled and experienced gardener, you will know what seed you're planting, and you'll know what kind of flower will grow from it. You'll know that with the right care your flower will bloom and flourish. Chances are it'll become strong and beautiful.
If you're like me and don't know anything about gardening, you'll put a seed in a pot of soil and splash some water on it now and then. There might be a flower, and there might not.
There's a saying that gets thrown around a lot when talking about ideas and originality, and it's something along the lines of: "Ideas are worthless; it's what you do with them that matters."
In the context of ideas as seeds for stories, it certainly has merit.
When it comes to storytelling, it's not enough to plant the seed. You have to do the growing for the seed too. With flowers, the seed grows on its own as long as it gets the right care. It'll know where the leaves go and what colour the flowers will be.
As a writer and a storyteller, you have to decide these things while growing your idea. You make countless little decisions for your story as you write and develop it, and these decisions are based on ideas too – your ideas. Small ideas that come to you while writing, or which were left over after your last story. Some of them may seem so obvious they're barely worth calling ideas, but they still are. They're what makes your story yours, and they're most certainly not worthless.
Sure, your original idea may have been the story-equivalent of an onion, but it's your onion, and there's no other onion like it. Your onion makes anyone who cuts it cry tears of gold.
But how can you tell?
When you have a seed you can look up pictures that show what it will look like when fully grown. With the right care, your flower might end up looking a little bit like that.
When you have an idea, you only have your own inner vision of what the story will be when it's done. Depending on who you are as a writer, it may end up similar to that, or it might be completely different.
If you've grown a few ideas into stories, you'll have experienced this first-hand. The vision you had for your original idea may not have much, if anything, in common with what you eventually ended up writing. This can be the case even if you outline your story in great detail.
You know it's going to happen, and you know it's part of the deal. Perhaps it's even why you write: to see what becomes of your idea. More importantly, you know that even if your initial idea is similar to other ideas, the final story will be all yours.
As you write, you'll leave your mark on the characters and events that you create. This is where all your tiny little ideas and decisions come together and create a flower that's much too large to ever have fit inside the tiny little seed it grew from.
If you're new to writing though, you may not have fully experienced how creating a story makes it your own. All you have is your idea and the vision it creates in your mind. The dream of what your story could be. You've not yet beaten your writing wings, and you don't know for sure the true power of your own imagination. Perhaps you're a little bit worried and a little bit scared?
Banishing the Fear
Okay, so let's say you're a new writer. You have an idea you used to think was really cool until someone pointed out that it's basically Harry Potter In Space. Now you have to come up with a new and better idea.
No.
Just because you have a young orphan space wizard who goes to a secret space wizard school and is really good at piloting a space ship, doesn't mean it's Harry Potter in space. Sure, it could be, but it could also be Phantom Menace (well, sort of), or it could be something else entirely. It could actually be pretty cool.
The important thing is: You'll never know if you don't write the story.
Only, it still feels like Harry Potter in Space, and you no longer care for writing it. How do you fix that?
The way to go is to reignite your passion for the story. You could try and come up with a new idea, but it would remind someone of a cyberpunk version of The Hobbit, or Game of Thrones set in 1920's Chicago, or a fantasy version of Warhammer 40k. Whatever. Everything reminds someone of something.
So how do you reignite your passion?
This is, unfortunately, a lot easier said than done. However, there are a few things you can try:
Develop your characters. Get to know who they are, what drives them, and what secrets they hide.
Develop your story. What are the main events, and is there room for little secondary events throughout to spice things up?
Spend some time with your characters. Write short stories about them that aren't related to your main story idea, just to get a feel for them.
There you go. Basic advice for a complex problem.
Unfortunately, there's no shortcut to getting experience. Experience is gained by doing, not by reading about it. In this case, the doing that needs to be experienced, is writing. So, write.
Plant your onion and make it grow.
Final Words
My first novel I wrote was a "practice novel" based on one of the simplest most basic idea I could think of. I didn't want to waste any of my good ideas when I didn't know if I was able to do them justice as a writer, so I wrote something else instead. The idea was "boy meets girl" and that was it.
Over the months I spent working on that I grew to love my characters and my setting, and I developed a great passion for the whole project. In the end, the result was mediocre at best, but even now, several years later, I still think about going back to that story and fixing it up.
The idea is still the same. It's still about a boy who meets a girl, but that's not what matters. What matters is the boy and the girl he meets.
What about you? How do you feel about ideas?
Do you worry about your ideas being cheesy or tacky or cliché? How do you cope with that?
What's the worst idea you've had that you've turned into a story?