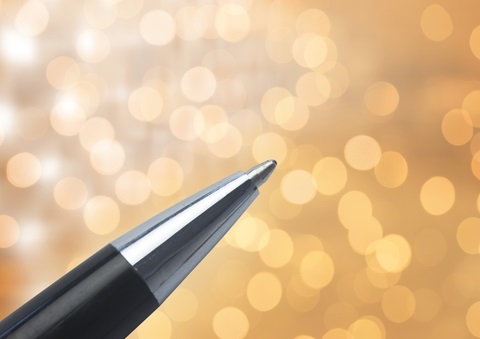 Like many writers I'm a huge fan of many things – from novels and superheroes to anime and Doctor Who. But recently, watching a show with my young daughter, I've been pulled beyond a threshold I never expected to cross.
I started writing fanfiction.
It is the best thing to happen to my writing in years.
People look at fanfiction as trash writing where young teens with obsessions play out their daydream fantasies – not that there's anything wrong with that. But it's also an effective way for authors to isolate writing skills they may want to develop.  You can skip over the character introductions, go light on the descriptions, and cut down the worldbuilding that diseases many people in order to focus on character arcs, plotting, and writing style.  For me this was a game changer.
The show is Miraculous Ladybug, a superhero romance aimed at teens. Marinette is the superhero Ladybug, and she's in love with her classmate, Adrien. Adrien is the superhero Cat Noir, and he's in love with his super partner, Ladybug. If only their secret identities didn't keep them apart.  The characters are stuck in a love square with just the two of them, and the audience is in on the inside secret that's creating most of their conflict.
But this article isn't about a television show, defending geeky obsessions, or pushing authors to write fanfiction.  The crazy love square between Marinette and Adrien is part of a dynamic – a guiding force between the characters that creates change throughout the story. A good dynamic is like a tension-building machine, and for me, the difference between writing with and without a strong dynamic has been the difference between fun and torture.
Dynamic vs. Character Development
When I began writing fanfiction, the first thing I realized was that I didn't know my original characters well enough. Marinette and Adrien had bigger personalities, simple guiding motivations, and quirks that I used to consider shticks and gimmicks but now accept as fundamental to developing deeper characters.
But my characters were strong by all of the measures I knew at the time. They had backstories, character arcs, nuance and relationships. But I was building my characters as individuals with their own stories existing side by side together.
But a good dynamic is shared between the characters: Our story, not my story.
I had thought too much about how my characters feel about the government and the magic and the demands of the plot, and not enough about how they feel about another character's quips, bad attitude, excessive optimism, or showmanship. I had spent all this time not just on plot and worldbuilding, but even on character development, and I struggled to write because I didn't even realize what I was missing.
Marinette gets flustered around Adrien and annoyed by Cat Noir's bad puns. Adrien treasures his friends and wants to impress Ladybug. Understanding the dynamic created by these two sentences has made writing this fanfiction fun, easy, and constantly compelling.  Add in any hints of a plot, and the scenes just about write themselves, rich with the tension this dynamic creates on its own.
This isn't done through one character's motivations, or by having two characters share the same goal, but by giving characters slightly different, contrasting, intersecting motivations. One character wants to save the world; another wants vengeance on the villain; another just wants to make sure she can eventually rebuild her home town; another wants to rescue his family from the villain's dungeons; another wants to seal up the villain's arcane rift polluting the atmosphere. The characters can even be simple and cliché but still build a compelling, page-turning dynamic.
Plot and Worldbuilding Are Not Separate Steps
In Ladybug, the two characters both have two identities, and they're in love with each other's opposite alter egos. This dynamic goes beyond character development and into the plot and mythos of the story.  They have two identities because they are superheroes, and they cannot share their second identity because the plot makes it dangerous to do so.
The plot and the worldbuilding are at their best not when they create an epic story that wrecks the world but when they also go into creating a unique character dynamic. You know that the elements of your story come together when you have a character dynamic that can only exist with your plot and setting.  And when you find that, build on it.
Superheroes have fallen in love and struggled with their dual identities before Ladybug and Cat Noir. But the nuances of this superhero mythos are all about teasing the big identity reveal that will close the love square. Using their special powers gives them a short window before their magic fades and their identities are revealed, and the villain wants to take the jewels giving them their power, which will also reveal their identities. The plot and mythos don't simply create the dynamic but serve to pluck at the tension it creates at every possible moment.
If that sounds simple and gimmicky like a kids' television show, consider that a good plot and world take hundreds of pages to build, as does a character arc and the revelation of his or her backstory.   But the character dynamic all of these things produce are part of the hook apparent in the first few pages.
Connect to an Audience
Novels are sold by the book, but you can post fanfiction one chapter at a time.  If your dynamic is bad in a fanfiction, your readers will tell you, and it'll suck the drive out of your writing long before you get to any new worldbuilding or plot.
Being connected to an audience closer to real time changes everything.  You don't have time to tell yourself that you have four chapters to set up your great plot. You have to begin with a payoff for your readers in the first chapter – in every chapter.
The dynamic is that first payoff.  It's heart of your book.
That also makes it your promise to your readers. What is driving this dynamic, and how will it develop over the next few hundred pages? You're promising answers to these questions, and a strong dynamic will convince readers that the answers will be just as strong.