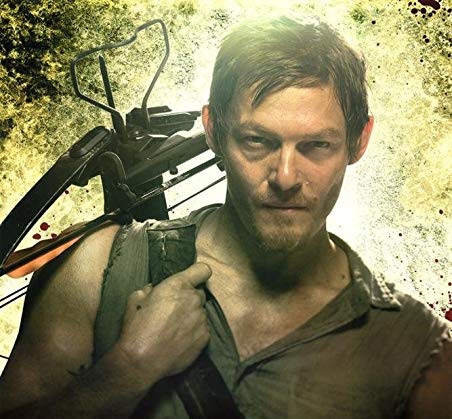 It's about us.  This is what I tell people every time I proselytize to the unconverted.
Consider me a missionary that goes out into the world and speaks the good news about good stories including The Walking Dead.  When it comes to this particular conversion, I go to those who are "not into zombies", "think zombies have been overdone", and even those who "don't really watch a lot of TV."

The Walking Dead started as a graphic novel series, and is still going strong as that.  If you prefer that medium, then I recommend it as much as I do the TV Series that came later.  The two share a lot of things including characters, story lines, back stories.  However, the two mediums go off into different directions rather quickly and only converge every now and then when a character or circumstance is transported from the graphic novel to the TV series.  Even then, it's usually morphed a bit so that readers can enjoy the TV Series without too many spoilers.
Both the graphic novel and TV series start out with the main character waking up from a coma to find that he is amidst a zombie apocalypse (perhaps inspired by 28 Days Later).  His name is Rick Grimes and he was a sheriff.  Meanwhile his best friend and his family, believing he's dead, have moved on.  The beginning of the story involves his search for them and the lessons that he learns on the way about the new world he has woken up in.  These lessons usually don't come easy.
The Supernatural is Secondary
I'm going to stop there in terms of giving away the story.  The Walking Dead is very prone to spoilers.  That's only one of the ways that it's similar to Game of Thrones.  Both are about the characters, the relationships, the power struggles and almost secondarily about the supernatural.  In Game of Thrones there are episodes without any supernatural elements.  In The Walking Dead there are episodes with few if any actual zombies. That's not to say that these things aren't important.  They are, but mostly in terms of how they affect the characters and story.
If I had to guess where many sub-par fantasy and science fiction breaks down, I would say it happens when the writers dwell on the science fiction and fantasy, and not on the characters and the story.  Also, it breaks down when the characters react to these things in artificial ways.  The creators of The Walking Dead and Game of Thrones get this.
If you are expecting to know the entire backstory concerning how the zombie apocalypse happens you will be disappointed.  The story is told through the point of views of a small group of characters.  And, you know what they know.  They aren't looking for the "why".  They are looking to survive.  When they know you'll know.
The Power of Stories
I am not a writer, at least not yet.  But, I do study the world in ways that I imagine an author would.  That's why I believe in the power of stories.  You can't have every experience.  You can't make every mistake.  You can't be put in every possible situation both real and fantastic through living life alone.  And, when put into situations in real life, you can't always step back and see them from different points of view.  Stories help use explore things in ways we would not otherwise.
Good stories ask "What would happen if…"  Fantasy and Science fiction are often very good at this.  Some of the questions The Walking Dead asks are:
What would happen if…
things like electricity and technology were taken away?
corpses, that were previously people, were driven to mindlessly attack us?
we weren't sure whether they were simply reanimated corpses or our love ones trapped in a diseased state?
we were almost certain to eventually be one of these "things"?
society broke down and we had to put together new political and economic structures from scratch, particularly given the above?
we needed to decide every day whether or not to stay human or give in to our baser instincts just to stay alive?
trusting and distrusting a person or group of people was the difference between life and death?
It's not comfortable to think about, but sometimes discomfort is good.  It awakens what sleeps within us.
Isn't that what fantasy and science fiction is for?