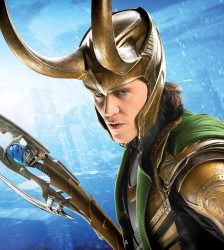 When it comes to villains, we've seen the clichés.  Dark lords.  Psychopaths.  Petty super villains who kill their own henchmen.
We've also heard the advice.  Villains need personal goals.  Villains need depth.  Villains need to be the heroes of their own stories.
In my experience, conversations about villains get overshadowed by the question of whether a story is about good and evil, or the morally grey.  But as authors, we need to understand what that thematic choice means for developing our characters.
Do your villains embrace their villainy or attempt to justify it?
Knowing the answer to that question will help you create the character's arc.
Villains might not change during the course of your novel, but at some point they crossed the threshold from acceptable citizens to villainy.  Some crossed that line fighting it, denying it, rationalizing it, or pointing to someone they believe to be worse.
Others claimed full agency and jumped across the threshold gleefully.  However they crossed that line, a villain's descent into evil holds the potential to be one of the most compelling parts of a story.
Agents in Their Own Arcs
Becoming a villain isn't something that just happens to you.  Even if you were raised by psychotic warlords or deranged magicians, you can make choices which undo some of that baggage.
At some point a villain, wrongheadedly or willfully, chooses his or her villainy.
Everyone has opportunities to grow in their lives, and usually, will face the difficult choice of choosing their future direction.  As with a typical character arc, the villain has a passion, goal, weakness or flaw which drives the character to change.  But in the case of a villain, the character chooses to turn towards villainy as a solution.
Perhaps they had evil mentors who destroyed their families, abused their puppies, and taught them that evil gets things done.  Or perhaps they didn't fit in, and decided to adopt a maniacal laugh and obsess about killing our heroes.
In any case, a villain's character arc provides an opportunity to explore what it is that causes someone to turn towards evil.
Drivers of the Plot
In many stories, villains are the driving force behind the plot.  Villains take actions which impact the heroes and force them to react.  Villains pull the strings which drive everyone else into action, until somebody stops them.
To serve in this role, a villain needs the power and influence to be a real threat to the hero.  He also needs motivation.
A personal conflict between the villain and the hero is one way to keep your plotline active and the threats imminent.  Henchmen, magic, secondary villains and influential arguments can also help to stoke the conflict.
But as the story progresses, and the hero becomes more assertive, the villain's power should escalate.  Few things are as terrifying as seeing a killer gain more power, especially when that killer seeks to destroy beloved characters.  When your evil genius acquires his death ray, or your dark sorceress her medallion, make it powerful.
Foils to the Hero
In order to develop a villain, we need to understand the villain's role as the foil of the hero.
Many new authors recoil from the idea of a foil because it seems simple and formulaic.  They think that it implies that the hero and villain are somehow opposites.  But that's a cliché.
As a foil, the villain presents a series of threats which exploit the hero's weaknesses, forcing the hero to grow and overcome them.  For this reason a villain is crucial to your hero's character arc.
The Villain Problem
Because of their driving role in stories, villains can become more interesting than the heroes.  Sometimes authors refer to this as "the villain problem."  We want our heroes, not our villains, to define our stories.
We can circumvent "the villain problem" by making our heroes more proactive, especially towards the end of the story.  Heroes need to have agency, and shouldn't be defined only by how they react to plot developments.
Rather than having the hero simply react to the villain, we must also give the hero opportunities to become the villain's foil.  The hero must learn to exploit the villain's weaknesses, until he is forced to surrender, escalate, or change.
In other words, give your hero a few moments of awesome to get back at the villain.  These moments show that the villain has served his function in the story by forcing the hero to grow.
Great Villains
Who is your favorite fictional villain?  What makes him or her compelling?
Share your pick(s) in the comments below.