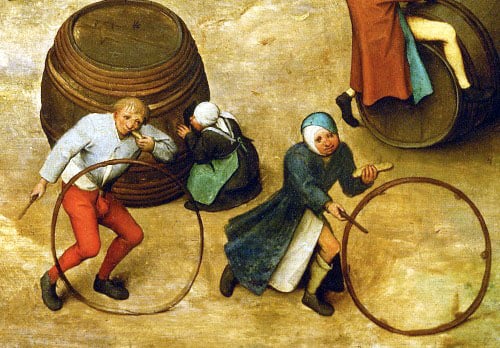 A common understanding about the Middle Ages goes something like this: people didn't love their children the way we do today, because so many died in infancy or childhood. Sometimes parents didn't even name or baptize their children until they were three years old because they didn't want to become too attached. Childhood was brief, as can be seen in old paintings where children of a very young age are already dressed as adults. Noble children were sent off as a page at age seven and common children were apprenticed out by age ten, so children many times were not even raised by their own parents. The legal age of marriage was fourteen for boys and twelve for girls, so obviously childhood was pretty much over by then. Boy golly, weren't those Middle Ages a drag?
You may be guessing that this is wrong, pretty much start to finish. Good guess! So, what do we know about childhood in the Middle Ages, and in what ways might this prove useful to the fantasy writer?
Babies
Infancy was defined much the same way all across Europe: it lasted until the kid got teeth and could walk. The child had already survived its first big challenge, childbirth. With luck, so had the mother. Babies were fussed over and coddled (and swaddled) much the same as they are today.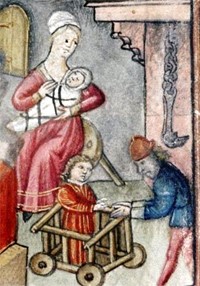 What about, I hear someone protest, the not naming the kids thing?
That is a spurious claim not backed up by evidence. Beginning in the 15th century we have many parish registers. In those we see children being baptized and named within about a week of birth. It didn't happen immediately because of the physical concern of bringing mother and child to the church, especially in bad weather. In some cases there was a longer delay, but this was to allow the godparents, extremely important in medieval families, to arrive from out of town. We also have evidence of names being chosen at or even before birth. For example, the Empress Constance named her new-born baby Constantine, and only later was he given the name Frederick Roger (after his two grandfathers), and so we know him as Emperor Frederick II.
Infant mortality was high, heart-breakingly so, but doesn't mean that somehow parents back then did not grieve for their loss. Cemeteries show ample evidence, even down to the burying of toys alongside the tiny body. Death in childbirth happened, but so also were the risks extremely high right through infancy.
One cause of death that mystified me for a while was "teething." How could anyone die of teething? But it was the fever that can accompany teething that was the culprit.
Children
From, let us say the age of one, to around twelve were the years of childhood—basically from the onset of mobility to the onset of puberty. It was widely understood that children needed protection and that they were not yet fully members of society. We can see this in court records, including a few cases where a child committed a capital crime but was treated differently because of his age.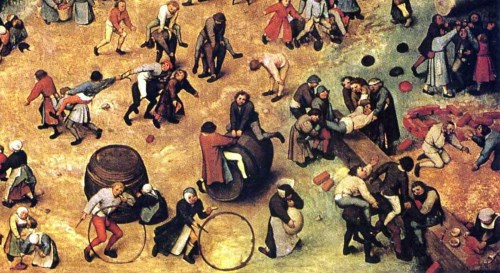 As they grew up, children played children's games, as children have always done. We know this because we have archeological evidence of toys. Children were not treated as little adults, mainly because there's no way for a little kid to behave like an adult. A child's brain is not sufficiently developed.
Adolescents
Ah, the teen years, as problematic then as they are today.
Puberty is the great divide between childhood and adulthood, but there's a gray area in between called adolescence. The word means growing into something, specifically maturity, so it holds within itself the sense that the person is not quite fully grown. We moderns have rather lost the notion in some ways; there is childhood, then there is adulthood, with some slight shifts between eighteen and twenty-one.
The age of adolescence was then as now considered a dangerous age, one in which the individual was more likely to act rashly while at the same time is now old enough to do real damage. We can see plenty of evidence for this, not least in the most common cause of death for this age group: accidents.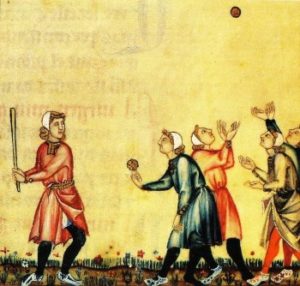 While the beginning of adolescence was clear enough (the Catholic Church fixed this at fourteen for boys, twelve for girls, though this line was drawn formally only at the beginning of the 13th century), the ending of adolescence was much less clear. While it is true that a prince might be crowned king at age fifteen (in England), he was not thought to be old enough to rule without the advice of his elders. Technically he could; in practice it was very rare. King Louis XIV did not rule of his own until he was twenty-one, and did so entirely on his own choice.
In the cities, by the late Middle Ages (we know very little about these matters before the 13th century), a man could not be a citizen until he was a master in a guild, and he couldn't do that until he was married. This left some men as journeymen long into their twenties and even later, caught in a limbo between youth and maturity.
In the countryside, marriage was the big marker. A young woman was not her own master until she had her own household. For the young man it was working his own land (rather than his father's).  There were interesting ramifications to this. For instance, if the woman married too far above her station, she would forever be under the thumb of her mother-in-law (the reverse operated, too). The young man's father might live for quite a long time, leaving him forever junior despite his age. We have any number of cases of young nobles plotting against their fathers who had failed to die in a timely manner.
In short, the line between youth and maturity was not drawn consistently. It lay somewhere in the mid-twenties, but this could bend as much as a decade in either direction. It could flex according to social station and even to changing economic fortunes.
As a postscript, here are some specific age markers, post-medieval (specific to USA). At age eighteen, we can serve in the military, and compulsory education ends. We can marry without parental permission. At age twenty-one we can drink. The car insurance companies don't think we're entirely grown up until age twenty-five. We have to be thirty-five to be President, so in some ways we don't recognize full maturity until the mid-thirties. In many ways we have lost adolescence entirely, redefining it as "teen" and covering only the years with that suffix. At the same time, we have added phases in early childhood, from toddler to pre-school to primary grades and so on.
For Writers
The markers for age have always been social constructs, varying by time and place and estate. This offers all sorts of opportunities for the fantasy writer. The most obvious point of interest is the coming-of-age story. What do we mean by this phrase? What is "of-age" and how does one come to it?
Each stage of life offers something. How are infants cared for? How about children? Is it the same with elves as it is with sprites?
One can show children at play, probably mostly as background, but coming up with something unique for your dwarf children or ogre bairns can add just the right touch of pathos or humor to a scene. We can also see them at their chores. Then there's education. Will you have schools? Will the schools all be on the same model? There might be tutors, residential schools (the kids live away from parents), and day schools. What other models can you find?
As they age, children offer more and more opportunities. They start to fall in love. They fight with their elders and with each other. They run away. They go to work.
Those coming-of-age stories are nearly always about the adolescent years, but is it the same for each of your fantasy creatures? What might a writer do with a teenage dragon? If your elves live a thousand years, how long will the kid's "goth" phase last? On the other hand, if your pixies only live a few years, when is there time for school?
And, finally, maybe you invent other phases of life. Perhaps you have a race that are male for part of their life, female for another. Or they have an incredibly long childhood that divides into phases—of learning, or of emotional growth, or of magical power. As with all things fantasy, the possibilities are endless.
Please post your thoughts and comments to this post!
References
A dozen pictures from Pieter Bruegel the Elder showing young people at play:
The Florilegium is one of the treasures of the early Internet. Pre-web, but it's been moved over:
Larsdatter has a huge collection of articles on medieval topics:
There are tons of books on childhood in the Middle Ages. Barbara Hanawalt has one of my favorites, Growing Up in Medieval London. Her The Ties That Bound is also excellent, though it covers more than just childhood. The other work I'd recommend is Shulamith Shahar, Childhood in the Middle Ages.
For those wanting more, here's a bibliography that will give you an idea of how big the topic really is:
E.L. Skip Knox is the creator of the fantasy world called Altearth, a place where magic is real, monsters roam the land, and the Roman Empire never fell.