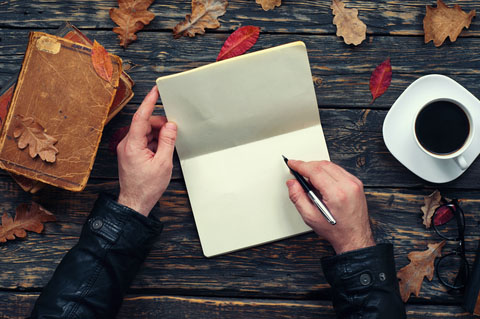 A few months ago I wrote about how going for a walk can have a positive impact on your creativity (here). It's time to build on that. How about bringing your writing tools with you? You could stop somewhere along the way to do a bit of writing.
Sounds good? It is.
Okay, correction, it's good for me. It may not work for you. There are plenty of writers who just can't get anything at all done unless they're sat at their own desk at home and in complete silence. I know others who claim they absolutely have to get out in order to avoid distractions.
This article is about that: writing outside your home.
I'll start with some of the potential benefits of writing in public spaces, and I'll continue by listing a few of the places where a writer can practice their art. Finally, I'll give some practical advice for writing outdoors.
Writing Among People
I do some of my best writing away from home. Cafes, pubs, park benches – they're all good places for me to write. They're all public places though. People pass by, make noise, cause distractions. When writing in public you have to accept that there will be distractions. It's almost impossible to find somewhere that's completely quiet and where you can know for sure you will not be disturbed.
That's fine.
Research has shown that a moderate amount of background noise is good for creativity. With noise in the background the brain has to work a little harder to process input, and this in turn leads to increased creativity. You can read more about it here.
That's not all of it though. It turns out that being around other people who are working increases our performance on our own tasks. Perhaps it's as simple as being around others who are concentrating hard inspires us to concentrate harder ourselves? You can read the full research paper here.
If you're going to the park or to the pub you probably won't find all that many people working there. Cafes, however, are popular among people who want to step out of the office for a bit but who still need to get some work done. In most cafes you'll be able to find someone tapping away at their laptop while their coffee grows cold – and let's not talk about the local university library.
Being around others who are concentrating on something makes it easier for you to concentrate on what you yourself are doing.
Where To Go?
Imagine a poet. They're sitting at a little table at a sidewalk cafe, sipping an espresso and occasionally scribbling something in their notebook.
It's not a difficult image to picture. It's a bit of a stereotype really, isn't it? There's a reason for that.
A cafe can be a great place for getting a bit of writing done. It's not too loud. The atmosphere is often both relaxed and positive. There's an ample supply of coffee and tea, and once you get to know the staff they may even get you the occasional free refill (don't tell them I said so). On top of that there will probably be other people there, also doing their thing, helping you increase your concentration.
In short, spending time at a nice cafe can boost your creativity and productivity.
There are other places to go to for writing though. I've found that pubs can be good. Not all of them will be, but if you find a good one, it's often very good. Warm and cozy. A little bit dark. Candles on the tables. Old postcards from Paris on the wall above the cash machine behind the bar.
You probably don't get the "subconscious support" of others working away beside you, but you'll get a whole lot of ambience to put you in the mood. If you're really lucky there may even be a fireplace.
When going to a pub to write I try to be there early. If they're open during the day, that's great. There will still be other patrons there, but there won't be as many, and it's unlikely to be rowdy. Usually I can enjoy my poison of choice (probably a stout) in peace and quiet.
Later on in the day pubs tend to fill up with people. It gets crowded and it gets noisy. That's the cue to leave. Too much noise makes it hard to concentrate, and you don't want anyone accidentally spilling their beer over your writing – regardless of whether you're using pen and paper or a laptop.
Another option that I hear works for a lot of writers is the library. I must admit I haven't tested this myself, but I can see how it makes good sense. There's a lot of peace and quiet. The atmosphere is calm, and if you're at a university library, there's likely to be plenty of others around studying for this or that upcoming test. It's bound to be good.
Sitting inside is nice and comfortable, but if you're feeling a little adventurous try bringing your writing outside for a change. Watch the clouds, listen to the birds, feel the wind on your face. If you're a fantasy writer, chances are your characters will at some point be scampering around in the wilderness. Writing about this while being outside yourself can add a little bit extra to the experience – both your own and your characters'.
Writing outside can require a little bit of preparation though, and I'll go into detail about that next.
Writing Outdoors
During spring and summer writing outdoors is as easy as grabbing your writing tools, heading out, and finding a nice place to sit. However, in my part of the world (Ireland) summer is well on its way to becoming autumn, and winter follows soon after that. The days will be colder, shorter, and mostly filled with rain.
Sitting outside to write can still be an option though, and it can be quite rewarding, you just have to put a little bit more thought into preparations.
Firstly, pick a day when it's not raining. Optionally, if you know a covered spot where you can be sheltered from the rain, that'll work too. Just keep in mind you have to get there and back again, so dress accordingly. Sometimes an umbrella just won't cut it.
Next up, make sure you're able to keep warm.
Apart from dressing warm, I like to bring a thick blanket. I use it to cover my legs and knees where I'm sitting. Sure, it makes me look a bit like an old fart who's escaped from the local retirement home, but it also keeps the wind and cold off my legs, and that's more important than what the occasional passing stranger might think.
Sticking with the keeping-warm theme, I also bring something to sit on. Don't get just a pillow. Get a proper thermal seating pad. The principle is the same as for the sleeping mats you use for camping, but they're sized to sit on. Freezing your butt off for your art may be a romantic and artistic thing to do, but in practice it's really not all it's made out to be.
Next up: fingerless gloves. Keeping your hands warm is important, but typing on a computer or writing with a pen while wearing gloves can be cumbersome – clumsy. Fingerless gloves is the best of both worlds. They'll keep your hands warm while leaving your fingertips free for more delicate work.
Depending on how you feel, and how long you plan on staying out you may also want to bring something to eat or drink. A light snack, or perhaps a thermos of tea/coffee/hot chocolate. For the most part I usually don't bring a thermos, but the main reason for that is usually that once I've decided to go out I want to leave right away, without having to wait for the water to heat up.
Finally, if your writing spot of choice is some distance away, get a backpack. A messenger bag you carry in a strap over your shoulder may do the trick, but if you're going to be walking for a while you'll want an even load on your back – not something that drags one shoulder down more than the other.
Apart from the above, dressing for the weather is also important, but that applies regardless of whether you're going out to write or not, so I won't go into details about that. Still, keep in mind that walking any kind of distance in wet socks is quite unpleasant – get proper boots.
This may seem a lot to think of but once you have the things you need – blanket, seating pad, fingerless gloves – put them in a backpack by the door and you just grab it when the need for writing outside arises. Don't worry about the coffee, you can get that when you're back home.
Summary
In this article I've written about writing outside of your own home.
I mentioned some of the benefits of having a little background noise and of having other people around you while working on something. If you don't feel like trawling through the scientific research papers, but still have a mild interest in the topic, I'll recommend this article about working in coffee shops – it's where I initially found the links.
I listed some of the places where writers tend to be welcome to sit and do their thing. Cafes, pubs, and libraries are the primary locations, but I'm sure there are other types of place that would be happy to have someone sitting in a corner tapping away on their masterpiece – it kind of adds to the atmosphere.
Finally, I gave a few tips about writing outdoors. Essentially, make sure you keep warm if you want to get anything done. Freezing or being cold can be very distracting.
For Further Thought
What's your own experience with all this? Are you one of those people who are happily tapping away on your laptop in the corner of a cafe, or are you the kind who can't get anything done unless you're at your own desk back home?
Do you have a favorite spot away from home where you go to write? Where is it? What's it like there? If I end up in your neck of the woods and want to sit down and get some writing done, where should I go?
How do you feel about writing outdoors? Have you done it? Does it work for you?