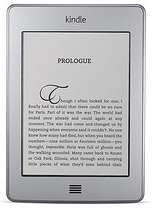 I love books.  I love the way that they feel in my hands.  I love how they smell.  To me, every book is a treasure.
Hence, when the eBook craze began I was a doubter.  In fact, I was a fairly vocal critic of the movement.  I couldn't imagine why anyone would choose to download and read a digital manuscript when they had the option of reading a real book.
Slowly, my resistance has been melting away.
First, my sister-in-law showed me her NOOK eReader.  At first glance, the screen looked like paper.  I was amazed by the E Ink technology, and just how easy it is on my eyes.
Second, I'm running out of space in my home and office.  Since my wife and I became parents, space has been at a premium.  Our home bookshelves are filled with rows of books, one layer piled upon another.  My office bookshelves are also at maximum capacity.  I love to buy and read books, but I'm simply out of space.
Finally, there's the convenience factor.  We sometimes travel to visit relatives for extended periods of time.  Hauling along a stash of books becomes less feasible when your car is stuffed with strollers, portable cribs and high chairs.
And thus, I have decided to take the plunge and request an eReader as my Christmas present.  I decided to go with the Amazon Kindle Touch, as I already have an Amazon Prime membership, which grants access to an extensive library of eBooks.  We'll see how this works out.
Even if I fall in love with the Kindle, I don't foresee paper books vanishing.  There's something special about owning a creative work in a physical medium.  I love to collect blu-rays and DVDs, and can't imagine myself not wanting to collect books in the future.  But who knows, I could be wrong.
What has your experience been with eBooks?  Do you foresee them replacing physical books in your own life?