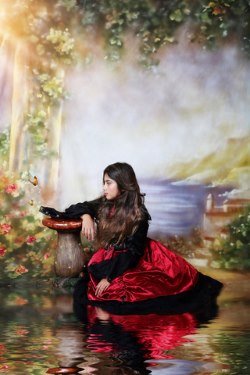 The great journey, the valiant quest, the ongoing war between good and evil, the "chosen one" who by magic rises above peasantry and poverty to a place of heroism – these are the clichés of fantasy, and I will not defend them as clichés. But they also explore fantasy's greatest themes.
They explore the themes of escapism. That's part of what makes them awesome.
With fantasy, we can shuffle aside the trappings of modern society and explore life at the whims of the author and the worlds we create. We can disconnect our readers from the triggers of our lifelong experience and the baggage of our preconceptions, our politics and work-life balance and all the familiar things that we already have opinions about in our modern society. Fantasy can escape that. Fantasy can deepen our immersion and offload a little excess subjectivity, taking that small step closer to writing for the universal reader.
Fantasy's form of escapism also helps storytellers to highlight one of the most difficult to find emotions in our everyday lives. The fantasy genre is laced with the subtext of wonder, both in its purest, most idealistic moments and at its darkest and most cruel portrayals of human behavior. How often do we feel awe in our lives?
Escapism is Only the Beginning
But that same escapism is also one of the reasons modern fantasy receives a lot of scorn from adults outside the culture of geekery. In the minds of some people, my greatest shame would be that I write fantasy.
Every fantasy writer has felt it at one point. The tightness in the neck, the quick intake of breath, the stutter that comes from nowhere, the need for an instant show of bravery answering that damn simple question.
What do you write?
I write fantasy. I write about dragons and magic and ogres and the nonsense that children are supposed to grow out of. I write fake things for adults, as an adult.
I write escapism.
And what kind of responsible adult wants to escape from their life?
But it's not that simple. I am not an irresponsible boy, obsessed with the cool, hiding from the challenges of my life by delving into another world. If anything, making the serious effort to write only adds to the challenges of juggling responsibility, life and now writing. It would be a better "escape" to play a modern form of Tetris hiding behind the screen of my smartphone.
Stories aren't written to escape in that sense of the word. Stories are written to explore.
And once we've escaped the modern trapping and underlined our worlds with a sense of wonder, what do we have to explore?
People. Heroes who escape the baggage, villains who escape the excuses, and a society of people who escape their limits.
Escapism is only the beginning of the theme. People have themes. Life has themes. Character traits and flaws and personalities create themes when they play out over time. And in fantasy, our themes can escape the limits of a story that's true to life.
For Further Thought
How do people react when you reveal that you write fantasy?
What was the most positive reaction that you ever received?
What was the most surprising reaction?