This article is by Anne Leonard.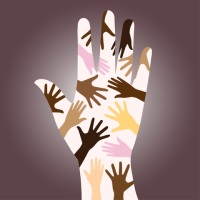 A current – and recurring – topic of conversation in the SFF writer/ blogger/ reader community is the lack of people of color (POC) writing and publishing in the field.  (This is also an issue in the literary community in general; here's a recent post on the subject that appeared on the Book Riot website.)
People of color are underrepresented in SFF for a lot of reasons, but one which I see frequently mentioned is that books without diversity make POC feel excluded.  This creates a vicious circle – POC don't read SFF, so they don't write SFF, so there aren't POC in SFF books, so POC don't read SFF.  One way to break the cycle is for white writers to include more diversity in their own work.
Diversity issues extend far beyond SFF, of course, but speculative literature has a different stake in the conversation than a lot of other literature. Speculative literature is about what is not real. It therefore has a special capacity to imagine and examine alternative worlds, where race is not part of the culture in the same way it is in the societies we live in.  If you're making up a world, you don't have to comply with historical racial and ethnic diasporas.
Race in Fantasy Literature
In many ways, fantasy literature, which was overwhelmingly white/European for years, has taken on this challenge and become more multi-ethnic. A few books I've read recently that have people of color (POC) as main characters include Kate Elliott's Cold Magic/ Cold Fire/ Cold Steel trilogy, Elizabeth Bear's Range of Ghosts, and N.K. Jemisin's The Killing Moon. This is a huge movement from the Tolkienesque epic fantasy with a group of white dudes going off to battle the Black Lord and his swarthy minions.
However, we still have those damn Black Elves lingering around, poking their dark faces into decent people's business.  (They showed up most recently in Thor 2, with the first camera pan down to the evil Dark Elves landing on the character of Algrim/Kurse, played by a black man, not on the completely white evil Malekith.)
The black/white evil/good dichotomy is so ingrained in so many human cultures that it's unlikely it will ever disappear. Humans are afraid of what happens in the darkness.  But even acknowledging that a trope equating darkness with evil is firmly fixed in fantasy literature, that trope should not be extended to characters. Making the bad guys all dark-skinned – or all the dark-skinned people bad – is racism. (It's also not very interesting to have a culture or group of people who are uniformly evil, so I would add that it's bad writing too.)
Adding Diversity to One's Writing
But how does one move beyond this?  It's a particularly difficult issue for people who want to avoid cultural appropriation but want to add a mix of cultures.
There's no easy or right answer; writing is different for everyone, and what works for one person may fail miserably for another. But I submit that for the white writer who wants to be more authentically diverse and not stumble into appearing racist, the first step is becoming aware of one's own whiteness. People who are members of a privileged group have to stop taking the privilege for granted if they want to effect change.
Here's an example: most human beings are right-handed. The world is designed for right-handed people. The minority of left-handed people learn to adapt and live in a right-handed world.  But when a right-handed person picks up a tool designed for lefties and can't use it – grabbing the left-hand scissors from the art tray by accident and watching the blades slide uselessly against the paper – the rightie gets a sense of what it's like to be a southpaw.  Similarly, being forced by injury to use only the left hand shows a rightie just how much the world is not designed for a left-handed person.
Race is much more complicated and fraught with tension than handedness, of course, but right-handedness is a position of dominant cultural privilege, just as whiteness is.  Putting oneself out of place by something as simple as using the wrong tool is a way to recognize privilege for what it is and to imagine not having it.
Whiteness as a Social Construct
In Louisiana in 1857, a girl, Jane/Alexina Morrison, who had blond hair and blue eyes, was legally sold as a slave.  She later sued to be declared free because she looked white. At the time light-skinned slaves were more desirable property for working in the house than dark-skinned slaves; her whiteness, as Walter Johnson puts it, "might simply have made her more valuable."
The below photograph of emancipated slaves shows several children who appear "white," but were legally slaves: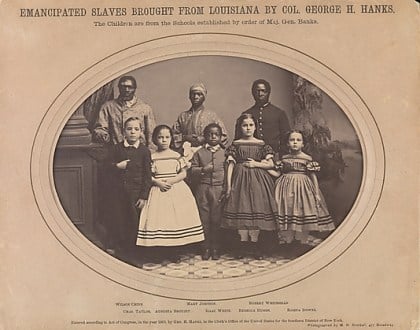 Whiteness, in other words, is more than a physical trait; it is a social construction that has been used to determine who has the upper hand in relationships based on unequal power.  Once one begins to consciously think of whiteness in those terms, it becomes a lot easier to be aware of one's own whiteness and to think about how to represent a person of color in fiction.  It's not only a question of character alignments, it's a question of who holds the power and what are the (imagined) historical forces that led to these arrangements?  If the people in power are all white, then the story may not be really representing diversity even if there are POC in it.
To write one's way out of a white fog is a challenge.  I've been thinking and writing about these issues for years, and my debut novel is still pretty darn lily-white. The only way to move forward, however, is to start.
Recommended Reading
Here are a few recent blog posts that discuss diversity (not just racial) in SFF.  They are worth reading if you are interested in the conversation:
Jane/Alexina Morrison's story is told in an article by Walter Johnson called "The Slave Trader, the White Slave, and the Politics of Racial Determination in the 1850s," published in The Journal of American History, June 2000, pp. 13-38.
For Further Thought
Any recommendations for works of fantasy by POC or with POC (or other diverse groups)?
If you're writing out of a European mythos, what are the challenges in overcoming reader expectations based on that mythos?
How can you use diversity (of any sort) to make your writing less cliched?
About the Author:
Anne Leonard is the author of the fantasy novel MOTH AND SPARK (Viking, February 2014) and  the editor of the first critical anthology to focus on race in speculative fiction (INTO DARKNESS PEERING, Greenwood, 1997). She is a licensed attorney but currently writes full-time. You can visit her website at anneleonardbooks.com.