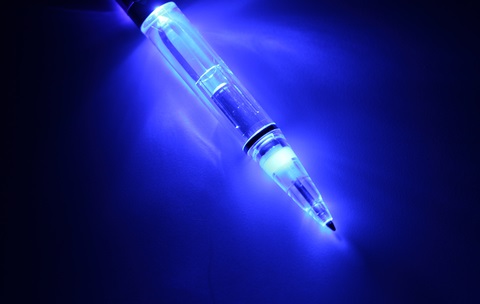 There once lived a girl who wrote the best fantasy books in all the land. She was only twelve years old, having picked up a paper and pen to tell stories starting at age eight. She outsold all the big names in her genre, made millions of dollars, and never even went to college. She had been blessed with a unique ability to craft words into beautiful tales that spoke to the hearts of many. No other writer could ever aspire to achieve such great heights with their work because she was more talented than everyone.
So, with that I say, "Pack up your laptops, friends. If you don't have talent then it's over for you. Give up and go home."
The end.
Um…no.
The Natural
Good old Google defines talent as "a natural aptitude or ability" at something. For the purposes of this article, the 'something' will be writing fiction. Talent is a word I hear thrown around a lot mostly outside of the writing community. There's this permeating belief in folks that aren't creative that, in order to succeed at writing and selling books, a writer needs to be talented. I am here to challenge this myth and encourage you, dear writer, to consider a new perspective: persistence and hard work.
So, what is natural? I believe every person born on this planet has a natural inclination towards a specific interest (or set of interests). For example, my husband loves computers. He builds them, writes code, and does all kinds of fancy things on computers that make no sense to me. He's possessed this interest since he was young and is very skilled.
Writing, on the other hand, is my calling. I started writing stories in grade school and pretty much never stopped. It's my passion and life's work, if you will. I was born with a lean towards it; whereas other people are interested in painting, mechanical work, teaching kids, and so on. But to do these things or be successful at them talent is not necessary.
Getting Good
I have often heard other writers state that the reason why they don't write more often (or believe that they can't) is because they aren't good at writing stories in the first place. But none of us are born being good at anything. The process of development happens the same in all humans: we are born, we grow, take an interest in certain subjects, and either pursue or drop those particular subjects as we age. There's no real mystery to it.
In order to become good at something we have to practice.
The high school athlete who is a star on his or her team has most likely been practicing since grade school. The author you love who sells a lot of books has been writing for years. Getting good doesn't just happen naturally or overnight. We all have to start somewhere, and all of us start at zero.
Consistent Practice
You, my fellow writer, don't have to be a champ at writing fiction in order to finish a book and take it to the next level you desire. We all have taste, and often it's our good taste that brings us to a stopping point in our writing. Reading a good book or another writer's work you appreciate can have you saying, "I'll never be good like  ___." And we stop writing because our work doesn't compare. But how do you think that author became good in the first place?
Practice is encouraged in every other field of study or creative endeavor. The same goes with writing. You, writer, will take longer to mature in your craft if you are not writing on a regular basis. And once a month just won't do. Once a week…not that either. If you desire to be really good at writing fiction, enough to sell work someday, then writing must be a priority in your life after the obvious such as family and life responsibilities.
We become better by honing our skills and that can only be done by writing all the time. Daily. Maybe several sessions a week. Writing consistently will also help you determine your strengths and use them to your advantage. A regular writing habit will also allow you to pinpoint your weaknesses so you can improve in these areas.
You Don't Need Talent
What you do need is to feel good about where you're headed with your writing. Having a regular habit will make this possible. The way your favorite authors became good at writing stories was by writing constantly. I'm here to tell you that you can do this, you can become really good at writing stories by practicing and increasing in skill. Then, one day when someone picks up your book they will say you are talented, but what really went on behind the scenes was a whole bunch of hard work.
Teach Yourself
Study your favorite authors. Study the art of writing fiction. Read, read, read. Then write, write, write. Talent is a myth. Practice is what makes perfect.
Dear Writer, what are some doubts or negative beliefs holding you back from writing more? What about life or your schedule?
What do you think about talent vs. hard work and giving your skills time to mature?
What does talent mean to you?