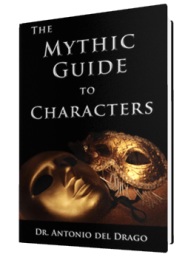 I'm thrilled to announce that The Mythic Guide to Characters is here!
I began planning this book in the summer of 2012, after spending five years studying the workings of the unconscious mind.  As a professional academic, I had become fascinated with how the unconscious drives so much of human behavior.
This gave me the idea of designing a new approach to writing characters, one that is based on the concept of "layers."
This method starts with the unconscious mind, which is the first and deepest layer of each character, and moves outward.  The end result is characters who are driven by longings and fears that they aren't consciously aware of… just like real people.
The Three Layers
The Mythic Guide to Characters approaches character development in three layers.
The first and deepest layer is the character's unconscious mind, which forms the basis of the character's actions and motivations.  The second layer is how the character relates to his or her world.  The third and final layer is the character's role in your story, which can be developed using mythological archetypes.
In the process of working through these layers, you will discover:
The secret to writing multidimensional characters
How to develop your character's unconscious motivations
Four ways in which characters interact with their worlds
Five formative relationships that shape your character
Nine mythic archetypes and how to use them
The difference between proactive and reactive protagonists
Ways to define a character through dialogue and physicality
The guide also includes a detailed worksheet that walks you through the stages of character development.
You can look inside the book on Amazon.
See Also: