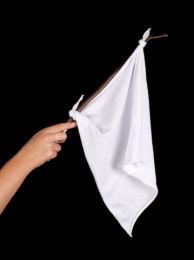 With self-publishing on the rise, you can now bypass the traditional route, but there are still some of us out there that prefer the "submit, submit, submit" method.
So why won't you get published either way?
Well, let me tell you, young grasshopper.  It could simply be that you're not finishing anything.
Here are five reasons why:
1. You Quit Too Easily
Stop quitting. So what if you have writer's block? I eat writer's block for breakfast. It tastes horrible, but I'd rather have it in my digestive system than inside my frontal lobe. Just because something sucks or isn't working at the moment, doesn't mean you can't hammer it out in your later revisions.
Feel like quitting on your novel? Imagine that writing your novel keeps you alive. You can't just quit breathing, right? You'll die. Or you'll become some really irritated ghost that stands in people's bathrooms. So don't quit your novel. If you push through, you may find something awesome about it you wouldn't have discovered otherwise.
You need determination and perseverance to be a writer. If you don't have the endurance for hard work, go dig a hole in your back yard. Go on, do it. Did you finish?
If you did, then good, you can finish your novel. If you gave up half-way through, then maybe you don't have the perseverance to become a full-time professional novelist. A real novelist can dig a hole even if it leads nowhere. But afterwards, she'll find something to do with it: plant a garden, bury dead goblins, or fill it full of basilisk horns.
2. You Get Creative ADD
You don't quit necessarily. But you get distracted too easily by a better, easier idea. Maybe you don't feel like finishing your saga about the agricultural cycles of frost giants. You want the frost giants to go crush some villages and cause some havoc. But then you don't want frost giants, you want vampiric ogres. Therefore you never finish what you're working on and never get published.
If you get a great idea, stick it in a jar and screw the lid back on. Whenever you finish your current Work in Progress, then, and only then, you can open the jar and let your little butterfly of an idea fly out. Some people suggest writing your ideas on a Word file. Sure, you can do that too, but that may tempt you. So don't put it on your desktop. Put it in a folder titled "f4kwl932fa." Then you won't know what the hell it is so you won't be tempted to open it.
If your novel really, really, really sucks, then yeah, go ahead and quit. But you may regret it. Like that old boyfriend or girlfriend that got away. And if you try to re-kindle that relationship later, (your old, discarded novel) it's not going to be the same.
Finish it while you're excited and passionate about it. Maintain that passion by making it a story that is full of things you love about fiction whether it be sword-fighting dogs, romantic pirates, or the assassination of penguin kings. Whatever you dig, fill your story full of it. Then you won't get as distracted by a new, shinier idea.
3. You're a Hobby Writer
"Well, I don't really care if I ever get published."
Well, this article's not for you. Moving on.
4. You Are Never Satisfied
There comes a point when you have to realize you can't draw the perfect circle. No book is perfect. Think of your favorite writer. Is he or she perfect? No. No one's writing is perfect. But you can get it as close to perfection as you can.
Like rearing a child, you can only do your best before sending them out into the world. You'll have joyous years where your child is a beautiful, wondrous, obedient angel. But then you'll have years when you wonder what happened to your sweet little baby. Staying out late, partying, stealing money from your wallet or purse, burying goblins in your garden.
Your novel is the same. It's not going to always be what you envisioned it to be. You have to write it to the best of your ability, revise it, then send it out. Then call it every so often to see how it's doing. "Hey, novel? How's college? Are you eating properly?"
Being a perfectionist is a good thing in some regards, but worrying about every small detail of your writing isn't going to get your novel finished. One thing about a published novel, self or traditional, is that someone decided that even though it's not perfect, it will entertain people out there in the world. Let your novel/baby go out into the world and find its way. Let it be a success in the way that you formed it, warts and all.
5. You Fear Rejection
Everyone fears rejection. It's not good to hear someone say "Your writing isn't quite there." What does that really mean though? It means that one editor decided that your writing isn't quite there. Does that mean it's not? No, it just means "it's not for them."
Compare rejection of your novel to rejection at a dance club. Sure, the first couple of hotties that you try to pick up may not be interested in your "game." "Oh, you're writing sword and sorcery? Ew, no thanks." "Yeah, I usually go for steampunk, but you're not really my type." Editors are people too. They're not evil robots looking to reject all your work. They want you to give them something they can sell. Put your best foot forward, but don't be disappointed if that doesn't attract attention the first time out.
Rejection makes me feel like a writer. It doesn't hurt me anymore. One time someone shot me right in the face with rejection, but I'm made of liquid metal so I healed rather quickly. It's just part of the game so to speak. Go on. Get rejected. It won't kill you. Maybe it will maim, cripple, or mentally scar you, but it won't kill you.
So if any of these issues have caused you problems in your path to get published, then beat them on the head and keep writing. The only way you'll get published is if you finish and submit.
Let's Share Our Experiences
What are some of your constant pitfalls in your quest to become published?
Or if you are already published, what was the key factor that helped you bite the bullet and get your work out there?
Share in the comments below!
You can find Phil's blog about Japan, writing, pro wrestling, and weird stuff at philipoverby1.blogspot.com.