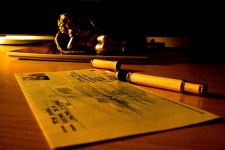 Writing a query letter is akin to going to a job interview. It's your first chance to make an impression, and often times, it's also your last.
It's this philosophy, coupled with my experience as a recruiter, that leads me to want to put my best foot forward, knowing that I may never get another shot.
As a person who has conducted hundreds of interviews, I can only tell you that resumes with quirky fonts, or pages of meaningless, random facts about previous jobs, didn't impress me any more than the people who showed up in sweatpants or hoodies to be interviewed.
First Impressions
When writing your query letter, you are making a conscious choice regarding how you are portraying yourself, and your work, to a prospective employer. It's up to you whether you are going to your interview in a smart suit and tie, or showing up half an hour late in boxer shorts and bunny slippers. Personally, I recommend the tie.
An agent only has that one piece of paper to go on. They have to decide, from a few brief paragraphs, whether you are the sort of person they want to work with, and whether your work is something they want to attach their name and reputation to. A query letter is not a place for jokes, or a place to show how clever you think you are.
You want to hook an agent, get her interested in the product that you are selling, and show her that you are the type of person that she will want to work with on future projects. With hundreds of unsolicited manuscripts competing for attention, you must stand out from the crowd, convey your tone and voice, and get a prospective partner excited about your work.
My Query Letter
I went into writing my first query letter mostly blind. I read an agent's blog, followed the basic instructions, and tried to write what I thought might be a glorified book blurb. I wasn't terribly surprised when I didn't hear back from the first agent, thinking I just missed the mark.
I edited the query letter, noticing that my proofreading had missed some minor typos.  I liked the tone of it, so I sent it out again six months later, after revising my story, in case the sample pages were what got me my first rejection. And with the second try, I got a request for a partial!
Now, I'm not sure my query letter is a home run, but it gets the job done, tells a prospective agent what my story and tone are, and it hopefully shows that I am capable of conducting my business professionally.
I use a sort of formula when I write a query letter.  Here's what I ended up with:
1. Opening Line
This is where you want to set your tone, tell the agent about your main character, or detail the main conflict, depending on what kind of story you are writing.  Here's mine:
In a city run by organized crime, there is little room for meek, humble women; and that is exactly why Raven is anything but.
So I chose to talk about my character and tone.
2. Initial Conflict
I like to write about the conflict in its broadest sense here. No minor details, just the first few chapters in a nutshell (and probably a run-on sentence).  Here's mine:
When Raven, the beautiful mistress of one of Brazelton's powerful crime bosses is taken prisoner by a murderous madman and his mercenaries, she finds her life unavoidably linked with a mysterious clan of shape-shifters who need her help to protect the nearly-extinct dragons, and with everything she'd worked so hard for gone, she cannot refuse; after all, they saved her life.
If you have major secrets in your story, it's fine to refrain from sharing the details.  Just be sure that the agent understands what kind of book you have written.  Is it an epic journey, a light-hearted comedy, or a longstanding war between good and evil?
3. Summary
The rest of the book, detailed in a broad sense, but mentioning what we can expect.  Here's mine:
While elves and shape-shifters work together, Raven joins the handsome werewolf Logan, and his rigid grandfather, Jarren, as they try to find a sleeping fire wyrm before an army of conquerors do. Discoveries about her own past, including the true identity of her parents, only seem to add to Raven's problems, and even a new love and a new life may not be enough to overcome the legacy left to her by her traitorous father. Raven will have to draw upon her newfound strength and the two Sayan who have accepted her as one of their own, to face who she truly is.
This is your place to really hook the agent. Raise some questions, but whatever you do, do not WRITE THEM. Give the agent a reason to wonder whether your book has a happy or tragic ending, or simply plant the seeds of doubt about your characters, as I have done. I want an agent asking, "What is the legacy left to her by her traitorous father?"
4. Self-Promotion
This is the section for you to mention your experience. If you have none, it's a place you can use to further talk about how wonderful your book is, as I have done:
Complete at 110,000 words, Sayan Soul is a fantasy novel that flirts with the boundaries of the genre. With morally-challenged characters, deep secrets, romance and bloodshed, this novel is sure to entertain in the spirit of ______.
It never hurts to mention another book the agent has represented that is similar to yours. If you can't find (and read one), it's better not to lie here. Just compare your book to another well-known book.
5. Closing
I like to keep it simple here, thanking the agent without assuming my pitch is the most awesome they've seen. Keep it humble and professional.  I say:
Per your submission guidelines, I have included ______. Thank you for your time and consideration of this project.
I use other templates for writing query letters, and approach it like I would a short story, with the goal of engaging the reader in five hundred words or less. This one, it turns out, might have hit on something good.
What are some of the successes or failures you've experienced with query letters?
If you've never written one, what's stopped you from giving it a go?