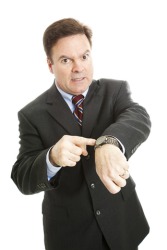 Tired of waiting months, weeks, or even days to hear back about your manuscript? Is that 500,000 word door-stopper just desperate to get immediate feedback? Do you like fast food, Twitter, and teleportation?
For those of you that want feedback from an editor yesterday, this is your guide to immediate success. Until recently, I'd never been published, but it wasn't because of lack of talent. It was because I didn't use these steps to woo the editors over. Now that I've done so, I finally got my short story collection, "Stories that Start in Inns," published. Go buy it! Now!
You too can pursue your publishing dreams. Just follow these five easy steps and wait for the money to roll in!
1. Email, fax, and call editors daily.
How else will an editor know that you want to get published unless you're constantly on her mind? She will know you're serious if she gets her inbox overloaded with your name. It's subliminal advertising that's free! If you happen to know her personal address don't be shy either. Feel free to stop by and ask her in person if she's read your epic 10-cycle saga about a family of vampire wizards and their war against extra-dimensional were-tiger marines. Hoo-rawr! She'll love you for it.
2. Ignore the guidelines.
Who needs guidelines, cover letters, or any of that hoo-hah? Synopses? Margins? Proper spelling and grammar? Bah, I say. Just send your manuscript however you want.
Editors love it when you give them your raw manuscript with none of the bells and whistles. They never read any of that extra crap anyway. Tree bark manuscript written with berry juice? Yes. Poems written on crumpled napkins with what could be either blood or ketchup? Please. Self-recorded audiotape mixed in your uncle's garage? Sounds sweet.
Editors may post guidelines about how they don't want stories about zebra unicorns, but they never read your story about zebra unicorns. They need to read it and you need to send it to them. Rules are made to be broken, right? So break them!
3. Bribes. Lots of them.
There's nothing an editor likes more than gifts. They always like an extra prize with the manuscripts they're reading. Cookies, perfume, origami dragons, used Band-Aids, whatever you can offer. Once again, if your gift sticks out in their mind, then your story about a dying, time-traveling scarecrow will pop out even more.
If mailing bribes doesn't work, then you know what to do: deliver them personally.
4. Respond to negative feedback through your blog, Facebook, or chosen social media.
Once you get published, make sure to always share your thoughts on negative reviews. That's a no-brainer. But until then, it's always a good idea to let editors know that their rejection isn't going to stop you.
Get even. Make them regret ever turning down "The Giraffe Rider's Wife." Bury them every chance you get. Bury their publisher too. Spread the word as far as you can. They are obviously a shoddy publisher if they didn't enjoy your children's book about the cockroach sushi chef that just couldn't catch a break. Other editors will hear about how ruthless you are and think twice about ever rejecting you again. You'll be an instant celebrity in the publishing field and a force to be reckoned with. Editors will bow before you and beg to publish your third memoir about your journeys as a witch hunter in southern Florida.
5. Don't publish anything less than your original vision.
If an editor likes your manuscript but suggests that you make changes, tell them to "Back off!" You're an artist. You have a vision. Don't let anyone muddy or distort your vision. That first draft that you wrote stream-of-consciousness on the bus ride to work is gold. Find the right editor that will take your genius as it is. You don't have time to waste on idiots who "don't get it." Others will get it. Don't worry. And you'll be a millionaire.
So that's it. My five tips to success in the publishing industry. We live in a fast paced world and we don't have time to waste on wading through tons of useless editors. So get out there and don't take "no" for an answer!
Do you have any tips for immediate publishing success?  If so, share them with us.
You can find Phil's blog about Japan, writing, pro wrestling, and weird stuff at philipoverby1.blogspot.com.