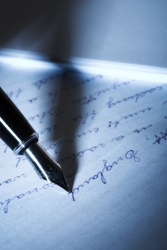 Whether you've just begun your novel or are in the midst of editing it, this exercise can help answer some important questions:
How will readers like my characters?
Have I done enough foreshadowing?
Is there enough humor in the story?
Does my conclusion do the novel justice?
Of course, each writer will have many different concerns.  But rather than drive yourself crazy searching for a secret formula, try this one simple trick:
Write yourself a love letter… in the form of a review.
So What is a Review?
A review gives the reader a concise summary of the content.
A review offers a critical assessment, including your reactions to the work and what you find noteworthy.
A review suggests who might enjoy reading it.
How Does this Fake Review Help Me?
Pretend for a moment you're not the author, but a reader. You're reviewing this book you just found, and it's the best thing you've ever read.
How would you describe it? What were the book's merits? What really connected with you as a reader?
Now, write up the review. Yep, I'm serious. Take as much time as you need and just write every detail of your book's awesomeness down. Don't limit yourself, but get as detailed as you need to.
Here's mine:
Written in Red transported me to a world steeped in history: a wealthy republic divided by a centuries old conflict. The central struggle pits church leaders against nobility as both vie for power in a city rife with corruption and intrigue. The main character, Daniela, is forced from the arms of her lover into a marriage to the black sheep of a patrician family. But rather than speaking words of love, her new husband speaks of secrets, and when his odd behavior turns suspicious, Daniela begins to wonder whether she's made a terrible mistake. On the surface, this novel might appear to be a love story. But just below the surface, you'll find spies and mysteries, and characters as colorful as the city in which they live. The author certainly has a grasp of gray scale characters and shows a deep understanding of the human condition. The mysterious nature of the parallel plot lines made this book a real page-turner, and kept me guessing until the end. While this novel could be classified in several genres, I would recommend it to readers who enjoy historical fiction or fantasy with a side of political intrigue and romance.
Writing an Affirmation is Powerful
When you return to working on your novel, use your review as a goal towards which to strive.
If it mentions how each chapter ended on a cliff-hanger… make sure you've done this in the manuscript. If you praised a conclusion that blew your socks off… ensure that it does indeed.
The simple act of writing an affirmation is powerful enough to initiate the sort of changes in the mind necessary to reach a goal. This exercise isn't meant to be a false promise hanging over your head, but a tool to help pinpoint your ultimate goals and reach them.
What are some comments you'd like to see in a review of your novel?