This article is by Anne Marie Gazzolo.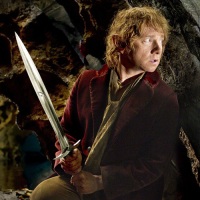 Authors can use narrators in many different ways to add value to any story. Among them, they can speak directly and indirectly to their audience, inform the readers of things not even the characters inside the story know, give a look into the heart and soul of the heroes and villains, and praise or condemn them for their actions.
Here are five reasons why you should consider using one:
1. Narrators can draw readers into the story.
C. S. Lewis notes, "In King Solomon's Mines the heroes were shut in: so, more terribly, the narrator imagined himself to be in Poe's Premature Burial. Your breath shortens while you read it" ("On Stories").
When done well, you may sit in your bed or favorite chair, but your mind and heart will travel to the mines, or to the battlefield to face a dragon, or to the peace of freshly tilled fields and hobbit holes. You may stand on another planet and look up at alien stars, or you may travel within your own heart.
There is no limit to where a narrator can take you, and your body will follow in some way if guided by an expert.
2. Narrators can bring readers to contemplation of deep matters that real life does not always allow.
Lewis quotes the narrator in First Men in the Moon by H. G. Wells as Bedford is outside with the night drawing near and with it the loss of air and heat. "'Over me, around me, closing in on me, embracing me ever nearer was the Eternal . . . the infinite and final Night of space.'" ("On Stories").
Lewis notes, "That airless outer darkness is important not for what it can do to Bedford but for what it does to us: to trouble us with Pascal's old fear of those eternal silences . . . : to evoke with them and through them all our racial and childish memories of exclusion and desolation: to present, in fact, as an intuition one permanent aspect of human experience".
3. Narrators can offer advice to their readers.
"This of course is the way to talk to dragons, if you don't want to reveal your proper name (which is wise), and don't want to infuriate them by a flat refusal (which is also very wise)" (The Hobbit).
"[Lucy] had, of course, left the door open, for she knew that it is a very silly thing to shut oneself into a wardrobe" (The Lion, the Witch, and the Wardrobe).
This can add humor to a tale, as in these stories, or it can offer serious counsel, inspiration, and motivation to an adult.
4. Narrators can show the struggles within the heart and soul of the characters.
"[Bilbo] . . . must stab the foul thing, put its eyes out, kill it. . . . No, not a fair fight. He was invisible now. Gollum had no sword. Gollum had not actually threatened to kill him. . . . pity . . . welled up in Bilbo's heart" (The Hobbit).
Narrators can give their readers insights into the war that goes on in each heart and soul. Possibly no character will know as much as the reader does because narrators can tell their audience what may otherwise be kept silent.
5. Narrators can praise the heroes for overcoming fear and temptation.
"Going on from there was the bravest thing he ever did. . . . He fought the real battle in the tunnel alone, before he ever saw the vast danger that lay in wait" (The Hobbit).
In The Magician's Nephew, Digory wins against the seductive allure of eating the magic apple after he sees a bird watching him. "But I think Digory would not have taken an apple for himself in any case. Things like Do Not Steal were, I think, hammered into boys' heads a good deal harder in those days than they are now" (Nephew).
Perhaps especially for children, but also for adults, it is important to know that fears and temptations can be overcome. It will not always be easy, and there may be failures and backtracks before the final triumph, but readers can see that victory is indeed possible.
These are just a few examples of how vital narrators and stories are to understanding more about ourselves and our world.
Do you agree with these approaches? How have narrators, either as a reader or writer, drawn you into tales as a child and adult?
About the Author:
Anne Marie Gazzolo is the author of Moments of Grace and Spiritual Warfare in The Lord of the Rings, which includes a chapter on The Hobbit. Sign up for her mailing list at www.annemariegazzolo.com and get a free copy of her ebook about applying to your life the lessons taught by Hobbits, Wizards, Elves, Men, and Dwarves. You can also connect with her on Facebook and Pinterest.